No surprise here: Cushing superb, Lugs win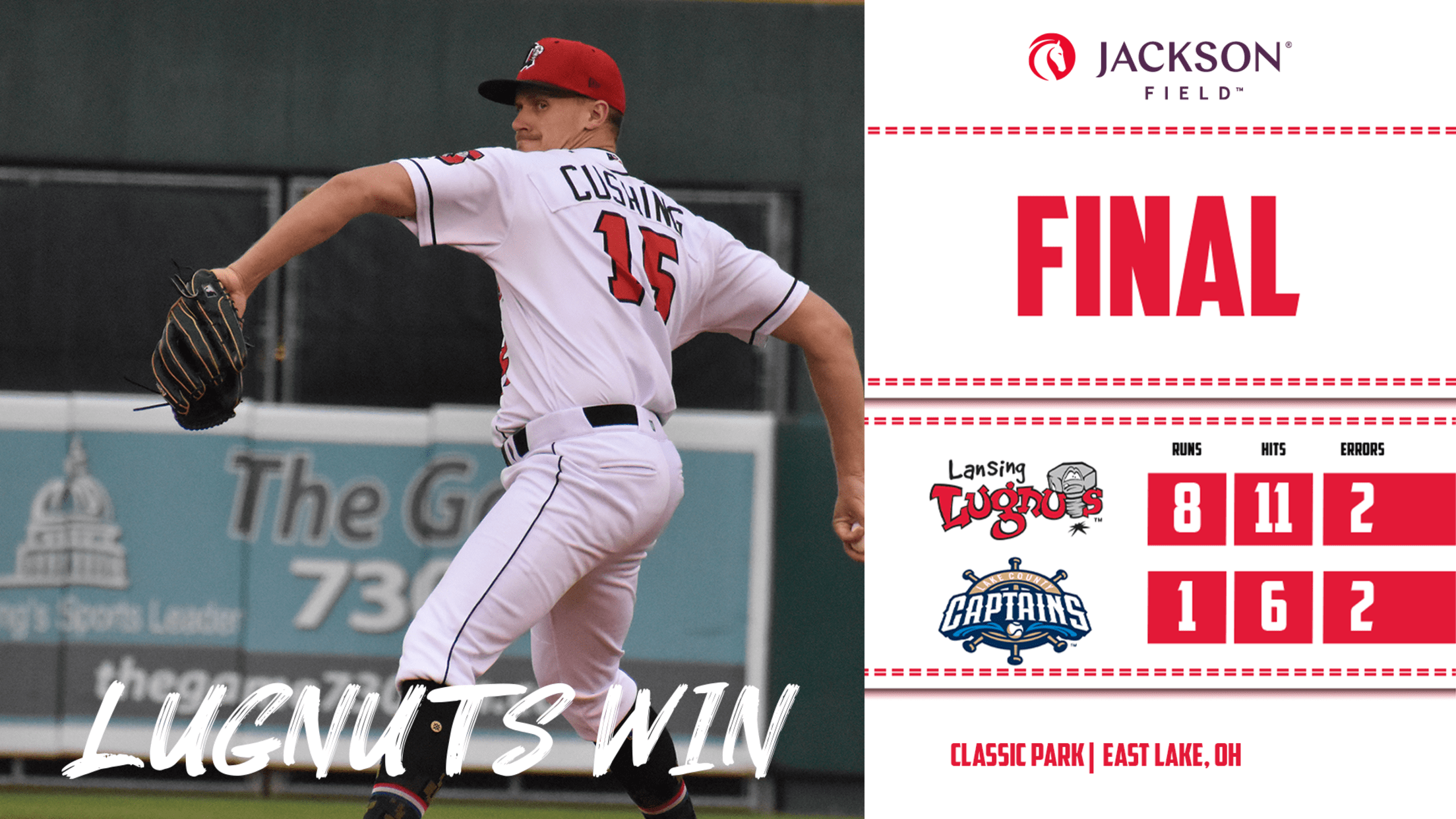 EASTLAKE, Ohio – Jack Cushing pitched 5 1/3 scoreless innings, batterymate Jared McDonald homered, and the Lansing Lugnuts (38-41) quieted the host Lake County Captains (42-37), 8-1, on Tuesday night at Classic Park. The Captains had arrived back home after winning four of six at Dayton, scoring 24 runs in
EASTLAKE, Ohio – Jack Cushing pitched 5 1/3 scoreless innings, batterymate Jared McDonald homered, and the Lansing Lugnuts (38-41) quieted the host Lake County Captains (42-37), 8-1, on Tuesday night at Classic Park.
The Captains had arrived back home after winning four of six at Dayton, scoring 24 runs in the final three games, but Lansing had not lost a game with Jack Cushing on the mound – and still haven't.
The former Georgetown ace lowered his ERA to 1.80, striking out six batters while allowing only a walk and three singles in his sixth appearance, fifth start, with Lansing. He departed in the sixth with one out and Micah Pries at third base due to a pair of errors; Dalton Sawyer walked the next two batters to load the bases before striking out both Victor Nova and Raynel Delgado to end the threat.
Garrett Acton came on in the seventh, striking out the side after a leadoff Aaron Bracho single. Acton then gave up a solo home run to Micah Pries in the eighth, retired George Valera on a groundout and fanned Joe Naranjo before allowing a triple to Victor Nova.
That prompted a call to Charles Hall, who recorded the final four outs in perfect order, striking out two.
McDonald's second home run of the season gave the Lugnuts the lead for good in the second inning.
The Nuts added a second tally against Lake County starter Zach Draper on a Cobie Vance RBI fielder's choice in the third inning before doubling their lead on a pair of runs against reliever Tim Herrin in the seventh.
A four-run ninth against Kellen Rholl made the game more comfortable, with Yerdel Vargas and Austin Beck delivering RBI singles and Patrick McColl and William Simoneit drawing bases-loaded walks.
Vargas led the offense, going 3-for-4 with two RBIs, while Elvis Peralta, Jr., finished with two singles, a walk and three runs scored.
The Lugnuts and Captains play the second game of the six-game series on Wednesday night at 7 p.m. Lansing's starter is yet to be announced.
The Nuts return home from August 10-15 to take on the Dayton Dragons. To purchase tickets, visit lansinglugnuts.com or call (517) 485-4500.
# # #