Gorman stays on the mark for Johnson City
Cardinals No. 3 prospect smacks 11th homer on four-hit night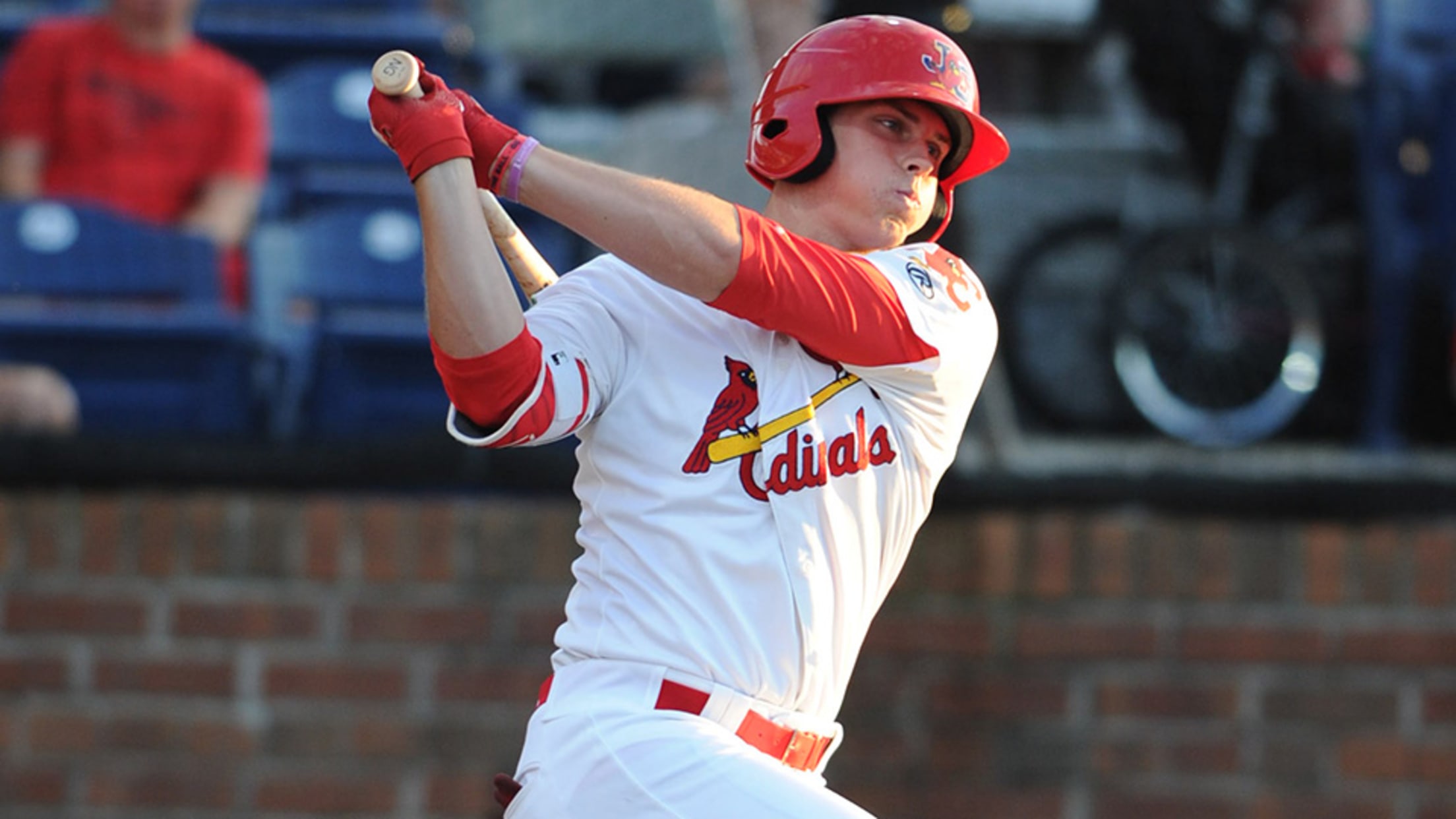 Nolan Gorman leads the Appalachian League with 11 homers and a .682 slugging percentage. (Tracy Proffitt/MiLB.com)
In the six weeks since being drafted, Nolan Gorman has proven to be a quick study. In fact, things came together so fast for the third-ranked Cardinals prospect that he already has his first home run in a Double-A ballpark.Gorman collected four hits, including his 11th homer of the season, to power
In the six weeks since being drafted, Nolan Gorman has proven to be a quick study. In fact, things came together so fast for the third-ranked Cardinals prospect that he already has his first home run in a Double-A ballpark.
Gorman collected four hits, including his 11th homer of the season, to power Rookie-level Johnson City to an 18-10 victory over Greeneville at Smokies Stadium, home of the Cubs' Southern League affiliate.
Gameday box score
The two ballclubs as well as the stadium's usual occupant, share a mutual owner, local businessman and Tennessee gubernational candidate, Randy Boyd, who hosted the Greeneville home game in Kodak, while the Smokies were on the road in Jackson.
"The stadium is really nice, almost like a big league Spring Training field," Gorman said. "A lot of stands, a lot more fans than usually you get at the smaller ballpark, but it was really fun and it was a good atmosphere."
Gorman has gone deep in three straight games and has four long balls in the past five contests to move into a tie with Elizabethton's Chris Williams atop the Appalachian League leaderboard.
"Just going day to day, honestly," Gorman said. "Working with hitting coach [Cody Gabella]. Keeping my approach simple and just kind of letting my natural swing and ability take over."
The 18-year-old is 17-for-33 (.538) during a seven-game hitting streak that's boosted his average to .341 through 33 Minor League games. The surge has moved him into seventh place on the circuit, while his .682 slugging percentage is the Appy League's best.
"Honestly, there's nothing that I do superstition-wise," Gorman said. "I can't think of something in particular that kind of got me on a roll here. Just honestly, sticking to my approach and my routine every single day. That's what really helps a lot."
A finalist in the 2017 MLB All-Star High School Home Run Derby, Gorman had a stretch at the start of July in which he homered five times in as many contests. The 19th overall pick has been lauded for his power, but Saturday night's blast represented his only RBI and was his seventh solo shot, just one of which was at the start of an inning. He's driven in 26 runs despite batting .355 with runners in scoring position but said he's not concerned about what the numbers reflect.
"Those opportunities just happen and I haven't really thought anything about that," he said.
After beating out an infield hit to third in the first inning and flying to right in the third, the 6-foot-1, 210-pounder went back-to-back with Donivan Williams to give the Cardinals a 9-1 lead in the fourth. Gorman played copycat again with Williams in the fifth and seventh, both times following his teammate's single with a base knock.
"Honestly, you just play the game the same way as if it's 1-0," he said. "There's no different approach you take from at-bat one to at-bat six. You got to stay the same the whole time, so if you can focus on that you can probably be pretty successful in a game like tonight."
The Phoenix native pulled a liner into right in the fifth and smacked a roller through the left side in the seventh before scoring on Dariel Gomez's infield single. Gorman bounced into a forceout in the eighth and walked to load the bases in the ninth.
Williams finished with three hits, four RBIs and three runs scored, while Michael Perri went 4-for-4 with a homer, walk, four RBIs and four runs scored. With a shot at a fifth hit, he was plunked in the ninth.
Gerard Gilberto is a contributor to MiLB.com. Follow and interact with him on Twitter, @GerardGilberto4.