Rocks' Watson goes distance on rainy day
Kansas City right-hander takes no-no bid into sixth in two-hitter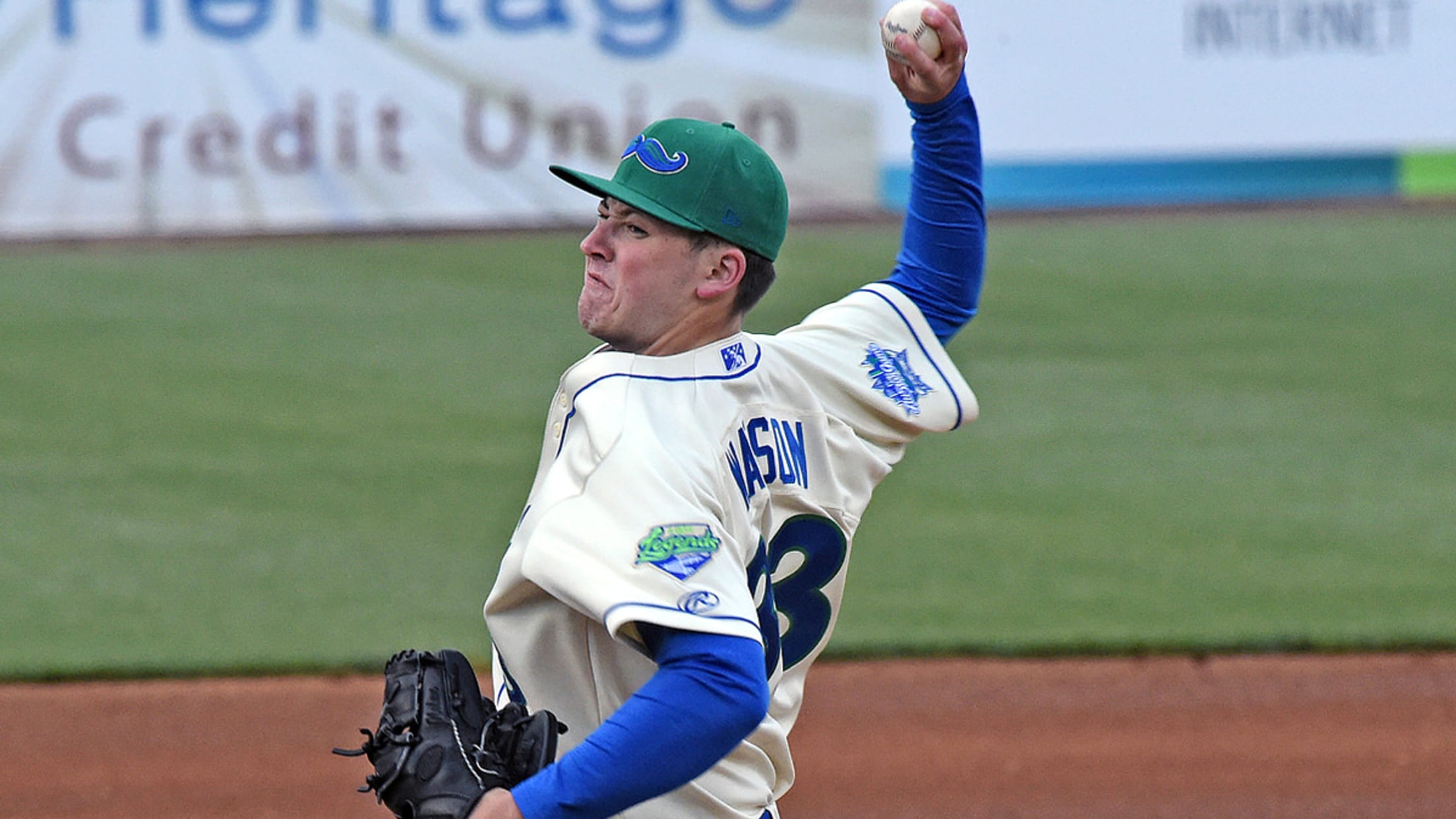 Nolan Watson lowered his Wilmington ERA to 3.65 through six starts after amassing an 5.81 ERA in 13 at Lexington. (Brian McLeod/MiLB.com)
Six weeks ago, Nolan Watson was struggling to find himself at Class A Lexington. His search may be over.The right-handed Kansas City prospect took a no-no bid into the sixth inning en route to a two-hitter in Class A Wilmington's 8-0 win over Frederick at Nymeo Field. Watson (4-1) struck
Six weeks ago, Nolan Watson was struggling to find himself at Class A Lexington. His search may be over.
The right-handed Kansas City prospect took a no-no bid into the sixth inning en route to a two-hitter in Class A Wilmington's 8-0 win over Frederick at Nymeo Field. Watson (4-1) struck out four and walked one in arguably the best start of his career.
Gameday box score
"The wind was blowing in. I just figured I could be aggressive, throw strikes and let them hit it as far as they could because I knew I wasn't gonna get hurt with home runs," the 21-year-old said.
Watson induced infield popups from the first three batters of the game on six pitches to quickly get back to the dugout and reinforce his pregame strategy.
"[An inning like that] just gives you confidence that you can be aggressive and they'll get themselves out," he said. "You don't have to pick at corners, just kind of change speeds and be aggressive in the strike zone."
Watson retired the side in order in the second before hitting Collin Woody to begin the third, then got Alejandro Juvier to fly out to center field and Angelo Castellano to ground into a 6-3 double play. Watson plunked Cole Billingsley to start the fourth, but Billingsley was thrown out trying to steal second, and a two-out walk to Orioles No. 30 prospect Preston Palmeiro was followed by a flyout by Randolph Gassaway.
The Indianapolis native victimized Baltimore's No. 19 prospect Jomar Reyes with his first strikeout of the game to start the fifth and retired six straight before Billingsley lined a single to left to break up the no-hitter with two outs in the sixth. After throwing a strike to T.J. Nichting, the sky opened up for a 22-minute rain delay, after which Watson returned to the mound and got Nichting to pop out to third.
"[The delay] wasn't very long. I had two outs and already had a strike on the guy, so it wasn't too hard," Watson said. "If It would've been longer, it might have been more difficult, but it was easy going out there with two outs and already having thrown a pitch. It just gave me the confidence to throw like I did all game, attack the strike zone and not have to pick at the corners."
Watson allowed another hit in the seventh -- a two-out single to Reyes -- but he struck out Jake Ring to finish off his second shutout since the start of June after going the first three-plus seasons of his career without one. Those campaigns were a struggle for Kansas City's 2015 first-round pick, who sports a 6.56 career ERA, and he'll be the first to admit he didn't handle those struggles as well as he would've liked, in part because of his Draft pedigree.
"There was [extra pressure] and I probably let it get to me a little too much, "Watson said. "But I'm glad it's all in the rear-view."
The 6-foot-2, 195-pound hurler's recent surge started with a June 15 shutout of Class A Rome in his final start for Lexington. He was promoted to Wilmington six days later. After a rough debut in Potomac, Watson has turned in four quality starts in his past five outings, one more than he posted in his 13 starts with Lexington.
"[Legends] manager [Scott Thorman] just told me before that last game in Lexington to go out there and be confident and I did," Watson said. "Getting called up was a newfound confidence in myself, and maybe partly because of the callup and thinking they have confidence in me. In the end, [I'm] just more confident being up here and that I deserve to be here."
Royals No. 17 prospectMeibrys Viloria went 3-for-3 with a home run and three RBIs, and No. 21 Gabriel Cancel added a homer, a single and three RBIs.
Zac Lowther (3-2), the Orioles No. 15 prospect, allowed three runs -- one earned -- on six hits and three walks while striking out three over six innings.