Nuts rally past TinCaps, 6-3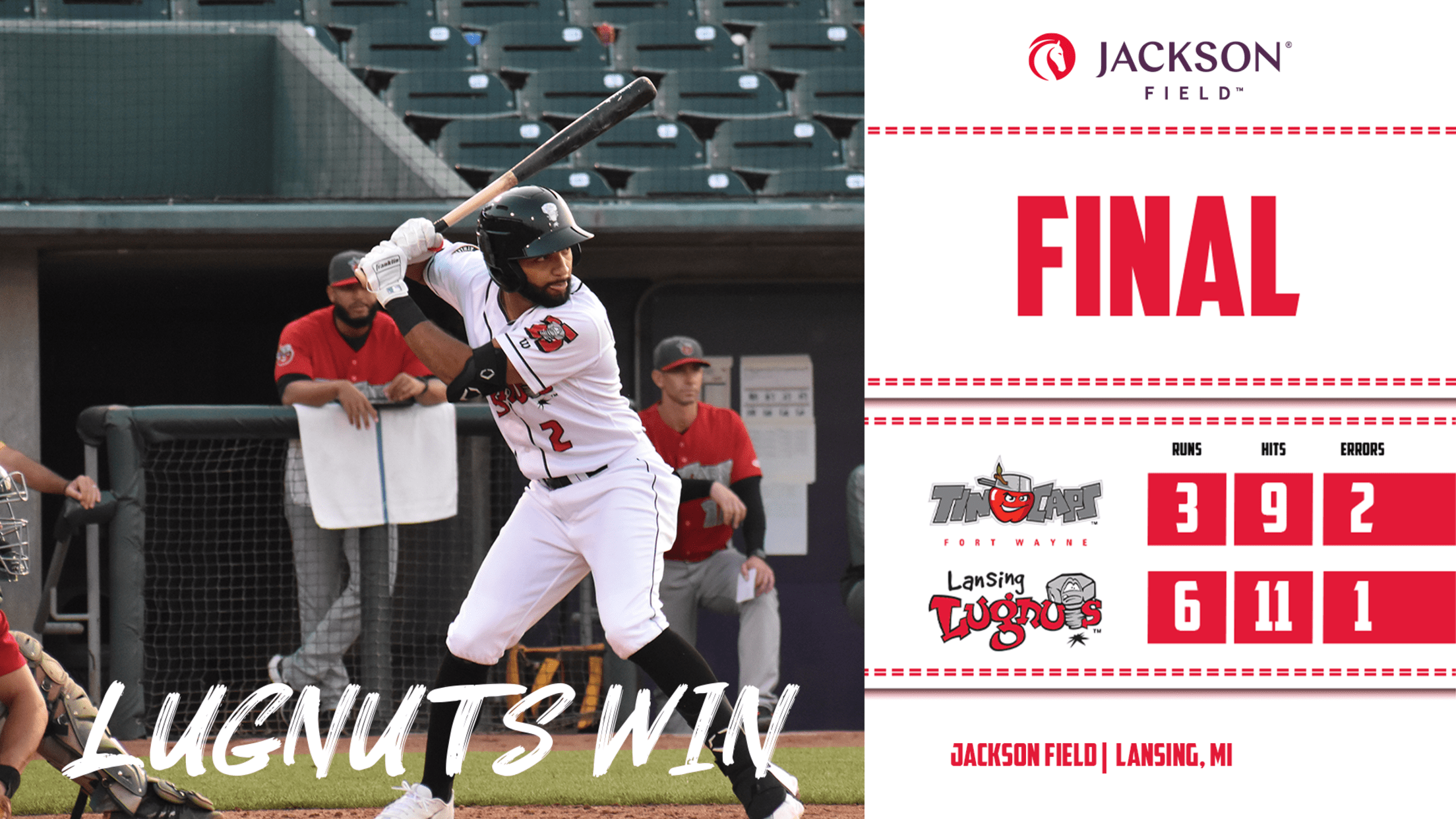 LANSING, Mich. – Trailing 3-1 entering the seventh and 3-2 entering the eighth, the Lansing Lugnuts (35-40) rose up for a 6-3 victory over the Fort Wayne TinCaps (35-39) on Thursday night at Jackson® Field™. A three-run TinCaps fourth-inning rally against Lugnuts starter Jack Cushing appeared to be sending the
LANSING, Mich. – Trailing 3-1 entering the seventh and 3-2 entering the eighth, the Lansing Lugnuts (35-40) rose up for a 6-3 victory over the Fort Wayne TinCaps (35-39) on Thursday night at Jackson® Field™.
A three-run TinCaps fourth-inning rally against Lugnuts starter Jack Cushing appeared to be sending the contest to the same result as the opener, won 3-1 by the TinCaps, but the game changed with the arrival of Fort Wayne reliever Austin Smith in the seventh inning.
With one out in the seventh, Cobie Vance doubled to left off Smith and Drew Millas singled up the middle to bring him in, trimming the Nuts' deficit to a run.
Then Lansing opened the eighth inning against Smith with the first four batters reaching base: Jordan Díaz doubled to left and Patrick McColl tied the score with a double to right-center. Lester Madden, Jr., attempted to drop down a sacrifice bunt, but Smith threw it away to give the Lugnuts a 4-3 lead, sending Madden, Jr., to second where Yerdel Vargas promptly doubled him home. After a sacrifice from Marcos Brito, Vance delivered an RBI single to cap the four-run rally.
Charles Hall then faced the minimum in the ninth, erasing a leadoff walk with a double-play ball before striking out Agustin Ruiz to end the game and the Lugnuts' three-game losing streak.
Lansing starter Cushing struck out seven batters while allowing three runs on eight hits and two walks in 5 2/3 innings. Leudeny Pineda pitched the next 2 1/3 innings, allowing one hit and striking out two, to bridge to Hall in the ninth.
The Lugnuts' offense was led by leadoff man Vance and no. 3 hitter Austin Beck, who each finished 3-for-4 with a walk.
Friday is a special White Claws & Paws with post-game LAFCU Fireworks. First pitch is at 7:05 p.m. between Lansing right-hander Reid Birlingmair (4.08 ERA) and debuting TinCaps right-hander Connor Lehmann. To purchase tickets, visit lansinglugnuts.com or call (517) 485-4500.
# # #