Nuts swipe a run on rare catcher's balk call
Ports backstop Raga penalized after leaving box early on a pitchout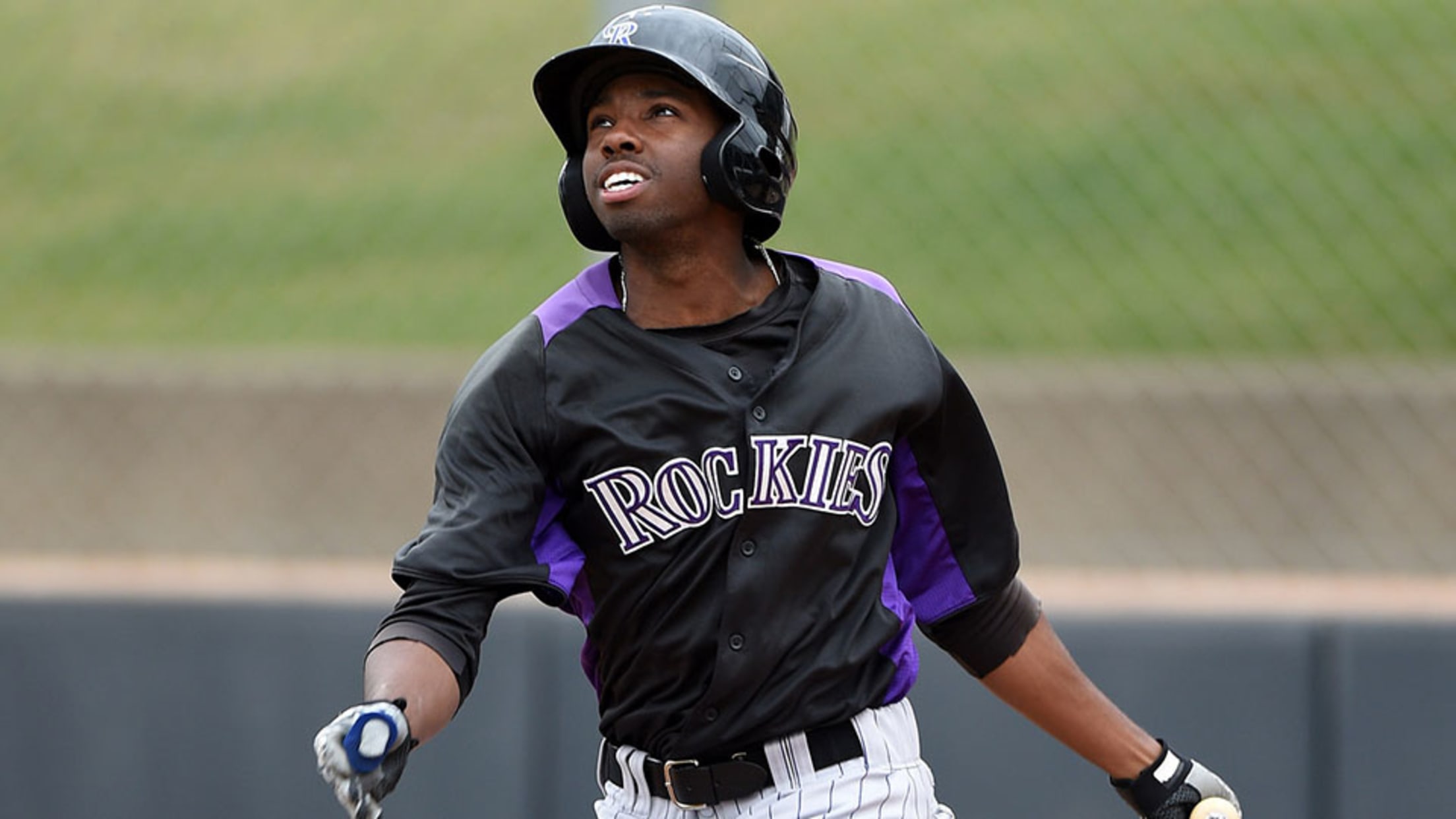 Wes Rogers swiped his fifth stolen base of the season in the third inning for the Nuts. (Mike Janes/Four Seam Images)
Wes Rogers had already stolen one bag, and perhaps with it, some peace of mind from the Stockton battery of Brent Graves and Argenis Raga. Then with Rogers stationed at first and poised to make another break, he and Modesto nabbed a run. Class A Advanced Modesto was the beneficiary
Wes Rogers had already stolen one bag, and perhaps with it, some peace of mind from the Stockton battery of Brent Graves and Argenis Raga. Then with Rogers stationed at first and poised to make another break, he and Modesto nabbed a run.
Class A Advanced Modesto was the beneficiary of a clearly stated-if-rarely-applied rule Thursday night when a balk called on Stockton catcher Raga and charged to pitcher Graves in the fourth inning handed the Nuts their fifth and final run in a 5-2 win over the Ports.
"At the time we had runners at first and third, and Wes Rogers was at first base," Nuts manager Fred Ocasio said of the rare rule application by home plate umpire Kyle Wallace. "He's a guy who steals a lot of bases and already had stolen one during the game. They kept trying to pick over there at first base, and they actually threw a couple of pitchouts. On the second pitchout, I guess the catcher got out in front of home plate too much."
Backtsop Raga was called in violation of Official Rule 4.03(a) which states, "The catcher shall station himself directly back of the plate. He may leave his position at any time to catch a pitch or make a play except that when the batter is being given an intentional base on balls, the catcher must stand with both feet within the lines of the catcher's box until the ball leaves the pitcher's hand."
To borrow a baserunning term, Raga left the catching box too early, and the play left confused more than a few of the 3,723 in attendance at John Thurman Field for the Nuts home opener.
"When it happened, I thought it was the pitcher," Ocasio said. "I thought the pitcher probably didn't stop or something, and the first baseman (John Nogowski) actually was the one who told me, 'No, it was the catcher's balk.' I ended up coming to the dugout and asking our catching coordinator, Mark Strittmatter, 'How is that a balk?' He explained to me that the catcher came out in front of home plate too much."
The call sent Modesto's Max White home and put Rogers, who had stolen second base the inning before, back on second. It did not draw an argument from Stockton manager Rick Magnante.
"I've never seen it and I've never even been close to something like that," Ocasio said. "Everybody in the dugout, all the coordinators who were in town, they were saying they've never seen a balk on a catcher that actually was called."
Ocasio isn't alone. In a Q&A with MLB.com, former Major League umpire Tim McClelland once said he had never seen it called.
"It's one of those things you just kind of let slide," McClelland said.
Modesto was perfectly fine with the fact that Wallace didn't.
"We're trying to score some runs and get a baserunner going," Ocasio said. "They pitched out and I'm just glad that he didn't take off. Then for that to happen, it was kind of like a gift of a run, so we'll take it any time."
The skipper added that the odd occurrence may give his team another reason to keep pressing the issue on the basepaths.
"We have like four or five guys who can be like that," he said. "Max White, Emerson Jimenez, Forrest Wall. Among our starters, we have a bunch of guys who are going to be able to do stuff like that, be aggressive on the basepaths with stolen bases and stuff like that."
Tyler Maun is a contributor to MiLB.com. Follow him on Twitter @TylerMaun.