Nuts win a wild one, 7-6 over West Michigan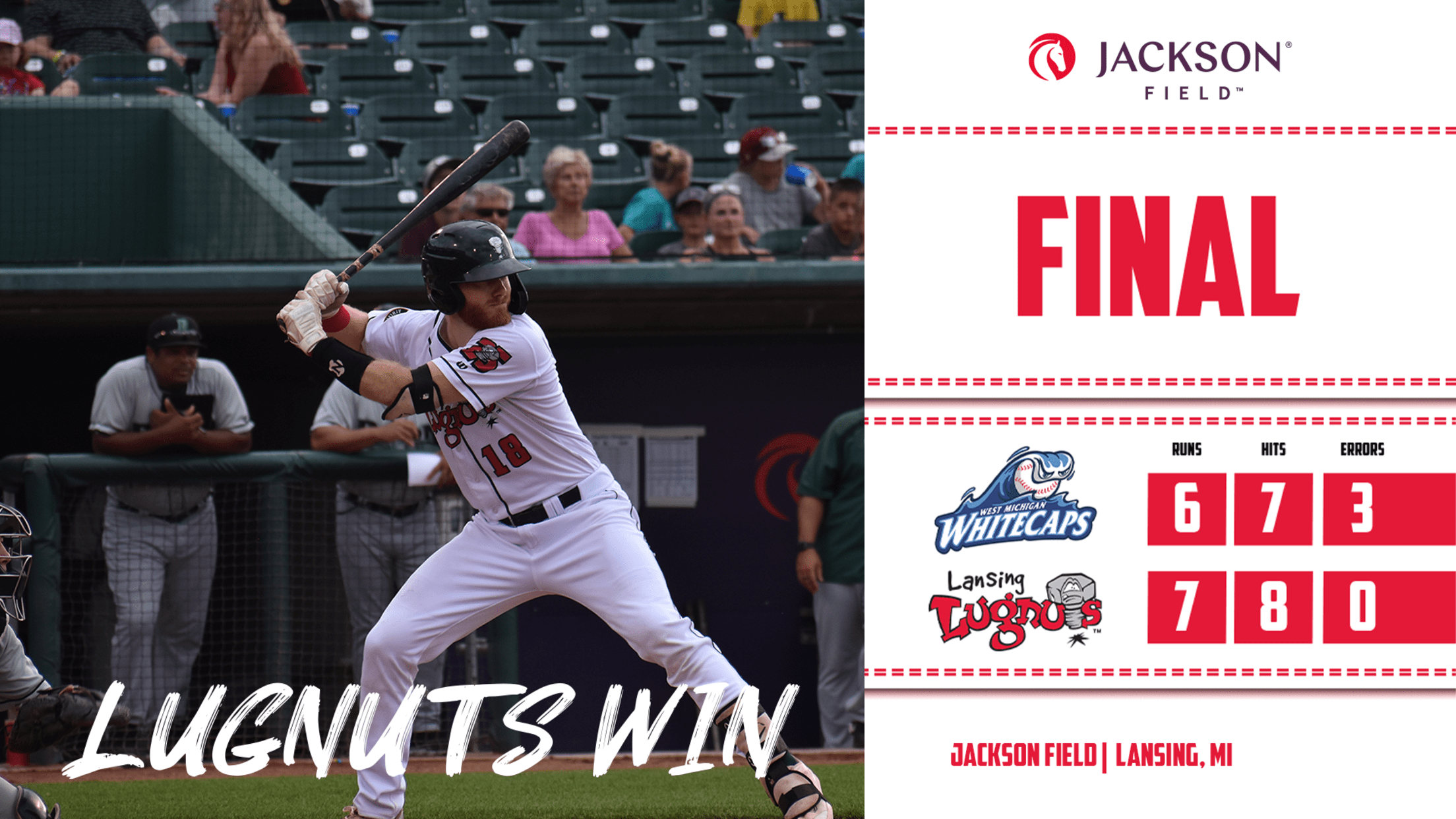 LANSING, Mich. – There were two pivotal swings, one big and one small, each netting three runs, and they swung the balance of a wild game, lifting the Lansing Lugnuts (48-53) to a 7-6 victory over the West Michigan Whitecaps (47-54) in front of 5,459 on Saturday night at Jackson®
LANSING, Mich. – There were two pivotal swings, one big and one small, each netting three runs, and they swung the balance of a wild game, lifting the Lansing Lugnuts (48-53) to a 7-6 victory over the West Michigan Whitecaps (47-54) in front of 5,459 on Saturday night at Jackson® Field™.
The first swing came in the bottom of the fifth inning with the Lugnuts trailing 3-1, a three-run go-ahead homer by designated hitter William Simoneit off West Michigan starter Brendan White. It was Simoneit's second home run of the series and eighth home run of the season, and it gave the Nuts their first lead.
But a two-run double by Wenceel Pérez in the top of the seventh leapfrogged the Whitecaps in front, 5-4, setting the stage for the second, smaller swing.
With one out and Brett Harris, Jared McDonald and Jonny Butler filling the bases in the bottom of the seventh inning, Yerdel Vargas nubbed a pitch from reliever Michael Bienlien toward third. Bienlien came off the mound to field it and opted for the force at home, but his underhand toss sailed over catcher Cooper Johnson as Harris scored. McDonald raced around third for the plate, prompting Johnson to try to throw the ball toward Bienlien covering, but again the throw went awry. That second error allowed Butler to score all the way from first, giving the Lugnuts a 7-5 lead.
Gage Workman's RBI single in the eighth brought the Whitecaps a run closer, but Charles Hall slammed the door on any further comeback thoughts, stranding runners at first and second base in both the eighth and ninth innings to secure the win.
Lansing starting pitcher Reid Birlingmair tossed his fourth quality start of the year, allowing three runs on three hits and two walks in six innings, striking out four.
Jared McDonald and Drew Swift led the Nuts' offense with 2-for-4 efforts, with Swift adding a double, walk and a stolen base.
Parker Meadows and Austin Murr homered in the loss for the Whitecaps.
Having won three of the first five games of the six-game series, the Nuts go for the series victory on a Capital City Market Kids Day at 1:05 p.m. Sunday, sending returning top prospect right-hander Jeff Criswell (0.00 ERA) against Whitecaps southpaw Adam Wolf (3.94 ERA). To purchase tickets or for more information, visit lansinglugnuts.com or call (517) 485-4500.
# # #