NYPL notes: Mercado enjoying competition
Rays righty ready to impress after stints in GCL, extended spring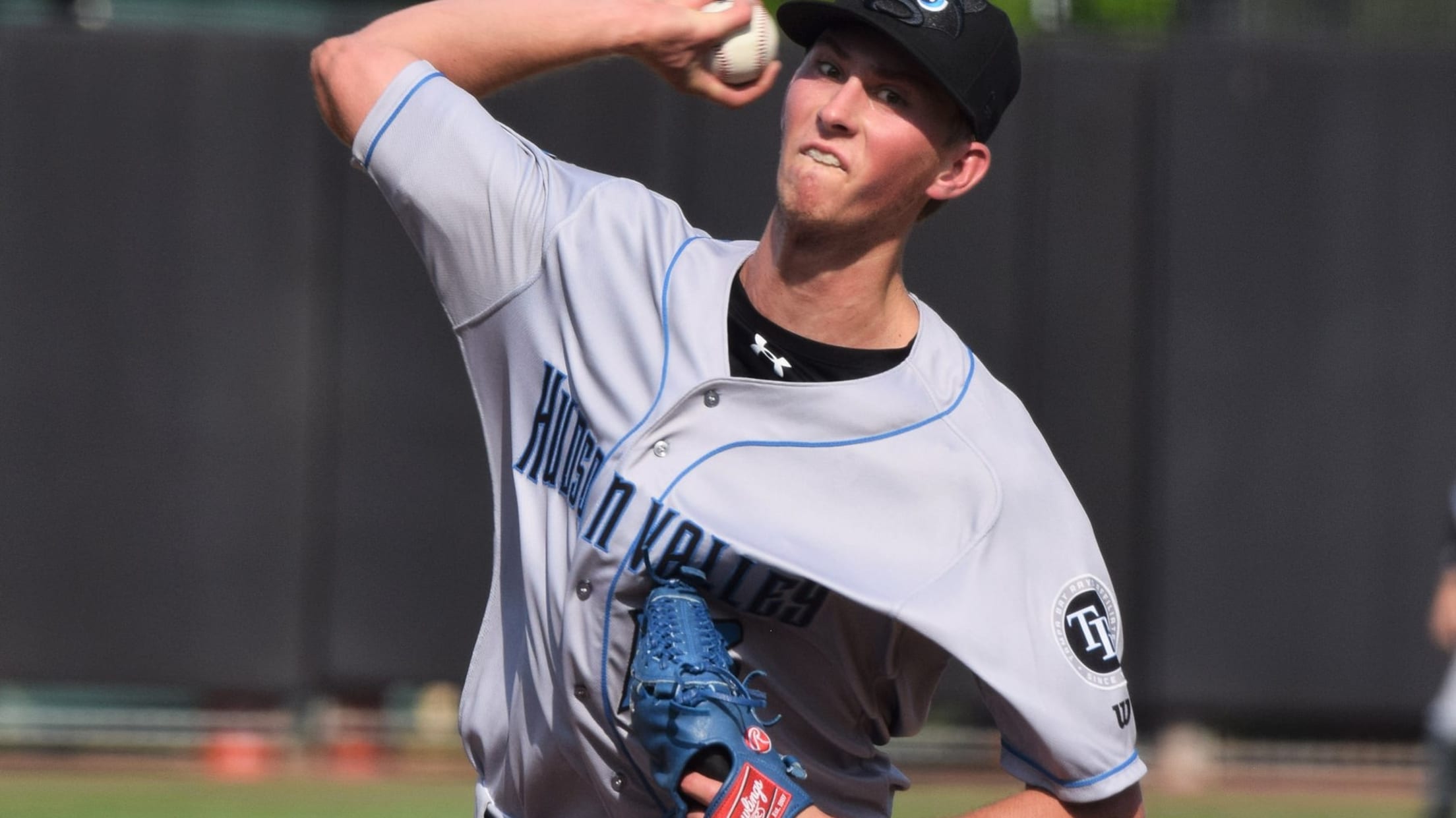 Renegades starter Michael Mercado was a second-round pick in 2017 out of a San Diego high school. (Patrick Cavey/MiLB.com)
After spending the bulk of his short time as a professional baseball player in Florida, Rays No. 16 prospectMichael Mercado is enjoying what he's seen so far of the New York-Penn League.Tampa Bay's second-round selection in the 2017 Draft, the San Diego native debuted in the Gulf Coast League last
After spending the bulk of his short time as a professional baseball player in Florida, Rays No. 16 prospectMichael Mercado is enjoying what he's seen so far of the New York-Penn League.
Tampa Bay's second-round selection in the 2017 Draft, the San Diego native debuted in the Gulf Coast League last year and then spent the first half of this season in extended spring training before finally joining the Hudson Valley Renegades, where the baseball scene has opened his eyes a bit wider.
"I was in the GCL my first year, but getting up here was definitely a different atmosphere," said the 19-year-old pitcher. "There's fans, there's stuff going on in the games, the games aren't dead like they are a little bit down there."
Debuting with the Renegades, Mercado threw his first pitch at this level in front of 3,129 spectators at Aberdeen's Leidos Field at Ripken Stadium.
His home debut at Dutchess Stadium came in front of 4,000-plus fans.
"It's a lot fun seeing how into it people are around here," said Mercado. "Growing up in San Diego, we had the big league team, so I never really got to experience how people really feel about Minor League affiliates. I'm really intrigued at how interested by it people are around here."
Though taking in the sights and sounds at this new level, the 6-foot-4 right-hander still knows he has a job to do and is happy to have gotten his feet wet after an elongated run in extended.
"That was a grind," he said. "It's two and half, three months in the hot Florida weather. No one really loves to be in extended, but some guys just have to go through it. It's all part of the process. I'm proud of the guys who made it up here for persevering through that. It's a tough time for everybody."
Now, Mercado can began implementing the hard work of that time into competitive play.
Highly confident that his fastball, which can sit in the low to mid-90s, will continue to play up as his go-to pitch, he has diligently worked at ensuring his offspeed and breaking pitches are more fine-tuned prior to each of his starts this season.
"Off-speed is huge and mixing up pitches is key to success up here," said Mercado. "I'm really trying to work on being able to consistently throw my changeup and my curveball where I want it to go. Once I get the feel for those pitches in the game, they usually have a lot of success. But it's really trying to get a feel for those pitches before I go out on the mound so that from the first inning on, they're working well."
Having the opportunity to do that in front of growing crowds has piqued his excitement for continuing up the ladder, where not long ago that wasn't even in his mind-set.
"I couldn't be more thankful for the position I'm in right now," Mercado concluded. "Two years ago, even a year and a half ago, I could have never pictured being in this moment. Improving gradually and hitting every level and hopefully hitting two levels in a certain year is my plan. I'm just looking for steady improvements and having gradual success where I'm at right now."

In brief
Thunder cat
: Tri-City's
Seth Beer
is picking up where he left off his college career, atop the home run leaderboard. The first-round pick of the Astros earlier this month (No. 28 overall) sits as the early league leader with four long balls in his first nine games as a professional. The Clemson product led the ACC with 22 home runs earlier in the year. Beer has 11 hits since joining the ValleyCats, six for extra bases.
Fool me one time:
Lowell's
Cole Brannen
has gone a clean five-for-five on stolen base attempts this season. Having started the season in Class-A Greenville, Boston's No. 6 prospect is 14-for-15 on the year and has stolen nine straight bases since his lone caught stealing. Brannen has parlayed three of his league best five swipes for the Spinners into runs scored.
Pitching in:
The
Williamsport
pitching staff has allowed just 56 hits, the least of any staff in the league, through their first 81 innings of play. None of the 15 players who have tossed a pitch for the team have allowed more than seven hits, with 12 allowing five or less. It's also probably not a coincidence that the staff's 2.44 ERA is also best in the league, having allowed just 22 runs through nine games.
Craig Forde is a contributor to MiLB.com.