Smooth sailing for Ports' Meisner
A's No. 26 prospect yields two singles over 6 2/3 scoreless frames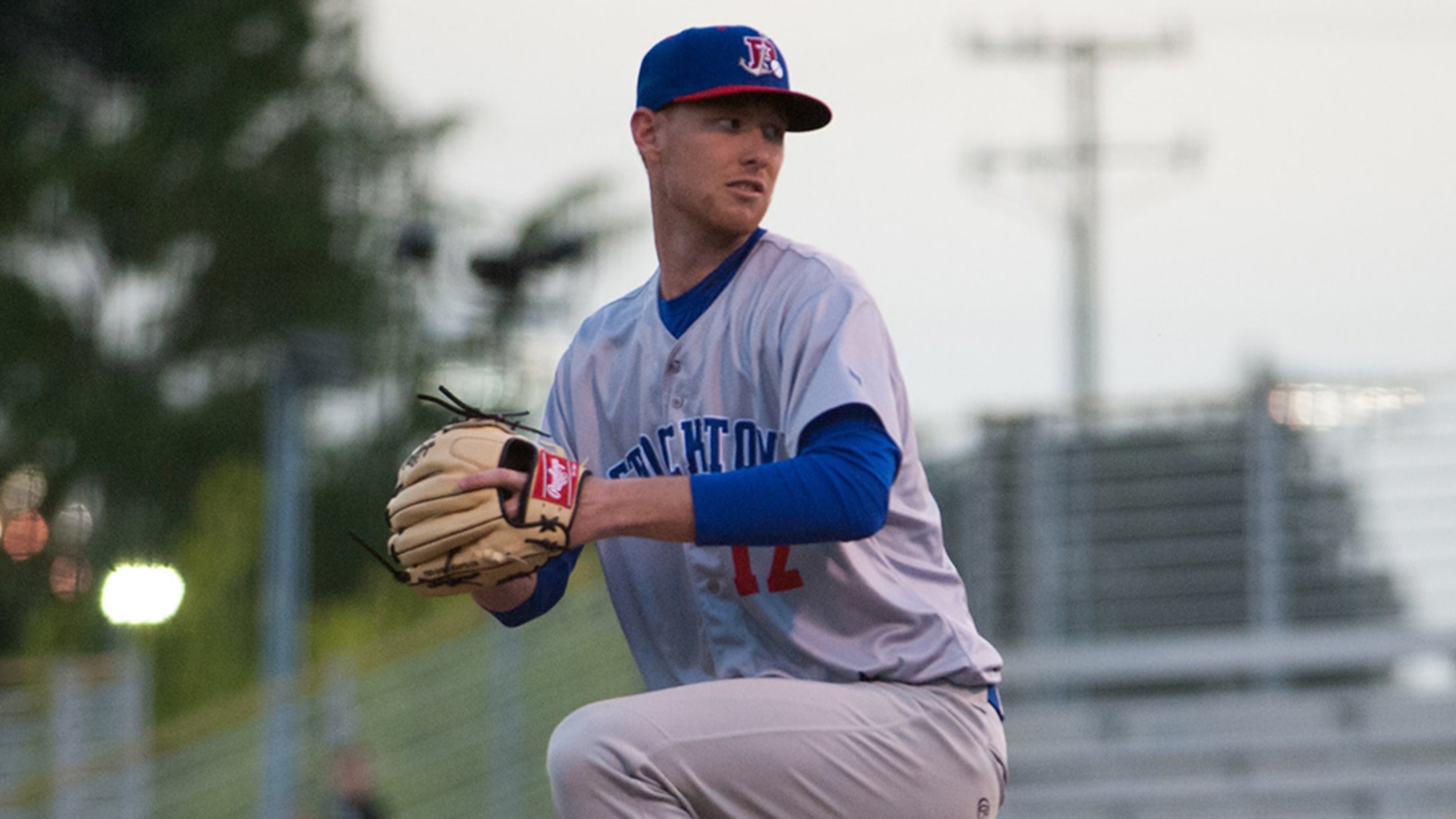 Casey Meisner is averaging more than 10 strikeouts per nine innings in his last 10 appearances. (Meghan Camino/Stockton Ports)
Casey Meisner didn't enjoy the struggles he endured last year, but he believes they proved beneficial in the long run.The A's No. 26 prospect yielded two singles over 6 2/3 scoreless innings on Sunday as Class A Advanced Stockton held on for a 3-2 victory over Modesto at John Thurman
Casey Meisner didn't enjoy the struggles he endured last year, but he believes they proved beneficial in the long run.
The A's No. 26 prospect yielded two singles over 6 2/3 scoreless innings on Sunday as Class A Advanced Stockton held on for a 3-2 victory over Modesto at John Thurman Field.
Meisner struck out six and walked four while matching his longest start of the season. It was his longest scoreless outing since May 21, 2015, when he fired seven shutout innings for Class A Savannah in the Mets system.
Gameday box score
"[Modesto] was a pretty aggressive team, so keeping them off-balance was my primary goal," Meisner said. "They're a team that wants to grind out at-bats and stay alive. They foul off a lot of pitches and try and get you out of the game as quickly as possible. I just went right after them and made them put the ball in play."
Meisner (4-5) worked around three walks and a hit batter over the first three innings of a scoreless duel with Nuts right-hander Reggie McClain. Immediately after Stockton handed its starter a three-run lead in the fourth, the 22-year-old issued his fourth free pass and surrendered his first hit to Logan Taylor with two outs.
Including the final out in the fourth, Meisner set down nine straight batters until Jordan Cowan singled with two outs in the seventh. That marked the end of the line for the 2013 third-rounder, who threw 59 of a season-high 99 pitches for strikes.
"My adrenaline was going pretty good there in the first few innings, but I was able to settle in," the Texas native said. "To be honest, a few of my walks could have gone either way. Some of those pitches were very close, but it is what it is. After I got the lead, it took a little of the weight off."
Obtained from the Mets on July 27, 2015 for All-Star reliever Tyler Clippard, Meisner lost his first 12 decisions last season for the Ports and finished 1-14 with a 4.85 ERA in 28 games, including 19 starts. He had an 11.46 ERA through four appearances this year, but he's pitched to a 3.00 ERA in his last 10 outings, including seven starts, with 54 strikeouts in 48 innings.
"The California League is a tough league to pitch in and at the beginning of the season, I was just throwing too much over the heart of the plate," Meisner said. "I've been working on a slider for the last year or so and that's come along nicely, which has really helped.
"As far as last year, I really didn't experience much failure in my career up until then. To have that happen wasn't a good thing, but it also was -- if that makes sense. I grew up a lot and learned how to deal with adversity. I was able to draw on that earlier this year when I was struggling. It was a good learning experience for me."
A's No. 24 prospect Nolan Blackwood recorded his seventh save, despite allowing two runs on three hits with two strikeouts in 2 1/3 innings.
Sandber Pimentel had two hits, including a runs-coring double, for Stockton. James Harris opened the scoring with an RBI single and A's No. 27 prospect Skye Bolt contributed a sacrifice fly.
McClain (7-4) was charged with three runs on five hits and two walks while fanning three in six frames. Top Mariners prospect Kyle Lewis made his 2017 debut for the Nuts but left in the fourth after making a leaping catch. He missed the first 2 1/2 months of the season after tearing two ligaments and the meniscus in his right knee last July.
Tweet from @KLew_20: First game with the boys! Felt good to play in front of some people again.