Ports' Blanco leads Cal North to All-Star win
Athletics outfielder homers, doubles, steals in four-hit showing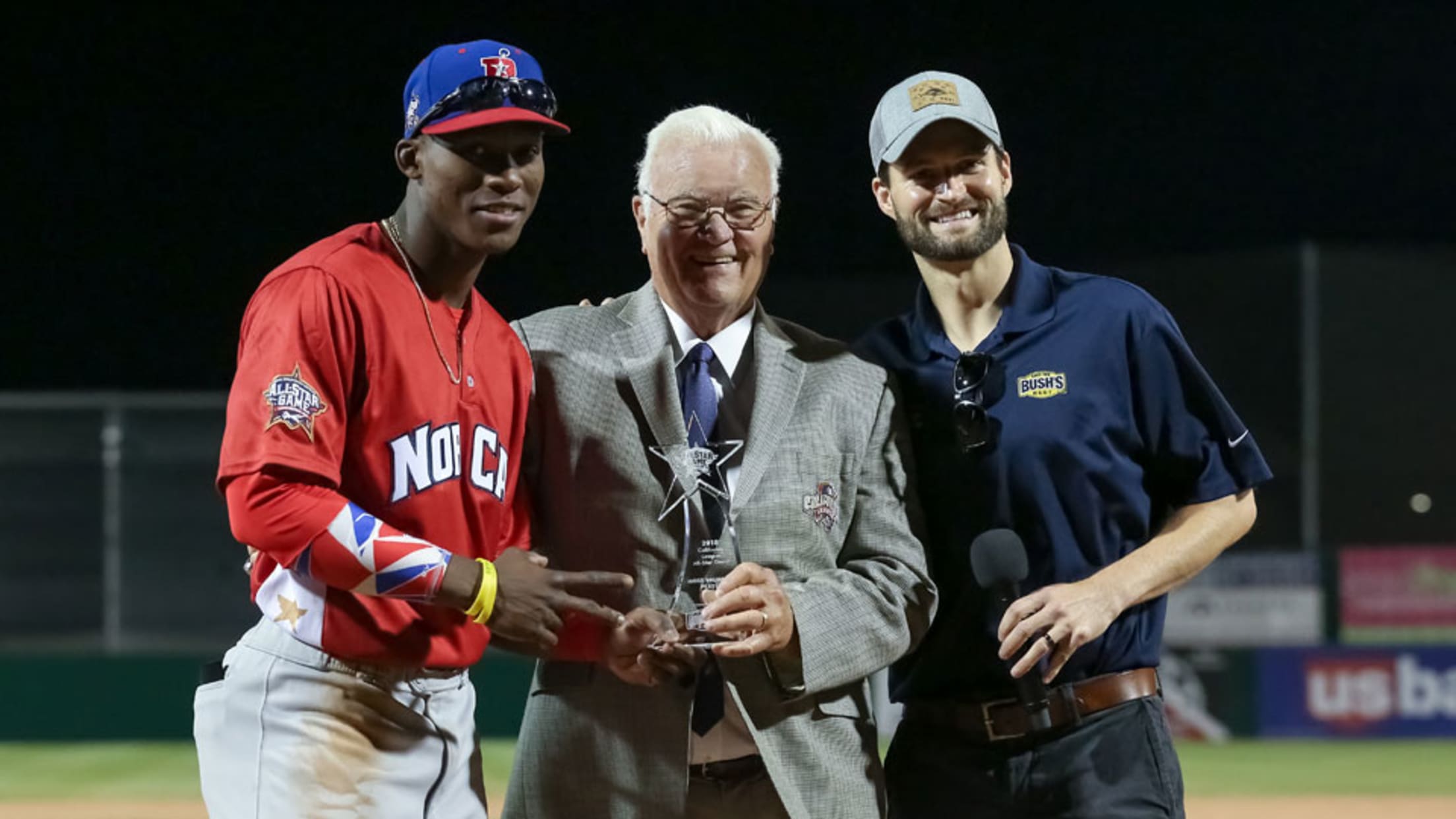 In his first professional season, Dairon Blanco waltzed off with BUSH'S® All-Star MVP honors. (Tim Cattera/MiLB.com)
LANCASTER, California -- After a Home Run Derby dominated by the South, the California League All-Star Game was all North Division on Tuesday.Stockton's Dairon Blanco was named the BUSH'S® All-Star MVP, as the Oakland prospect went 4-for-5 with a homer, a double, a stolen base and a pair of runs
LANCASTER, California -- After a Home Run Derby dominated by the South, the California League All-Star Game was all North Division on Tuesday.
Stockton's Dairon Blanco was named the BUSH'S® All-Star MVP, as the Oakland prospect went 4-for-5 with a homer, a double, a stolen base and a pair of runs scored in the 8-1 North victory in front of a crowd of 4,673 at the Hangar.
Gameday box score
"I'm very happy to participate in an All-Star Game in my first season," Blanco said through San Jose Johneshwy Fargas as interpreter. "And being the MVP, I'm in the zone right now. I'm so happy glad to be here in the All-Star Game my first season."
The native of Cuba is playing his first season in the United States after signing with the A's in December. Through 68 games with the Ports, he batted ..280/.333./.394. He's tied for fourth in the Cal League with 20 stolen bases and leads the loop with eight doubles.
His speed was on display early. He started off by recording an infield single off Lake Elsinore's Reggie Lawson and swiping second. He scored on a two-out single by Stockton's Jonah Heim.
"I went outside to get a good hit, good contact and I steal whenever I can," Blanco said. "That's my game and I felt really excited to get a hit and steal in the first inning, right away."
Power has not been a major part of Blanco's game -- he entered the break with one home run -- but the 25-year-old outfielder opened the third with a jack to right field off the Storm's Elliot Ashbeck.
"Thank God I got a good hit and that ball was gone, but I wasn't trying to hit a homer," the 6-foot, 170-pounder said. "I was trying to hit the ball well. That was a great game and we played to get the victory."
Blanco singled through the right side in the fourth, and in the eighth, roped a liner that sailed over the head of Lake Elsinore's Edward Olivares for a double.
"I was thankful for that beautiful moment, to be in the All-Star Game, playing really well," Blanco said of his fourth hit. "[I was trying] to enjoy the game, and when I enjoy the game, these things happen. I felt very good -- I got very good contact on that ball that went over his head."
Ramos wows home crowd in Derby
Evan White, the Mariners' No. 2 prospect, homered during a 2-for-4, three-RBI showing, and was one of a few Modesto Nuts players to make their presence felt. Center fielder Kyle Lewis, the No. 60 overall prospect, went 1-for-3 with a run and made a diving catch to rob Lancaster's Roberto Ramos of a hit to end the first inning. Third baseman Joe Rizzo doubled twice and scored once, and he raced in to make a barehanded play to retire Alan Trejo of Lancaster in the eighth. Shortstop Bryson Brigman added a hit and snared a liner off the bat of Lake Elsinore's Hudson Potts to start a double play that finished the seventh.
"I think it's definitely a positive thing going into the second half, to take that momentum," White said of the Nuts' collective All-Star experience.
Fargas stole three bases, entering in the seventh and going 2-for-2 with two runs scored. He insisted that he's not as fast as Blanco, but Blanco claimed Fargas was the faster of the two.
Visalia's Tommy Eveld was one of six North pitchers to throw scoreless innings. He broke out a knuckleball he hadn't thrown since college, baffling Lake Elsinore's Buddy Reed, Rancho Cucamonga's Omar Estevez and Lancaster's Vince Fernandez.
"I threw it a little bit in college," the University of South Florida product said, adding he had no intention of throwing it in a regular-season game. "I figured stats don't count and I might as well have a little fun. After my first season on the team at USF, I stopped throwing it. I threw it a couple times tonight, mixed it in, why not? Everyone thought it was hilarious. I threw the first one to Buddy Reed, [and] he stepped out of the box, smiling, laughing, asked me what it was. It keeps it light."
Emilio Vargas, Eveld's teammate, started and was named the winner. He worked around a walk in an otherwise perfect frame.
Rancho Cucamonga's Logan Landon went 2-for-3 with a long ball for the South.
Josh Jackson is a contributor to MiLB.com. Follow and interact with him on Twitter, @JoshJacksonMiLB.