RockHounds' Holmes flirts with no-hitter
A's No. 3 prospect posts eight zeros in longest start as a pro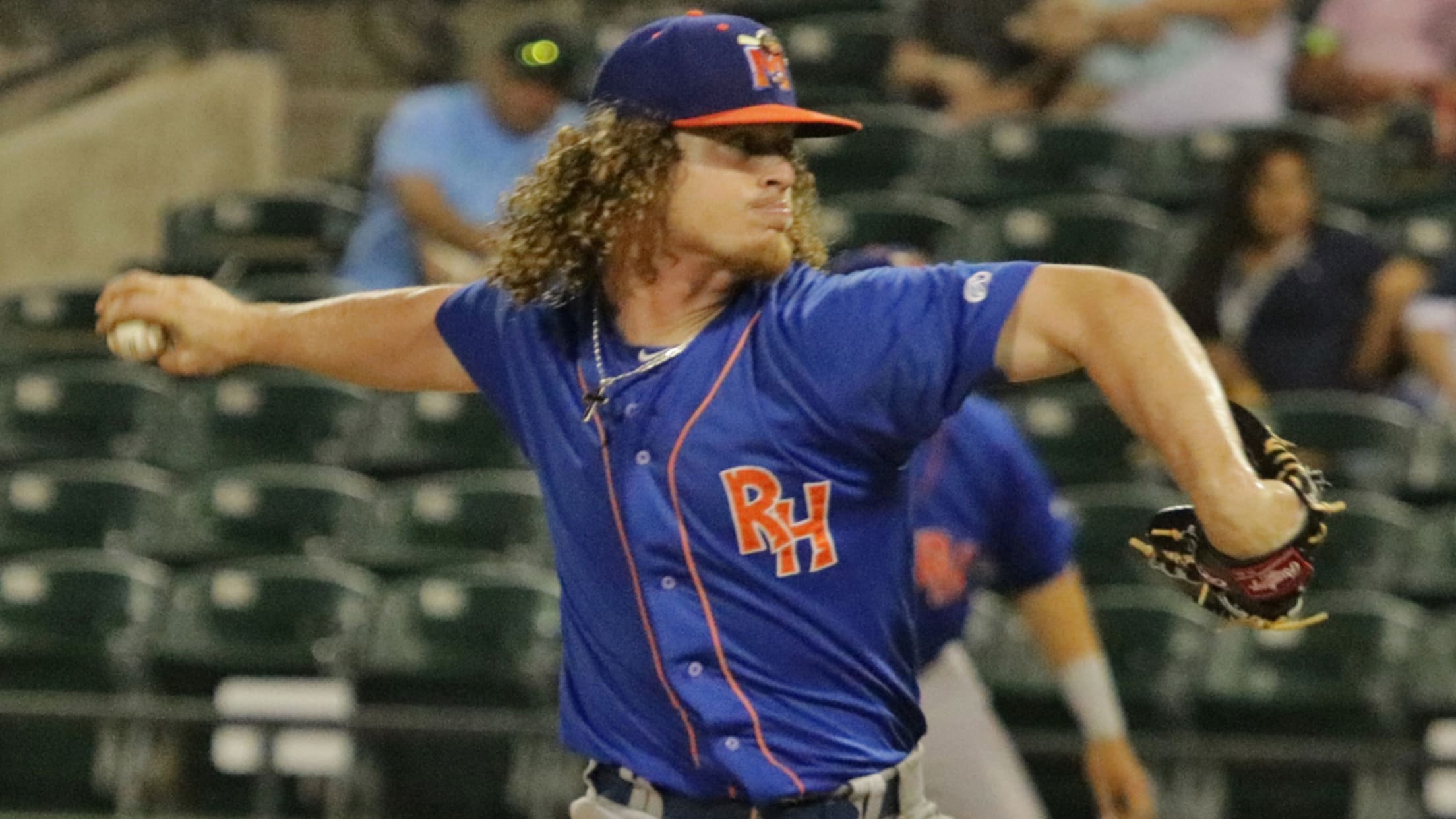 Grant Holmes has allowed two runs or fewer in three of his last four starts, dropping his ERA from 5.89 to 4.79. (Tammy Tucker/MiLB.com)
Grant Holmes found himself in uncharted territory on Saturday night. One inning later, he found himself in the same place.The A's third-ranked prospect carried a no-hitter into the seventh and twirled eight innings for the first time in his Minor League career, allowing two hits and striking out eight without a
Grant Holmes found himself in uncharted territory on Saturday night. One inning later, he found himself in the same place.
The A's third-ranked prospect carried a no-hitter into the seventh and twirled eight innings for the first time in his Minor League career, allowing two hits and striking out eight without a walk, as Double-A Midland blanked Frisco, 6-0, at Security Bank Ballpark.
"I would say I was just getting ahead of the hitters with off-speed and fastballs in and out," Holmes said of his simple but effective formula. "I'd say that's probably the thing that helped me out the most tonight."
Before his Saturday night masterpiece, Holmes had never pitched past six innings as a professional, a mark he matched in his last start, a win over Northwest Arkansas. By the time he got through the sixth against the RoughRiders, MLB.com's No. 74 overall prospect was nearly perfect.
Holmes didn't allow a baserunner through five innings, and even the first one he saw could've been avoided. The right-hander struck out Frisco's Luis Marté for what looked like the second out in the sixth but uncorked a wild pitch that allowed Marte to reach first. Still, Holmes bounced back to punch out Michael De Leon and Michael O'Neill to keep the no-hit bid alive.
Gameday box score
With one out in the seventh, No. 12 Rangers prospectAndy Ibáñez ripped a chopper that RockHounds third baseman Jordan Tarsovich could only knock down. The infield single gave Frisco its second baserunner, but Holmes wasn't rattled.
"I'm just thankful that our third baseman actually stopped it instead of letting it go over his head," he said. "It could've been a double. It could've been a different situation, couldn't have gotten the double play, you know? He made a good play to get the ball, and it would've been a heck of a play if he could've made it. But I'd say I'm thankful he didn't hit a double there.
"I knew I hadn't given up a hit, but then again, I tried not to think about it as well. I was just trying to get ahead of hitters and throw my stuff for strikes and let the defense do the work."
Again facing a runner at first, Holmes rebounded quickly. Eric Aguilera grounded into a double play to end the inning, the first time Holmes completed seven.
"Going into the seventh inning and finishing that one and going back out for the eighth, I felt pretty good about it and still do," he said. "I didn't really think about it; I tried not to think about it. I just tried to get ahead of the hitters and maybe get some early contact so maybe I could get to the ninth inning."
Holmes allowed his only other baserunner on a two-out single to center by sixth-ranked Rangers prospect Jose Trevino in the eighth. The Conway, South Carolina, native threw 66 of 93 pitches for strikes, making one fewer pitch than he did his last start -- in six innings.
After posting a 5.89 ERA through his first 10 appearances this season, Holmes has three quality starts -- and wins -- in his last four. Saturday marked his biggest step forward yet.
"The start of the season was a little rough, but I knew I'd figure some things out and get the confidence I've had in past years," he said. "I just tried to replay some good games I've had in the past and kind of take those out on the field and pitch like I'm supposed to and not try to do too much."
Brandon Mann worked around a hit and a walk by striking out two in the ninth, finishing off the RockHounds' third shutout of the season.
Midland leadoff man B.J. Boyd went 3-for-5 with a solo homer, his first of the season.
Tyler Maun is a contributor to MiLB.com. Follow him on Twitter @TylerMaun.