Meisner righting the ship with Ports
A's No. 26 prospect allows one hit, one walk over eight innings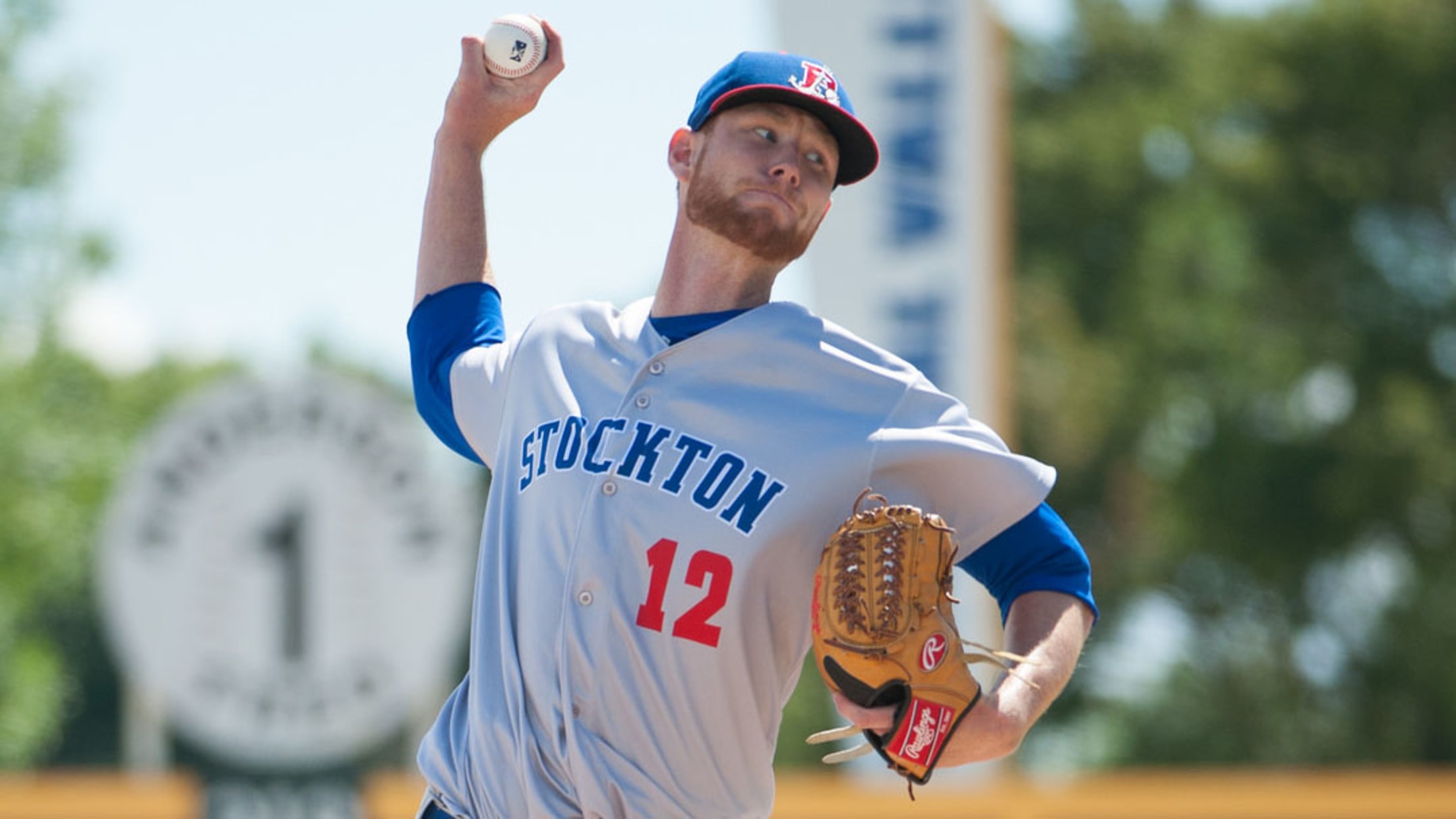 Casey Meisner has not allowed an earned run over 14 2/3 innings in his last two starts. (Meghan Camino/MiLB.com)
Just when it seemed a great outing might've gone to waste for Casey Meisner on Saturday, the 22-year-old right-hander dug deep and found what has led to some of his success this season."Last season, Casey would go out and he would have two, three great innings and then something would
Just when it seemed a great outing might've gone to waste for Casey Meisner on Saturday, the 22-year-old right-hander dug deep and found what has led to some of his success this season.
"Last season, Casey would go out and he would have two, three great innings and then something would happen and the game would implode on him," Class A Advanced Stockton pitching coach Steve Connelly said. "If it was a bad play or a couple of base hits, whatever it was, he could never minimize the damage. This year, that has been the common theme for him, just pitching out of trouble and minimizing the damage."
The A's 26th-ranked prospect went eight innings and allowed an unearned run on one hit and one walk while striking out seven in the Ports' 2-1 win over Lake Elsinore at The Diamond.
Gameday box score
After Kyle Overstreet reached on a throwing error with one out in the eighth, Meisner uncorked a wild pitch with Peter Van Gansen at the plate that allowed Overstreet to reach third. In the past, situations like that might've continued to escalate for the right-hander, but Connelly said Meisner's poise helped him end the inning andf preserve the lead.
"He understood that he had a two-run lead," Connelly said. "At this point, the guy gets on base, what are you going to do? You're going to get the next guy out. It was about getting outs and keeping the lead. He didn't panic. He just continued to go right after the hitters and he was able to get through that with the lead intact."
The 2013 third-round pick threw 89 pitches and was able to keep the Storm off-balance all night.
"He showed a really good mix out there and he competed exceptionally well," Connelly said. "He was throwing a curveball in there that we just added to the repertoire last week and it was a good separation off his hard slider, which was also good tonight. It was just really exciting to see him sticking with the process and trusting the journey that good things will come."
The revamped curveball may not have played a major factor on Saturday since Meisner threw only four, but Connelly said the existence of the pitch alone was enough to "give them something to think about" and was an encouraging sign in the 6-foot-7 hurler's development.
"When we first got Casey, he came with a curveball and a slider, but we decided last year to eliminate the curveball and just focus on the slider," the former Major Leaguer said. "We set guidelines and parameters as a goal for Casey to get the slider to a certain average velocity and a certain swing-and-miss percentage. Once he did it, we started working on the curveball again as a reward.
"In the past, his curveball and slider were very similar in velocity and action; they were virtually one pitch. Now there's a good separation between the two pitches and they are distinctively different now."
Some of Meisner's best moments on Saturday came in the third when he struck out the side around a walk to Van Gansen and in the fourth after Padres No. 11 prospect Michael Gettys tripled to left with one out.
"He's been able to keep the innings manageable and keep us in the game," Connelly said. "Ultimately, his ability to simplify the situation and continue to stick to the game plan and stick to the process is what keeps him going out there. And it's just been a pleasure to see."
A's No. 24 prospect Nolan Blackwood took over in the ninth and worked around a hit to notch his eighth save.
Sandber Pimentel drove in both runs for the Ports with a double in the second and a groundout in the fourth.
Michael Peng is a contributor to MiLB.com. Follow him on Twitter @MichaelXPeng.