Marincov mashes three homers for Midland
Fellow A's prospect Holmes notches win with four scoreless innings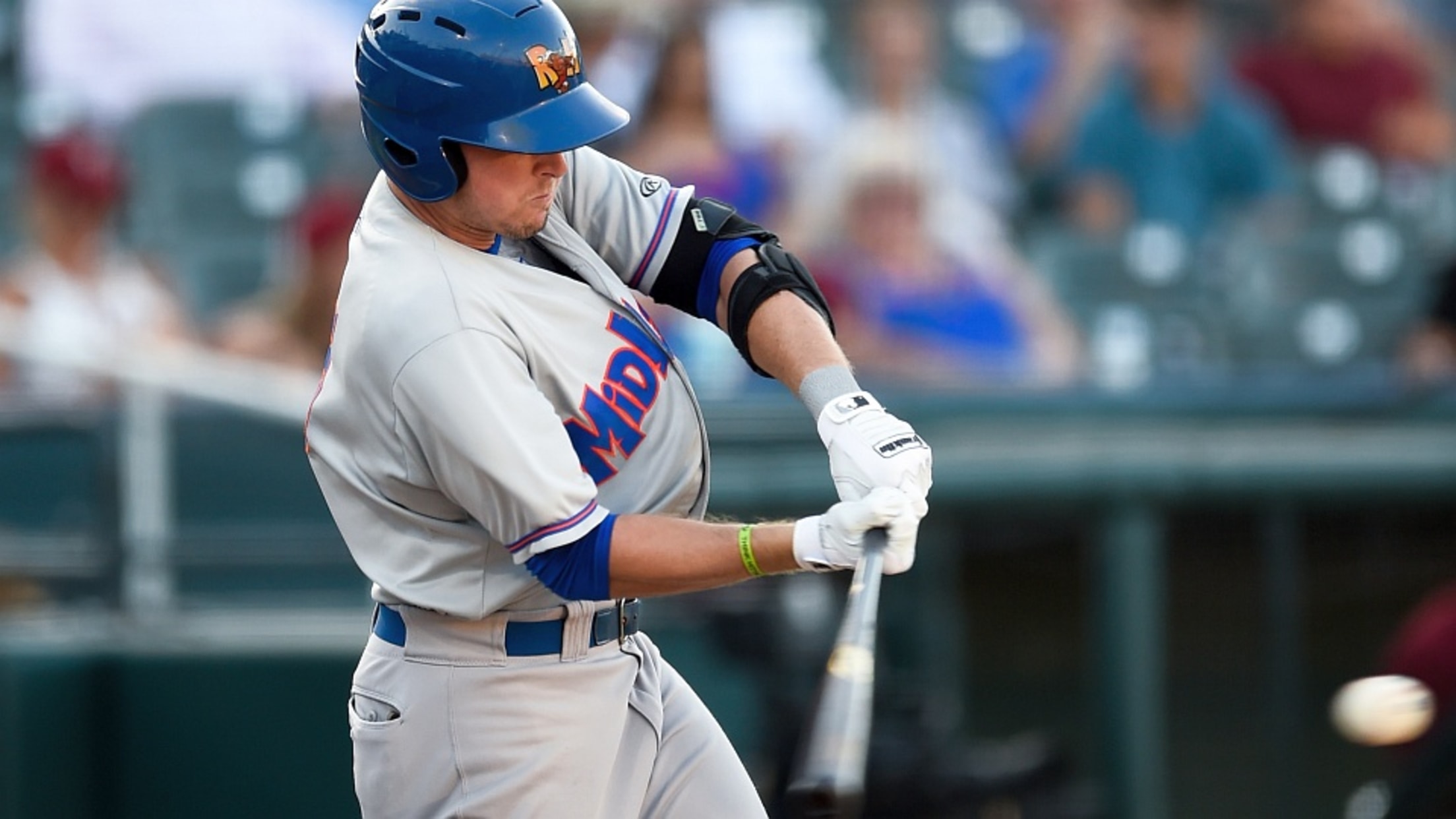 A's outfield prospect Tyler Marincov hit a career-high 19 home runs across two levels in 2016. (Shane Roper/MiLB.com)
A stiff breeze was blowing out to right field at Security Bank Ballpark in Midland on Wednesday afternoon, but only one player took full advantage of the opportunity.Right fielder Tyler Marincov blasted three homers -- two to right, one to left -- and drove in five runs to lead the
A stiff breeze was blowing out to right field at Security Bank Ballpark in Midland on Wednesday afternoon, but only one player took full advantage of the opportunity.
Right fielder Tyler Marincov blasted three homers -- two to right, one to left -- and drove in five runs to lead the RockHounds past Corpus Christi, 12-3.
An eighth-round pick out of North Florida in 2013, the right-handed-hitting Marincov had hit two homers in a game just once before -- for Class A Advanced Stockton in 2014 -- and had never had a three-homer game at any level.
Box score
"The first homer definitely got a boost from the wind, but hey, I'll take it," said Marincov. Conditions at game time had a 23-mph wind blowing out to right field.
Marincov began play Wednesday with a four-game hitting streak. He drove in a career-high six runs at San Antonio on Sunday and collected three hits against the Hooks on Tuesday night.
"I've been feeling good the last few games and was just trying to carry that momentum forward," the 25-year-old said. In his last five contests, Marincov has raised his batting average 64 points to .291 and doubled his season RBI total, going from 11 to 22.
The RockHounds jumped on the Hooks early, posting crooked numbers in each of the first four innings, but Marincov didn't really get into gear until the fourth. After fanning in the first and grounding out in the second, he smacked a three-run shot off Corpus Christi reliever Michael Freeman -- who had not allowed a homer this season -- to open up a 10-3 lead in the fourth. He later followed with solo shots off Jacob Dorris in the sixth and eighth.
"I was mostly a pull hitter my first few seasons, so I've been working on driving the ball the other way to open up opportunities," Marincov said. "I don't think of myself as an opposite-field slugger or anything, but I can go that way."
How does a pitcher approach a hitter who's already gone deep twice in a game? With off-speed stuff, apparently.
"He threw me three straight breaking balls," Marincov said of his eighth-inning at-bat. "The last one was just a little bit up -- I've been seeing the ball well and got a good cut on it."
Grant Holmes, Oakland's top right-handed pitching prospect, improved to 2-1 with his best outing of the season in relief. The 21-year-old, a first-rounder for the Dodgers in 2014, allowed one hit and one walk while striking out six over four scoreless innings. It was his first scoreless appearance of the season and lowered his ERA to 5.16.
"It's tough to tell from right field exactly where he was in the zone, but it seemed like everything was working for him -- fastball, curveball, whatever the count. He got a lot of swings and misses," said Marincov.
First baseman Viosergy Rosa and catcher Argenis Raga also homered for the RockHounds, while veteran Jon Singleton hit his third long ball of the season for Corpus Christi.
Hooks starter Brock Dykxhoorn (0-2) took the loss, allowing seven runs -- all earned -- on six hits and four walks in 2 2/3 innings.
John Parker is an editor for MiLB.com.