Smith leads way for Sounds in no-hitter
Righty, 'pen trio deliver PCL's seventh combined nine-frame feat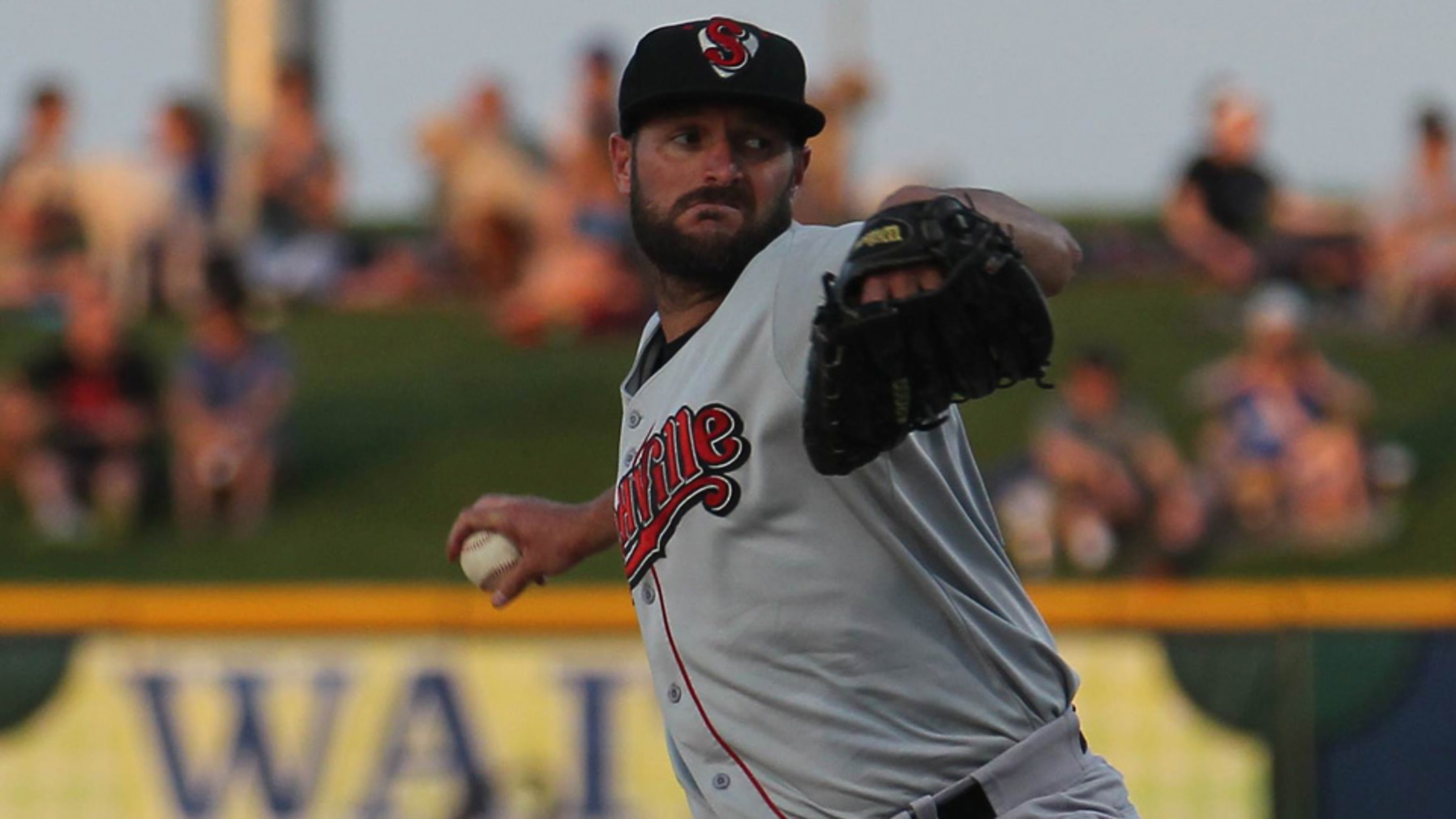 Chris Smith has 46 strikeouts in 51 2/3 innings this season with Nashville. (Minda Haas Kuhlmann)
After throwing six hitless innings, Triple-A Nashville's Chris Smith was approached by his manager, Ryan Christenson."You're done, Smitty," the skipper said. "You OK with that?""Of course. I'm 36. The scoreless innings are huge, but the no-hitter? I'm too old for that," he replied, making Christenson laugh. "The no-hitter would've been
After throwing six hitless innings, Triple-A Nashville's Chris Smith was approached by his manager, Ryan Christenson.
"You're done, Smitty," the skipper said. "You OK with that?"
"Of course. I'm 36. The scoreless innings are huge, but the no-hitter? I'm too old for that," he replied, making Christenson laugh. "The no-hitter would've been great, but at this point, throwing 100-and-something pitches [to finish the game], obviously would make you lay in bed a little bit longer tomorrow morning."
Without even realizing what was transpiring until it was over, Smith delivered his best career outing as he combined with Sean Doolittle, Tucker Healy and Simon Castro for the Triple-A Sounds' fourth no-hitter in a 4-0 victory over the Storm Chasers in Omaha.
"Everything felt good, it felt normal. Obviously, it was nice to see the no-hitter completed after a team effort like that," Smith said. "It's nice to have that because you're showing the big league club and your staff, 'Hey, I'm relevant.'"
The UC Riverside product utilizes a "do as I say, not as I do" approach with his three daughters, but Smith (4-2) would prefer the younger pitchers on the Sounds do both what he says and does, especially after this kind of outing.
Gameday box score
"He works extremely hard and I've learned a lot from him. He's helped out a lot with the young pitchers. He just goes out there and he doesn't throw 95 [mph], but he battles and he finds a way. He knows how to pitch," Sounds pitching coach Rick Rodriguez said. "He was trying to hit the corners, and if he missed, it was no big deal because he could come back and get guys out. So I think it showed the younger guys, hey, don't be afraid if you get behind to come back and make solid pitches."
With his mind on each batter as well as an impending reunion with family in Memphis, Smith said he didn't take much notice of the scoreboard. The California native worked around early walks to Ryan O'Hearn and Raul Mondesi -- the only two baserunners against him. Smith notched four strikeouts and retired the final nine batters he faced to cap his best start.
"It means everything," he said. "Every time I have a good outing, I really appreciate baseball. It's like, man, I love this game, I love pitching. You can't get a feeling like this in any other job."
Doolittle struck out two batters in a 1-2-3 seventh. The southpaw has five punchouts over three perfect innings during his Minor League rehab. Healy twirled a perfect eighth to put the Sounds three outs away from the milestone.
"He looked like the Sean I've seen before, aggressive with his fastball, threw a couple good sliders and he threw one good change," the pitching coach said. "It's good to see, and hopefully, he'll go back to Oakland and help them out."
Castro then got the ball to close it out. After two full counts, resulting in a strikeout by Garin Cecchini and a walk to Ruben Sosa, the right-hander got Mondesi to ground out on three pitches to first baseman Matt Olson, the A's No. 15 prospect.
From the clubhouse, Smith and Doolittle watched on TV as they completed their postgame routines.
"My hands got sweaty in the ninth inning. I was like, 'This is close now. Holy [cow], we have a chance to do this. This is pretty cool.'" Smith said. "It was like I was pitching because my hands started sweating and I was like, "OK, breathe, breathe, you've been here."
Then Jorge Soler stepped up to the plate. The 2016 World Series champion knocked a 1-1 offering to third baseman Matt Chapman, Oakland's fourth-ranked prospect, who threw to Olson for the final out.
"It was very stress-relieving," Rodriguez said with a laugh. "Tried not to let it show during the game, but the last couple outs, I was feeling it a little bit. I was just trying to stay relaxed, but as soon as that third out was made, I was like, 'Yes, sweet, alright, OK.'"
While the celebration seemed subdued on the field, it got lively in the clubhouse with Smith getting hugs and handshakes from all. The 6-foot hurler spun five hitless innings on April 7, 2006 with Double-A Portland, but the bid was broken up soon after. In his 14th professional season, Smith was involved in his first no-hitter.
"I think it's pretty special for him. He started out in the rotation, and we had to make a change and he went to the bullpen. Now he's back and it shows everybody that he can do both," Rodriguez said. "I think this was his third start back coming back from the bullpen and he hasn't missed a beat. He throws strikes."
It marked the seventh combined nine-inning no-hitter in the Pacific Coast League's 115-year history. The Sounds tallied three no-hitters as a Double-A team before moving up a level and adding four more. Nashville's Manny Parra most recently spun a perfect game against Round Rock on June 25, 2007.
Rodriguez and Smith said the celebration got bigger when A's No. 21 prospect Jaycob Brugman found out he is being called up to the Majors for the first time.
"That was even sweeter too, just icing on the cake right there," the coach said. "It was fun for everybody to be a part of a no-hitter and be a part of someone going up for the first time."
Renato Núñez, Oakland's No. 17 prospect, and catcher Matt McBride both homered for the Sounds.
Kelsie Heneghan is a contributor to MiLB.com. Follow her on Twitter @Kelsie_Heneghan.