Nunez spins Marauders' first no-hitter
Pirates lefty strikes out six, walks two in rain-shortened gem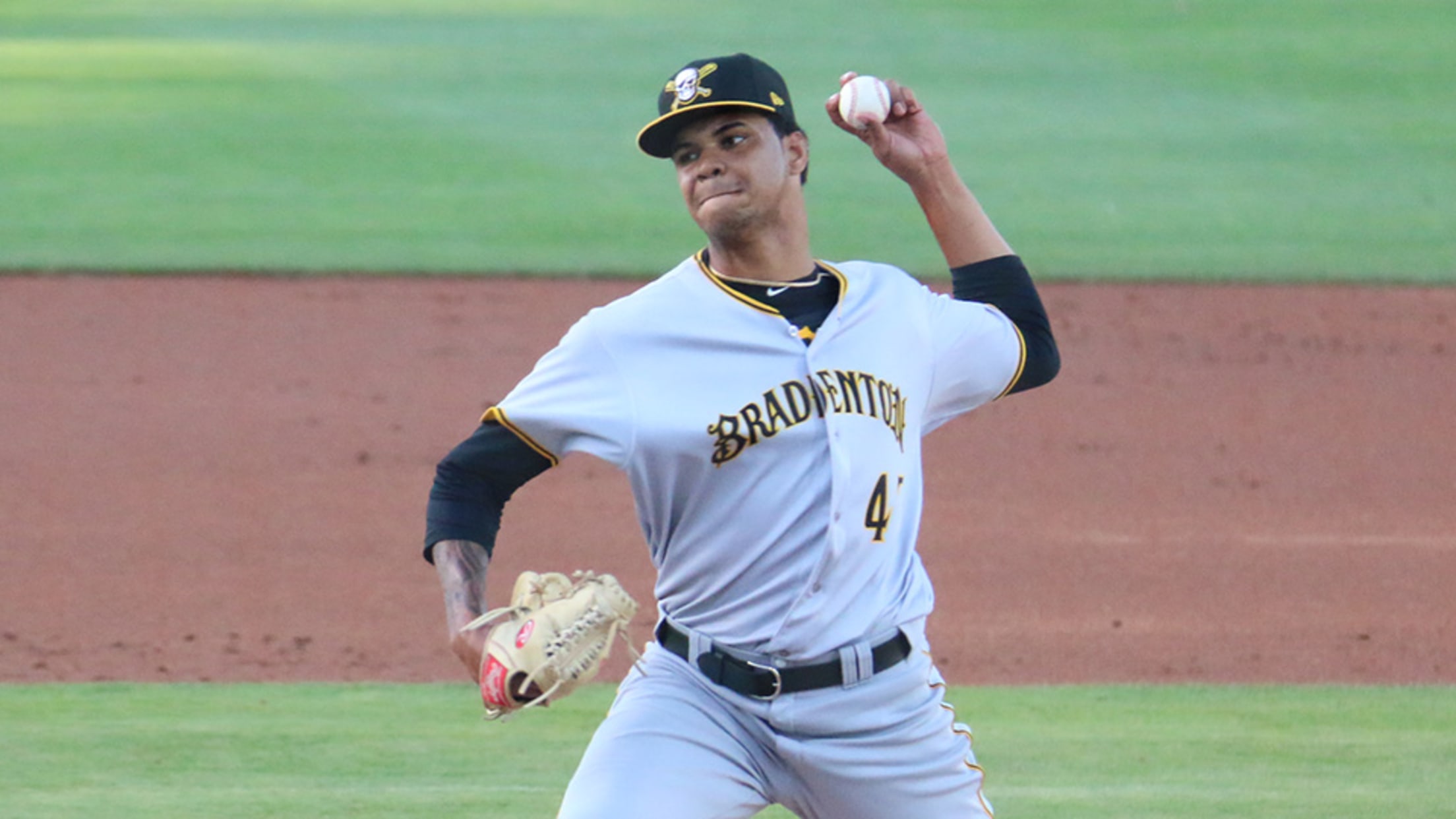 Oddy Nunez has produced three scoreless outings of at least six innings this season. (Joshua Tjiong/MiLB.com)
As Oddy Nunez got deeper into his start and the opposing hit column still read zero on the LECOM Park scoreboard, Matt Ford noticed his own heart rate rising with each out. The Class A Advanced Bradenton pitching coach just wanted the southpaw to finish his brilliant outing.With an extra
As Oddy Nunez got deeper into his start and the opposing hit column still read zero on the LECOM Park scoreboard, Matt Ford noticed his own heart rate rising with each out. The Class A Advanced Bradenton pitching coach just wanted the southpaw to finish his brilliant outing.
With an extra level of dominance and the help of Mother Nature, Nunez etched his name into the Florida State League history books.
The Pirates left-hander pitched an eight-inning no-hitter -- allowing only three baserunners -- as the Marauders posted a rain-shortened 5-0 victory over the Miracle. It was the longest start of Nunez's career and the first no-hitter in team history.
"He did a great job dictating at-bats," Ford said. "His pace and tempo were at a premium. He pretty much wasn't letting [Fort Myers] breathe up there. It was an attack mentality and pitching to contact, letting his fielders do the work behind him."
Coming off six scoreless innings against Clearwater in his last outing, Nunez threw 59 of a season-high 98 pitches for strikes while recording six punchouts. After a stint on the seven-day disabled list with some shoulder stiffness, the Dominican Republic native has yielded just one run in 19 innings and been unscored upon in his last 15 frames since over three starts since returning to the rotation.
Taking into account that the Miracle scored 32 runs on 52 hits in the first three games of the weekend series, Ford couldn't understate the importance of his southpaw's effort on the bump.
Gameday box score
"He's limiting the damage, in terms of giving up a walk or hit within the game," the coach said. "He's making pitches when he has to. The quality of each pitch has been much better -- just competitive pitches throughout really.
"It was a great ending to a tough series for us. We had three really tough games and Oddy really stepped up. We needed this as a pitching staff. He really stepped his game up and really showed the true competitor that he is."
Pitching mostly to contact with nine groundouts and six flyouts, Nunez (3-5) only allowed one runner to reach scoring position. After a perfect first inning, Joe Cronin drew a one-out walk in the second and took second on a wild pitch. The 21-year-old got Mark Contreras to ground out and struck out Caleb Hamilton to end the frame.
Nunez consistently deployed his sinker when he needed to, getting Fort Myers to make weak contact throughout the outing. Ford was impressed with the execution of the gameplan from start to finish.
"If he's behind in the count or needs a ground ball, he's got that weapon at his disposal," the coach said of the sinker. "When he's been behind in the counts, he's been able to land the off-speed a lot better. Obviously, in those hitter-friendly counts, that's a big weapon there."
Nunez set down 11 batters in a row before Shane Carrier led off the sixth with a walk. One pitch later, Brandon Lopez bounced into a double play and Twins No. 21 prospectLuis Arraez flied out to left field.
As the 6-foot-8, 230-pound hurler looked more comfortable and effectively moved through the Miracle lineup in the middle of the game, Ford could tell that there was a good chance that he could go the distance.
"It was going by so quickly, I think by the sixth inning I was like, 'Oh boy, hopefully we can go the full nine,' because he had been injured because there's that progression piece there -- it's health over anything," Ford said. "In around the sixth inning, I had a feeling that [the no-hitter] was going to happen or that he'd have a chance for it."
Third-ranked Twins prospect Alex Kirilloff was plunked with one out in the seventh, but he was stranded after Nunez fanned No. 13 Travis Blankenhorn and induced a groundout from Cronin.
Despite falling into two 3-1 counts in the eighth, the lefty got Contreras to ground out to first before Hamilton was denied on a leaping catch near the wall by center fielder Casey Hughston. Carrier lined to left to end the inning.
Following the top half, play was halted due to lightning and rain. After a significant delay, the game was called and Nunez recorded the league's first no-hitter since Clearwater's Harold Arauz pitched a seven-inning gem last July 30. Nunez lowered his ERA to 3.24, which ranks eighth on the circuit.
As both teams waited through the delay, Ford had his fingers crossed that the rain would force the game's completion. Once the team got the news that history was officially made, there was a feeling of exuberance across the Bradenton clubhouse.
"I was just like, 'Keep raining, man' because I knew it was going to be a while," Ford said. "As long as it kept raining, we were going to be in a good spot. He deserved it, he pitched his butt off today. ... We had a nice postgame -- really happy for the kid. He's worked really hard these last couple of weeks coming off of the DL. Everybody was rooting for him."
Hunter Owen gave Nunez the lead with a two-RBI triple in the fifth and Jared Oliva padded it with a three-run double in the seventh.
Andrew Battifarano is a contributor to MiLB.com. Follow him on Twitter, @AndrewAtBatt.