Once a catcher, Eli Villalobos seems like he's pitched forever
Jumbo Shrimp reliever follows outstanding 2022 season by being added to Marlins' 40-man roster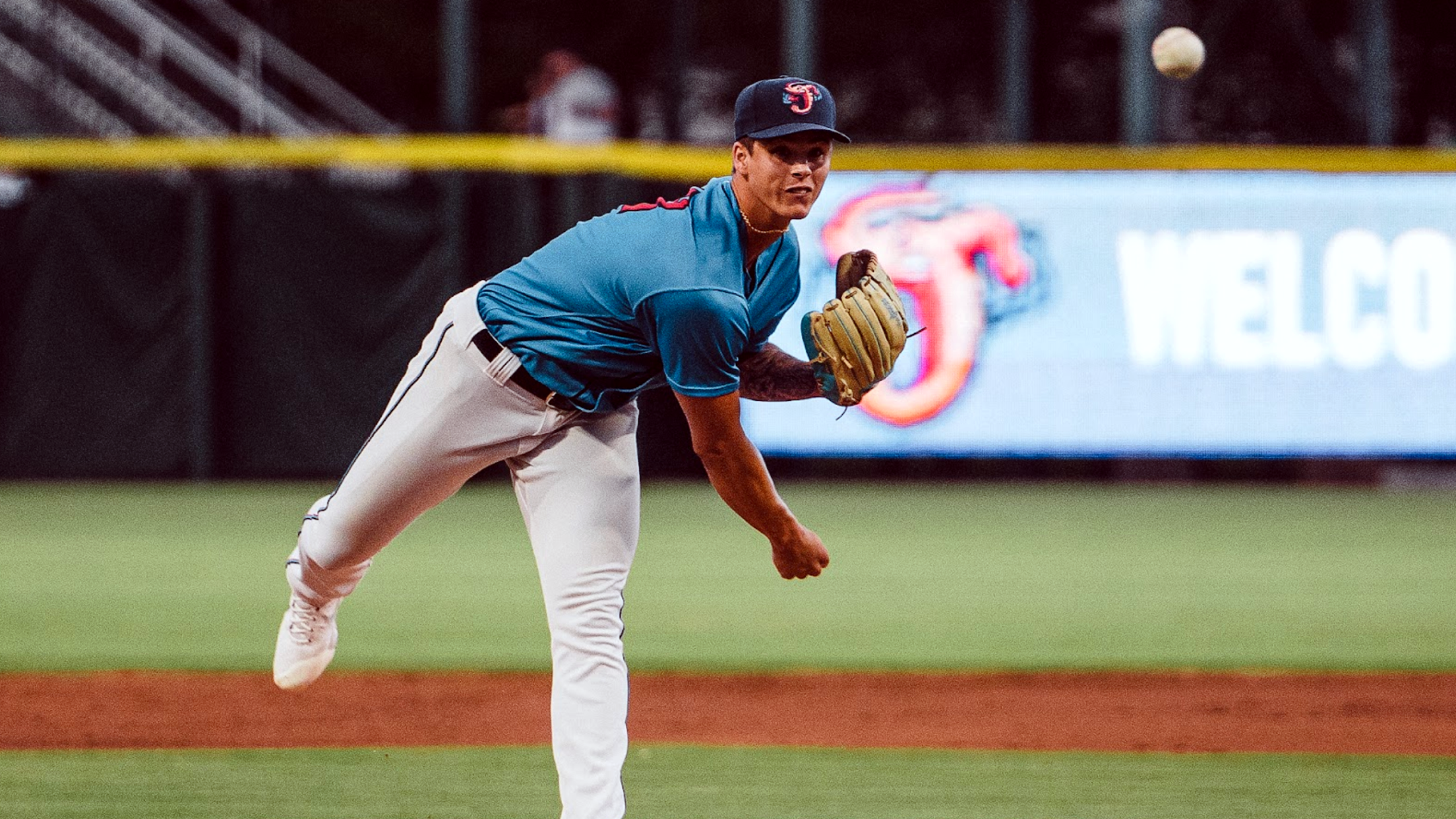 Eli Villalobos was added to the Marlins' 40-man roster in November. (Roberto Johnson/Jacksonville Jumbo Shrimp)
His splitter darts down at the last second, almost like a pelican preying on a fish in water. It's Eli Villalobos' signature pitch, one that confuddled hitters all season long, first in Double-A and then in Triple-A following a promotion. The pitch is natural to him, as if he's been
His splitter darts down at the last second, almost like a pelican preying on a fish in water. It's Eli Villalobos' signature pitch, one that confuddled hitters all season long, first in Double-A and then in Triple-A following a promotion.
The pitch is natural to him, as if he's been throwing it for years, maybe even a decade. Only, he hasn't; he learned the splitter in the beginning of the season, a mere months ago. As that pitch has taken off, so has his career, stemming in his recent addition the Miami Marlins' 40-man roster.
Perhaps diving into the splitter is the perfect analogy for Villalobos' pitching career; it seemed so natural that he had to have been doing it forever. Yet it's something that he almost casually picked up that, in an instant, magically took.
For nearly as long as he's played baseball, even counting the time so far in his professional career, Villalobos has mainly been a catcher. He started behind the plate around 10 years old, continuing to backstop through high school and his first season of junior college. Including the 2022 season, he's been a full-time pitcher for only six years; there are some pitchers that spend that much time in the college ranks alone.
"It's (pitching and catching) similar when you're in the game," said Villalobos. "As a pitcher, you're in control of so much, but as a catcher, you're so important to every play. You always have something you're in charge of each play, each pitch, you have something going on. I do miss catching, but I have a lot of fun when I'm on the mound."
After hitting .292 as a catcher and part-time first baseman in his final season at Sonora High School (Calif.), Villalobos caught nine games at Golden West College (Calif.), where he went 8-for-18 (.444) at the plate. He had signed up to play in a collegiate summer league, with his aim to return to Golden West as a catcher for the 2017 season. But, with one decision, everything changed.
"I was planning on going back to catch for a second year," Villalobos said. "I was playing in a small summer ball tournament. It was local, nothing big. I caught the first seven innings of a game and we needed an arm to throw the last two, and I volunteered."
You never know who might be watching. It's a mantra that players hear all the time as they work to catch a lucky break to get noticed by a team or school.
Villalobos didn't know it at the time, but Long Beach State's then-new pitching coach, Dan Ricabal, was sitting in the stands, watching. He was at the game to scout someone else, but when Villalobos entered in the eighth inning, he could not take his eyes off this tall, slender right-hander.
"I went up there and threw nothing but fastballs for two innings. I didn't know how to throw anything else," said Villalobos. "And the new pitching coach for Long Beach State was there looking at the starter for the other team and got in contact with my coaches after that game and basically just said he thinks I should keep pitching. A couple weeks after that, I threw my first-ever bullpen in front of him and the head coach for Long Beach, and got offered a scholarship after that and went there for that next year."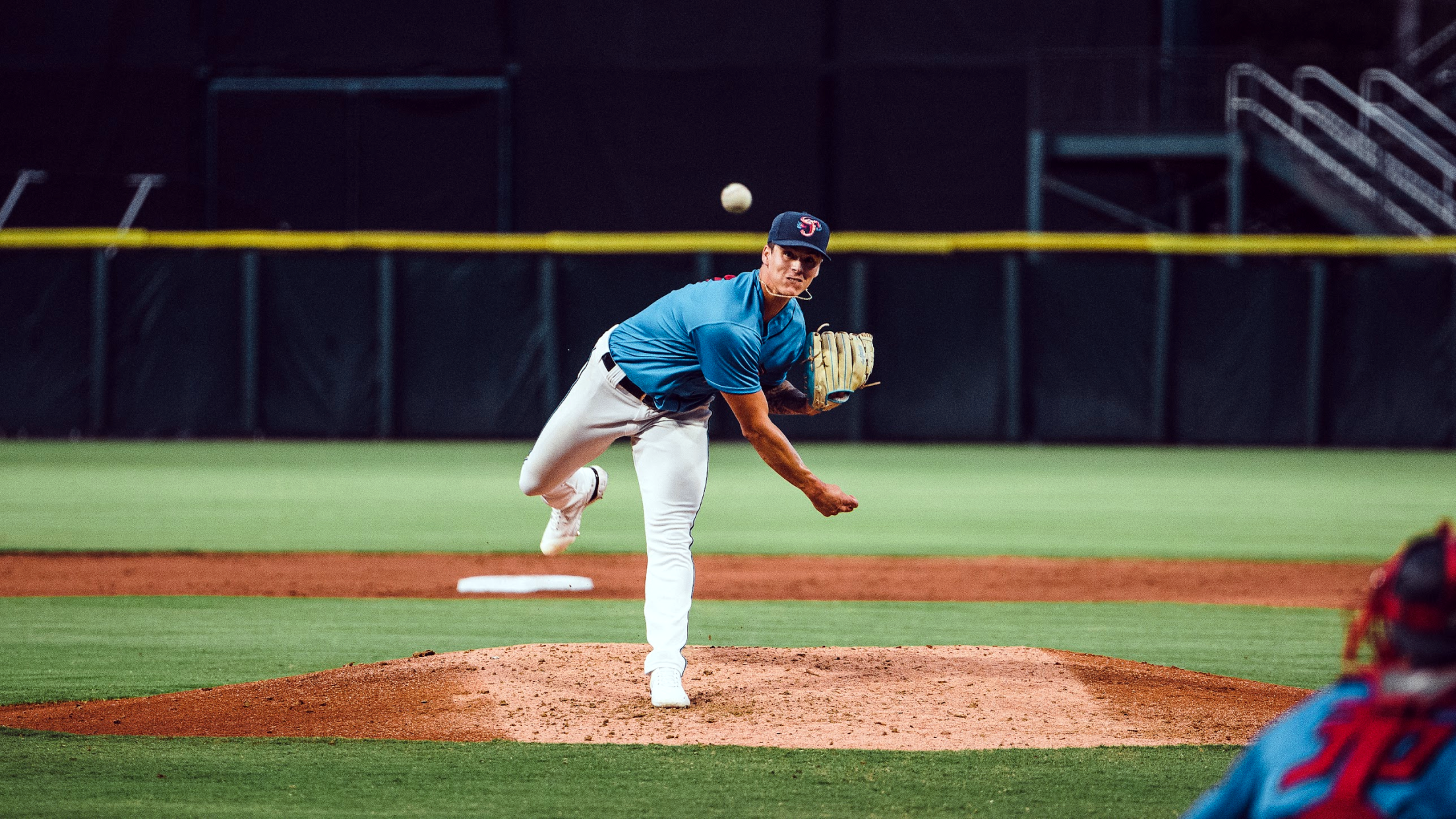 You never know who might be watching. What if Villalobos hadn't volunteered that day? Would someone else have eventually looked at his frame and arm and put him on the mound? Would he have progressed far as a catcher? Or would his career be over, and instead of preparing for the chance to maybe make his major league debut at some point in 2023, would he be doing something completely different with his life?
As if he had been pitching forever, Villalobos needed no transitional period to the mound, let alone doing so at one of the top Division I programs in the country. He helped the Dirtbags to the nation's eighth-best staff ERA, a 42-20-1 record, Big West Conference Championship and NCAA Tournament appearance. It marked the program's most wins in nearly 20 years, with Villalobos pitching to a 3.56 ERA in 23 games. And although Long Beach State faltered a bit the following season, falling to fifth in the conference, it was not because of the performance of Villalobos, who posted a 3.72 ERA in 28 games, including two starts.
You never know who might be watching. The catcher who volunteered one day to be a pitcher and earned a scholarship as a result heard his name called at the 2018 MLB First-Year Player Draft. Clearly, at some point during his two years at Long Beach State, the Marlins had seen something they liked. With their 14th round selection, Miami plucked Villalobos. He was the 417th overall pick.
However, this time, Villalobos struggled with a transition. He posted a 6.10 ERA across three levels in 2018 following the draft. With Short Season A Batavia in 2019, his ERA improved just barely to 6.08.
Even after a solid 2021 season (3.63 ERA, 14.5 K/9 between Low-A Jupiter and High-A Beloit), Villalobos' career ERA in 112.2 minor league innings was a grisly 5.11. Something needed to change. Luckily, Double-A Pensacola pitching coach Dave Eiland had a potential answer.
Part of Villalobos' troubles in the professional ranks stemmed from his inability to throw a consistently strong changeup. Sure, his fastball velocity was in the mid-to-high 90s, but he needed another pitch. Eiland asked Villalobos, what about a splitter instead?
"He (Eiland) brought it up to me. I couldn't throw a changeup to save my life, it was never any good," Villalobos said. "He asked me if I had ever thrown a splitter, and we played with some different grips, just worked on it in catch-play pretty repeatedly until I got comfortable with it and started breaking it out into games. The more we threw it, the more natural it felt and I started to get the feel for the release point and how I needed to pronate it that little bit, the grips, all that, and it's just become very comfortable. I would say it's my go-to pitch right now."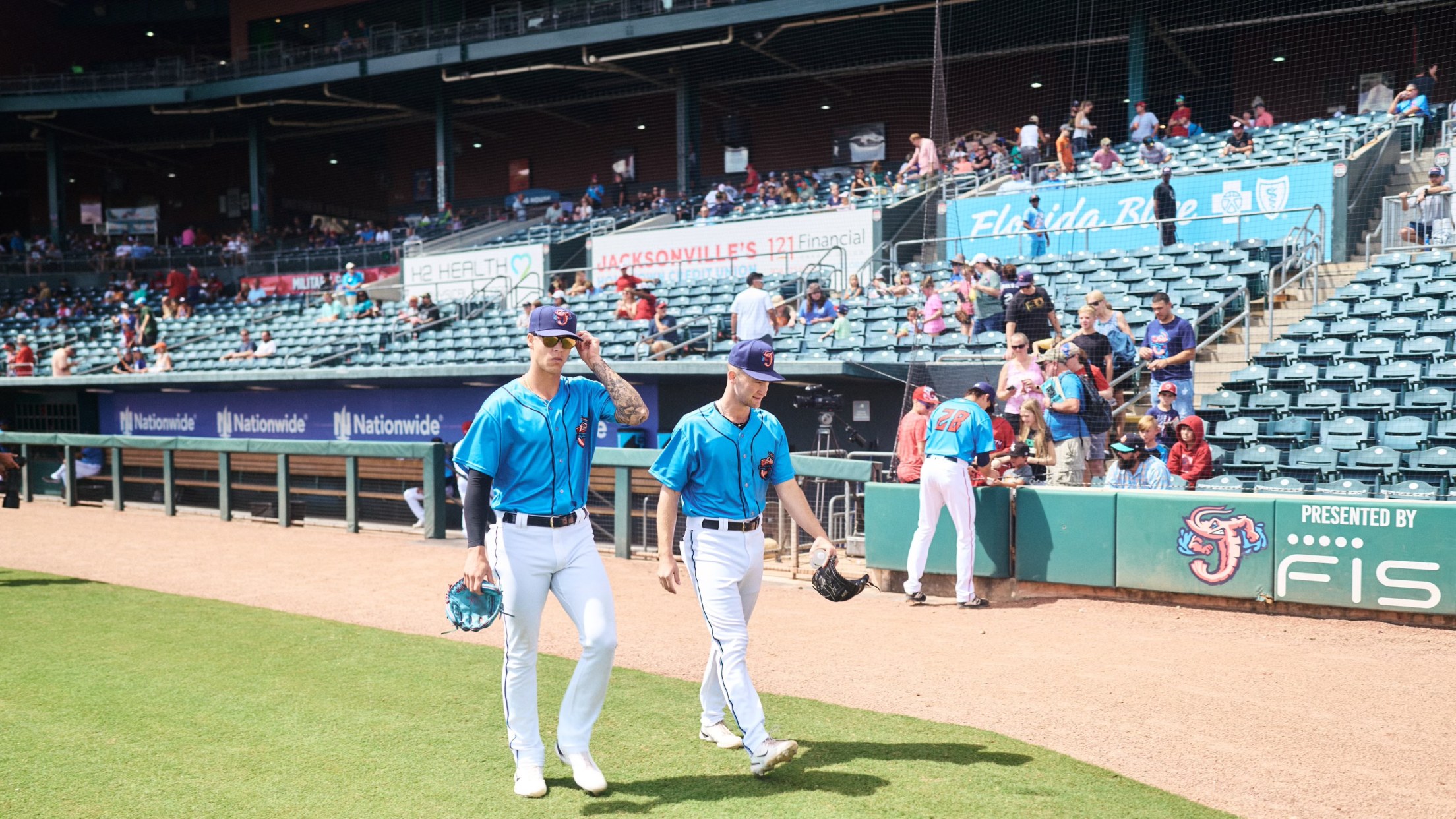 What about a splitter instead? Debuting it in real games at a new level a mere weeks after learning the pitch, Villalobos registered a 3.38 ERA with 75 strikeouts in 61.1 innings (11.0 K/9) for Double-A Pensacola. On August 21, he earned a promotion to Triple-A Jacksonville.
The results for the Jumbo Shrimp were exactly like Villalobos experienced when he picked up pitching for the first time, and years later, when he learned the splitter: natural, as if he'd been doing this forever.
The La Habra, Calif., native yielded a lone unearned run over his first 10 Triple-A appearances, ceding only seven hits in 14.0 innings. He finished the Jumbo Shrimp campaign with a sparkling 1.04 ERA and 26 punchouts in 17.1 frames (13.5 K/9). Weeks later, the Marlins added him to the 40-man roster to protect him from the Rule 5 draft.
"We worked on the changeup for years and just couldn't figure it out," said Villalobos. "I think that the splitter just really plays into the high arm slot I have now. Being so over-the-top, it just sort of helps it flow out of the fingers."
That makes it sound so simple. It flows out of the fingers. But think back to what Villalobos said about pitching: It's fun to be on the mound.
Perhaps there's the lesson of all this right there. Why not try, why not embrace something new, simplify it and enjoy the ride?
Eli Villalobos dominated Triple-A as if he'd been there all along this journey. As if he didn't learn pitching just six years ago. As if he didn't learn how to throw his signature roller-coaster-dropping splitter six months ago.
In mere months, he could get the call to the major leagues. If his career is any indication, it might seem pretty clear early on that this one-time catcher was meant to pitch in the big leagues all along.