One-Hit Shutout Performance Propels Loons to Victory
Great Lakes gets some early offense and cruises to 5-0 win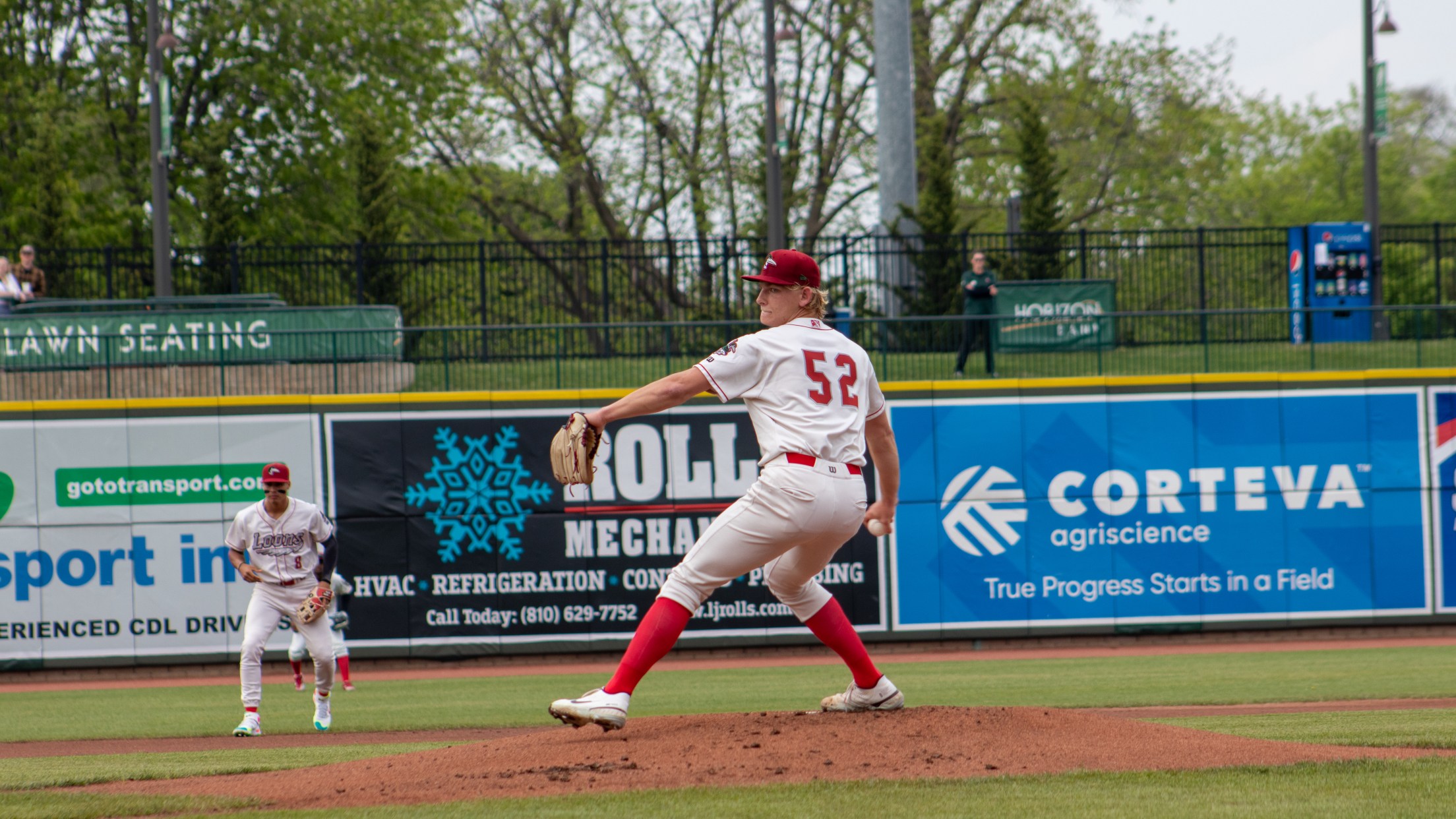 MIDLAND, Mich. – With one of the best pitching staffs in the Midwest League, the Great Lakes Loons have seen their fair share of stellar team pitching performances in the 2022 season. None better than Wednesday night at Dow Diamond. Five Loons pitchers combined to one-hit the Wisconsin Timber Rattlers
MIDLAND, Mich. – With one of the best pitching staffs in the Midwest League, the Great Lakes Loons have seen their fair share of stellar team pitching performances in the 2022 season.
None better than Wednesday night at Dow Diamond.
Five Loons pitchers combined to one-hit the Wisconsin Timber Rattlers as Great Lakes cruises to victory, 5-0.
The Loons (34-25) scored first in the opening frame. Jorbit Vivas led off the Loons' half of the game with a single, followed by a Diego Cartaya hit by pitch. After that, a throwing error allowed Vivas to score, moved Cartaya to third and put Alex De Jesus on first. With runners on the corners and still no outs, Eddys Leonard singled to drive in a run and give Great Lakes a 2-0 lead in the first inning.
Great Lakes, High-A affiliate of the Los Angeles Dodgers, wouldn't need any more run support, but they would add on immediately anyway. With one out in the bottom of the second inning, Vivas lifted a home run to the opposite field, his fifth longball of the season to put the Loons ahead, 3-0.
The first two innings were tossed by Carlos Duran, in his first Loons start of 2022. The 20-year-old righty spun two perfect innings and racked up four strikeouts in his return to Dow Diamond, after pitching in two games for Great Lakes last season. Duran, while not officially on a rehab assignment in the Arizona Complex League, was working back from some offseason shoulder discomfort. Duran spent most of the 2021 season at Single-A Rancho Cucamonga, and had pitched just one inning in the Complex in 2022 before earning the call-up to the Loons.
Wisconsin (34-24) finally registered their first hit of the day to lead off the third inning, a solid double from Alex Hall. But they would not see another hit in the context. That was the lone baserunner allowed by right-hander Emmet Sheehan (W, 1-2) in his three innings of work. Sheehan retired the next nine Timber Rattlers he saw, striking out eight of them.
The Loons added more on offense in the third inning, when Jose Ramos singled to lead off the frame, later driven in by a Kekai Rios single. Another run came across in the fifth. After Leonard tripled to lead off the frame, the Loons loaded the bases with a pair of two-out walks. Ismael Alcantara was hit by a pitch to drive in the fifth and final run for Great Lakes, as they go on to a 5-0 win. All five runs were charged to righty starter Ryne Moore (L, 2-4), who allowed six hits and four walks in his 4 2-3 innings of work, while striking out five. Four of the five runs were earned.
The Timber Rattlers, High-A partner of the Milwaukee Brewers, saw a couple of baserunners in the final four innings thanks to a pair of walks, but no man reached scoring position after Hall's third-inning double. Great Lakes saw a scoreless inning from Antonio Knowles, who walked a batter. Loons southpaw Jeff Belge, in his first Dow Diamond outing of 2022, picked up a strikeout in his two flawless frames. In the ninth, Kevin Malisheski walked a batter and struck out the other three he faced to finish off the Timber Rattlers.
Wisconsin and Great Lakes are now even in the series at one game apiece, with the third game of a six-game set scheduled for 7:05 p.m. Thursday at Dow Diamond. Pregame coverage on ESPN 100.9-FM begins at 6:50 p.m. with the Loons On-Deck Circle, driven by Garber Chevrolet Midland. The Loons have slotted righty Nick Nastrini (0-2, 5.40 ERA) to start, opposing fellow righty Zach Mort (3-1, 3.18 ERA) for Wisconsin. It's another Thirsty Thursday, presented by J.P. O'Sullivan Distributing – enjoy 50% off draft beer all night long, plus enjoy live pub trivia at the Cove Bar, as well as a Michigan craft brewery tap takeover. Plus, it's Lucky Hot Dog Night, presented by Herman Hiss & Company – will you find a golden ticket in your hot dog wrapper? Tickets are still available on Loons.com.
The Great Lakes Loons have been a Single-A partner of the Los Angeles Dodgers since the team's inception in 2007. Dow Diamond serves as the team's home and also houses the Michigan Baseball Foundation, a 501(c)(3) non-profit public charity, and ESPN 100.9-FM. For tickets or information about the Loons, call 989-837-BALL or visit Loons.com.