One Run Sinks Barons In Montgomery
Banks tosses quality start in loss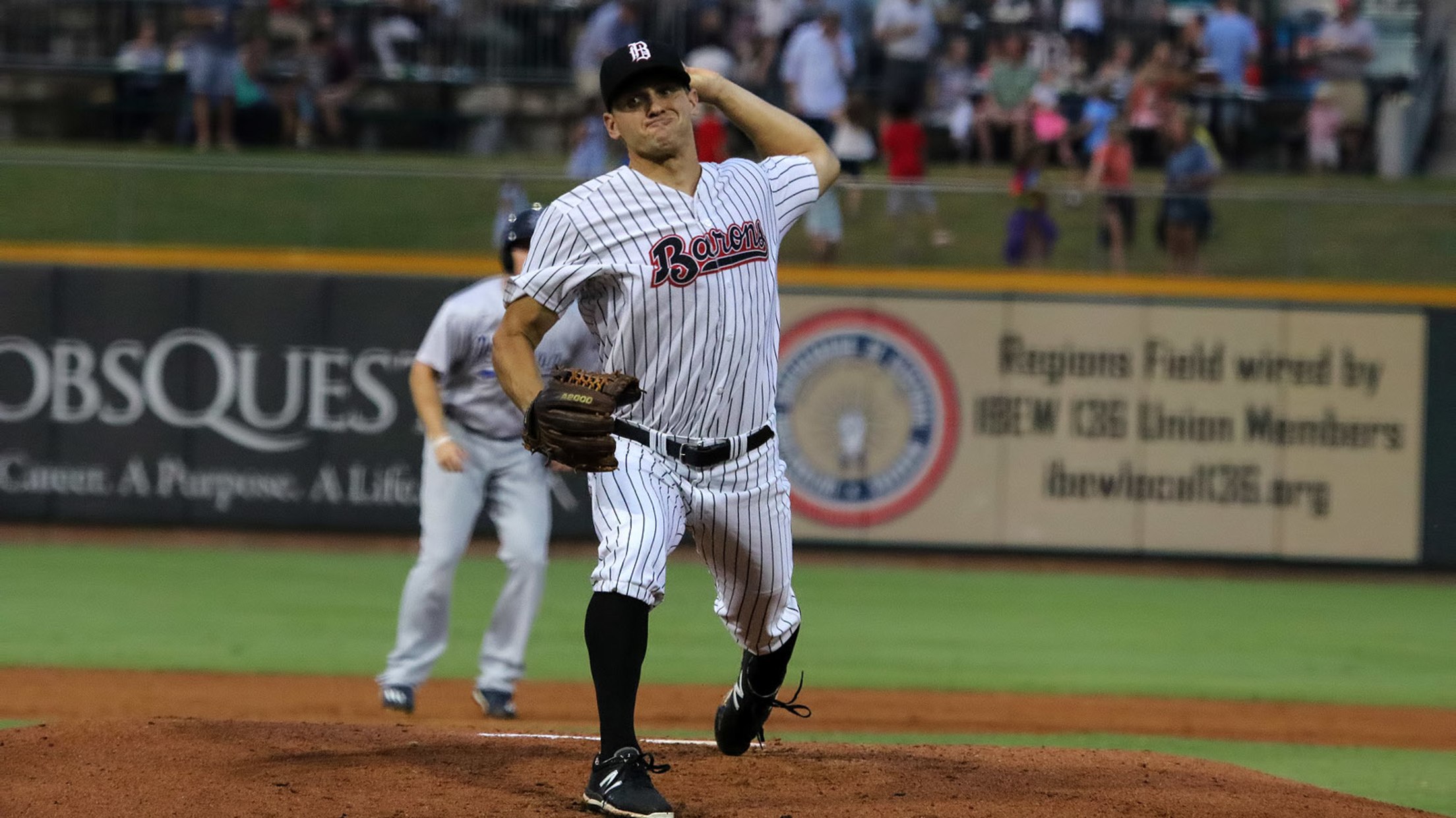 Tanner Banks gave up three runs in Friday's loss. (Michael Wade)
In a pitcher's duel throughout, the Birmingham Barons (55-59) could never get the big hit they desired in a 1-0 loss to the Montgomery Biscuits (63-52) on Wednesday night at Riverwalk Stadium. The loss drops the Barons to 3.5 games out of first place in the North Division standings. Turning
In a pitcher's duel throughout, the Birmingham Barons (55-59) could never get the big hit they desired in a 1-0 loss to the Montgomery Biscuits (63-52) on Wednesday night at Riverwalk Stadium. The loss drops the Barons to 3.5 games out of first place in the North Division standings.

Turning Point: With the zeroes coming rapidly on both sides of the scoreboard, the Biscuits put a runner on second base with two outs in the sixth. Nick Solak then broke the deadlock with a single to center off Barons starter Tanner Banks (L, 2-4), scoring Lucius Fox from second with what proved to be game's only score.
By The Numbers: The sixth inning run proved to be the only blemish on Banks' record. Making his sixth Double-A start of the season, Banks was sharp in tossing his fourth quality start. Over 7.0 strong innings, he gave up just the one run on three hits with two walks and five strikeouts. However, the lack of support would be the difference as he suffered his fourth loss with Birmingham.
Moments That Mattered: Looking to take an early lead, the Barons got a leadoff double from Danny Mendick in the third. But Birmingham could only advance him to third on a Matt Rose fly out as Jameson Fisher struck out and Luis Basabe grounded out to end the inning. Trying to get even in the ninth, the Barons put runners on the corners with two outs, but Alex Call struck out to end the game.
Facts And Figures: Mendick recorded two of Birmingham's four hits in the loss, but he was thrown out trying to advance to third base on Fisher's single in the eighth inning, ending the inning and eliminating a potential game-tying threat. In the bottom of the frame, Brian Clark worked into a bases-loaded jam, but got out of it with a pop up strikeout to keep the deficit at one run.
Up Next: The two sides continue the series with a 6:35 p.m. matchup on Thursday night. Matt Tomshaw (4-6, 5.72) is set to start for the Barons against the Biscuits' Sam McWilliams (4-6, 6.66) Curt Bloom will have the call on 960 WERC News Radio and the iHeart Radio app.