Orf does it all in Manatees' season finale
Brewers prospect plays nine positions, coaches first, gets promoted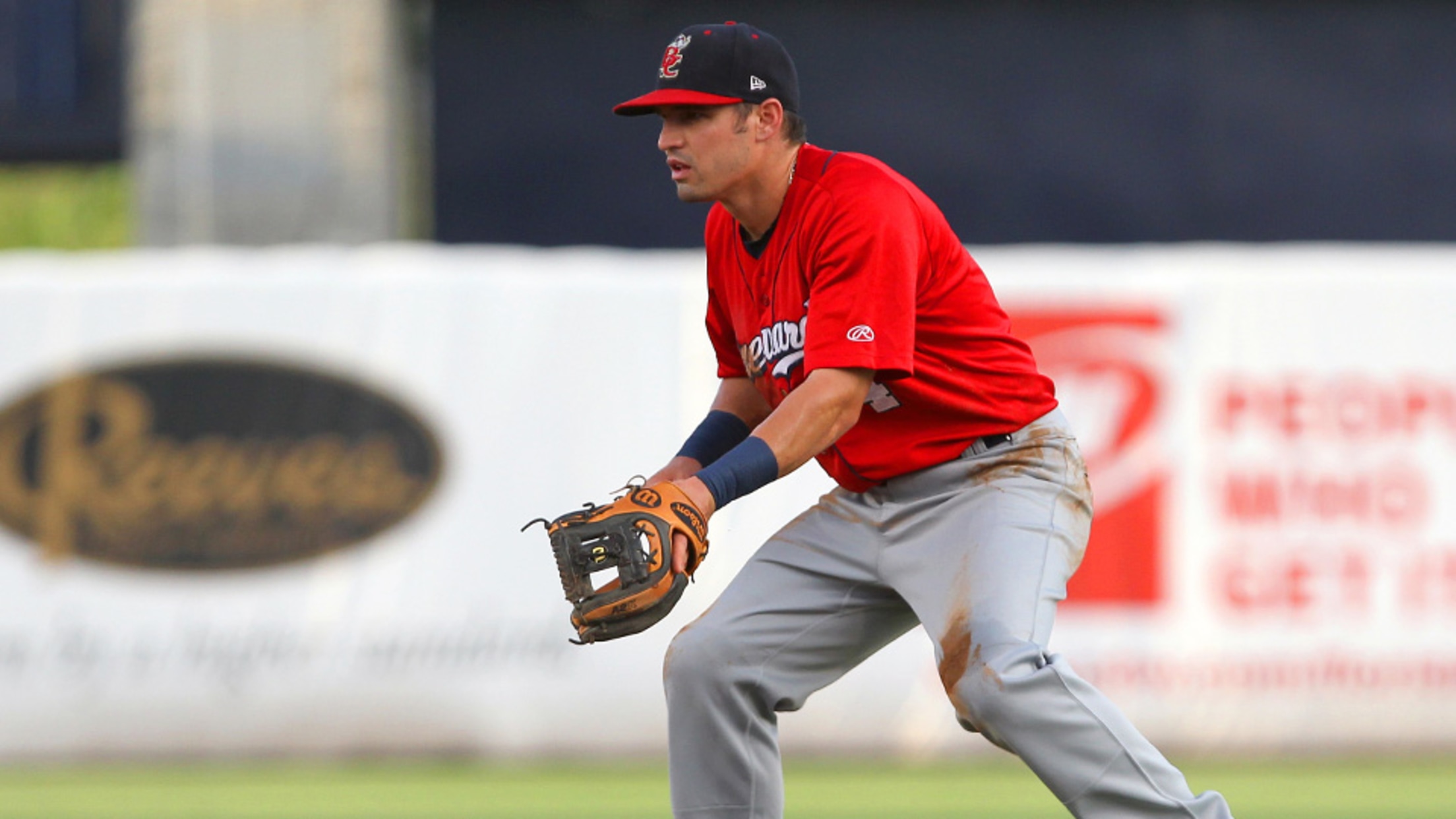 Nathan Orf played 68 games in the outfield and 55 at second base this season. (Cliff Welch/MiLB.com)
On Sunday at Space Coast Stadium, it was the lineup card, not the scoreboard that brought excitement to Brevard County. About an hour and a half before game time, Manatees manager Joe Ayrault informed Nathan Orf that he planned to play him at all nine positions in the regular-season finale
On Sunday at Space Coast Stadium, it was the lineup card, not the scoreboard that brought excitement to Brevard County.
About an hour and a half before game time, Manatees manager Joe Ayrault informed Nathan Orf that he planned to play him at all nine positions in the regular-season finale against Dunedin (a game Brevard County lost, 7-3).
"His face lit up, there was a big smile on his face. He was bouncing around the clubhouse. ... Even his teammates were excited," Ayrault said. "Nathan is very versatile; he's the perfect guy to do it. ... He's just a guy where you know he's going to go out and make the plays, no matter what position he's at."
Ayrault had always wanted to have one of his players try all nine positions in a game. A few years ago with Class A Advanced Sarasota, he was a couple days away from putting that plan into action until Justin Tordi -- now a coach with Class A Charleston -- broke his nose.
With Orf, who'd already seen action at six different positions this season, Ayrault knew he could make it happen. So he called Brewers director of player development Reed Nichols to get the organization's stamp of approval, then delivered the good news to his utility player.
"It's the last game with the guys and something fun to remember forever. I was so excited," Orf said. "Before the game I didn't know what to do, I was pumped. Since I was going to start at catcher, I saw some pitches from [starter Jorge] Lopez."
Ayrault determined that Orf would play each position in numeric order -- with one exception: he'd pitch last. And while he had not caught since college at Baylor University, he was excited to be behind the plate.
"It was a blast first of all, but we gave up more runs than I hoped for," Orf said. "I was hoping for a nice quick inning, [but] it was just fun to be back there. I [called the pitches], but I guess I didn't do a good job."
The first four Blue Jays reached base and Orf got a front row seat as they scored five times. Then it was on to his next assignment as he moved to first, the position he most looked forward to playing.
"[First base is] not comfortable, but when you get thrown into a situation, you have to prepare as best as you can," the 5-foot-9 Missouri native said. "It was a fun game, but at the same time you don't want to take the focus away from the game or the pitcher. And I'm vertically challenged, as the opposing coach told me."
Orf made his way around the infield, stopping at his favorite position -- second base -- before playing third, then shortstop for the first time since the Brewers signed him as a non-drafted free agent in June 2013. He moved to the outfield for the next three innings and took the mound for the first time since his sophomore year at Francis Howell High School in St. Charles, Missouri.
"I had no clue what I was doing up there," Orf admitted. "I was trying to throw strikes and throw them somewhat down in the zone. I was just hoping they didn't hit a home run. Hoppy [third baseman Greg Hopkins] made a great play, and it was a great way to end the game and the season."
Orf retired Nick Baligod -- the only batter he faced -- on a grounder to Hopkins, but his day wasn't over. In bottom of the ninth, he served as the Manatees' first-base coach.
"For me, [the best part] was getting off the field after the final out and tipping my hat to the crowd. It was a special moment and it was a special season," he said. "We have a great group of guys and even though we didn't make the playoffs, we had a great season. It was cool way to cap off an ideal summer."
Orf went 0-for-2 with a walk in the season-ending loss, but his once-in-a-career experience got even better when Ayrault informed him he was promoted to Double-A Huntsville in time for the Southern League playoffs.
"It is exciting to get to play more baseball and move up to the next level; you're always looking to move up," Orf said. "We will have a good environment. I get to learn from some more guys -- there's a lot for me to learn."
Indians prospect Justin Toole was the last Minor Leaguer to play all nine positions in a game, accomplishing the feat for Class A Advanced Carolina on Aug. 25, 2012.
Kelsie Heneghan is a contributor to MiLB.com. Follow her on Twitter @Kelsie_Heneghan.