Orioles Prospect Primer: Sisco on the rise
Club's top prospect faces high expectations following breakout season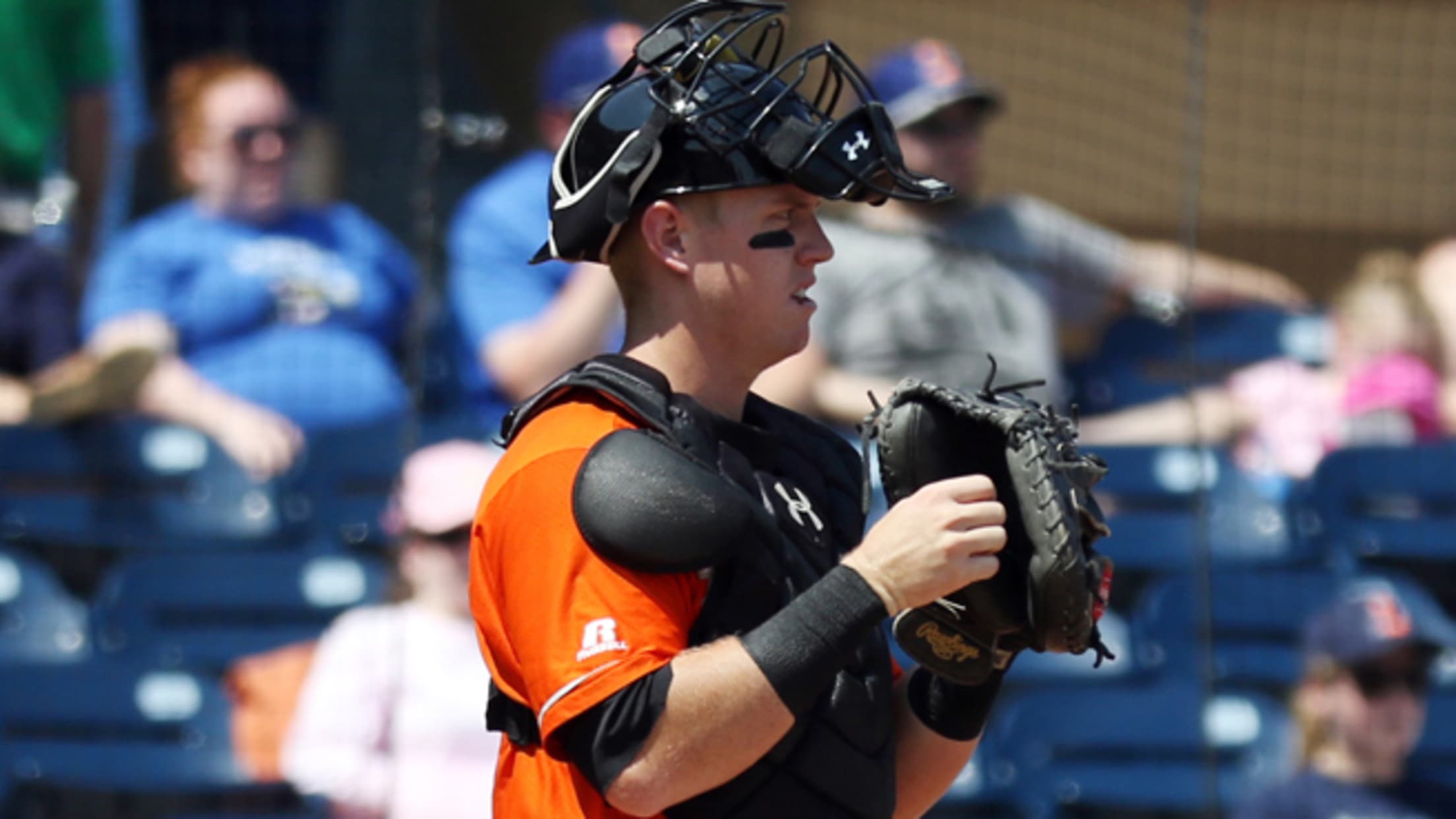 Chance Sisco has hit .323 over 358 games in four Minor League seasons with Baltimore. (Norfolk Tides)
Some players are on the verge of stardom, others are entering a crucial phase of their development and still others are getting their first tastes of full-season ball. With the 2017 season approaching, MiLB.com takes a look at the most intriguing prospects from each MLB organization.Shining Star: Chance Sisco ,
Some players are on the verge of stardom, others are entering a crucial phase of their development and still others are getting their first tastes of full-season ball. With the 2017 season approaching, MiLB.com takes a look at the most intriguing prospects from each MLB organization.
Shining Star: Chance Sisco , C
Ranked as the Orioles' top prospect, Sisco has had no problem handling himself at the plate over four seasons in the Minor Leagues. The 22-year-old stayed true to form last year with a .317/.403/.430 slash line between Double-A Bowie and a brief stint with Triple-A Norfolk. His .406 on-base percentage in 112 Eastern League games led all of Double-A.
Sisco also made strides behind the plate in 2016, rounding out his game and helping him earn a spot as MLB.com's No. 99 overall prospect. The loss of Matt Wieters to the Nationals via free agency seems to indicate that Baltimore views the 2013 second-round pick as its catcher of the future.
"We anticipate that he'll get a chance to catch every day in Triple-A," Orioles director of player development Brian Graham said. "He was the youngest catcher in Double-A baseball last year, and being a left-handed hitting catcher is a commodity. His receiving is getting better, his throwing is getting better. His overall catching performance has improved dramatically over the last 18 months."
Major League-ready: Trey Mancini , 1B
Mancini followed up his breakout year in 2015 with another solid campaign. Baltimore's fifth-ranked prospect batted .282 with 20 homers and 68 RBIs in 142 games between Bowie and Norfolk before getting a brief taste of the big leagues in September. With the Orioles, he went 5-for-14 with three long balls in five contests.
The question with Mancini is where he fits in the O's lineup once he arrives. The team has Chris Davis entrenched at first base and Mark Trumbo was re-signed as the designated hitter. The Orioles hinted at a solution in Spring Training by having Mancini take some reps in right field.
"The way Trey swings the bat, we certainly hope he forces his way into the big leagues just by his offensive abilities," Graham said. "[Manager Buck Showalter] would like to have nine good hitters in the lineup and if Trey is one of the best nine hitters, Buck would love to have him in the lineup. But Buck also puts a tremendous emphasis on defense. So Trey is going to have to be a pretty good defender in the outfield as well as a good offensive player to be in the lineup in the big leagues."

At the crossroads: Hunter Harvey , RHP
Harvey finally returned to the mound last season after missing half of 2014 and all of 2015 with a right elbow injury. However, he made only five starts before undergoing Tommy John surgery and will remain sidelined through at least July. Once one of baseball's most promising pitchers, injuries have limited the star-crossed right-hander to 12 2/3 innings since 2014.
"It's kind of tough when you haven't played in two years because you're just rehabbing all the time," Harvey told the MiLB.com podcast in February. "But I just look at it [as] everything is out of the way and hopefully nothing is going to stop me now. I'm going to come back from Tommy John, pitch and hopefully achieve my dream of pitching in the big leagues."
At 22, Harvey still has time to get back on track in his development. The Orioles came away encouraged after the 2013 first-round pick showed up to camp in great shape.
"He's doing great. His throwing program is doing great," Graham said. "He's gotten bigger and stronger. His arm feels great.
"I would definitely anticipate that he would start at a low level in a rehab situation, work his way up. We'll see what happens come the end of the year. Is he a candidate to go to the Arizona Fall League? Is he an instructional league candidate? I think it all depends on his progress, how he feels. Certainly, we'd like to build his innings up to a certain point so he has a reference point to build on for next year."
Full season debutant: Cody Sedlock , RHP
The Orioles snagged Sedlock with the 27th overall pick in last year's Draft after he recorded a school-record 116 strikeouts as a junior at the University of Illinois. Though the 21-year-old made only nine starts in the Minors with Class A Short Season Aberdeen, he acquitted himself well with a 3.00 ERA, 25 strikeouts and a .158 opponents' average over 27 innings. With a plus fastball and three solid secondary offerings, he should be a player to watch as he begins his climb through the system in earnest.
"Good first impression last year. He pitched very well," Graham said. "Tremendously athletic. Plus fastball, curveball and a slider. Good feel for a change. It would be great if he could start the season in High-A ball and then progress from there."
Breakout prospect: Ofelky Peralta , RHP
The Orioles pushed Peralta with an assignment to Class A Delmarva last season, even though he'd never pitched above the Rookie-level Gulf Coast League. The 2013 international signee responded to the challenge by going 8-5 with a 4.01 ERA and 101 strikeouts over 103 1/3 innings, pitching the third no-hitter in Shorebirds history on July 8 against Hagerstown.
At 6-foot-5 and 195 pounds with a fastball that can reach 98 mph, Peralta has some tantalizing tools. He still needs to improve his command after finishing last in the South Atlantic League among pitchers who threw at least 100 frames with a walk rate of 5.23 per nine innings. If he's able to put it all together, he'll be a young arm to keep an eye on.
"You're talking about a young kid with a really good arm and a great body, plus makeup," Graham said. "Last year, he pitched very well for a very young pitcher in the South Atlantic League. It's a fastball with good angle, it's a solid average changeup and it's a breaking ball that's progressing."


Others to keep an eye on: The second of two first-round picks in 2015, Ryan Mountcastle flourished at the plate in his first season with the Orioles with a .281 average and 42 extra-base hits in 115 games for Delmarva. However, questions remain about the 20-year-old shortstop's long-term defensive home. ... Baltimore took lefty Keegan Akin in the second round of last year's Draft and the 21-year-old posted a 1.04 ERA in nine New York-Penn League starts. ...The Orioles selected two outfielders -- 22-year-old Anthony Santander and 24-year-old Aneury Tavárez -- in last year's Rule 5 Draft. Both are trying to find room in a crowded outfield, although Santander is the more highly regarded of the two after hitting .290 with 20 homers and 95 RBIs for Class A Advanced Lynchburg in the Indians system.