Paddack earns MiLBY for breakout season
Yankees' King garners fan vote for Top Starting Pitcher in 2018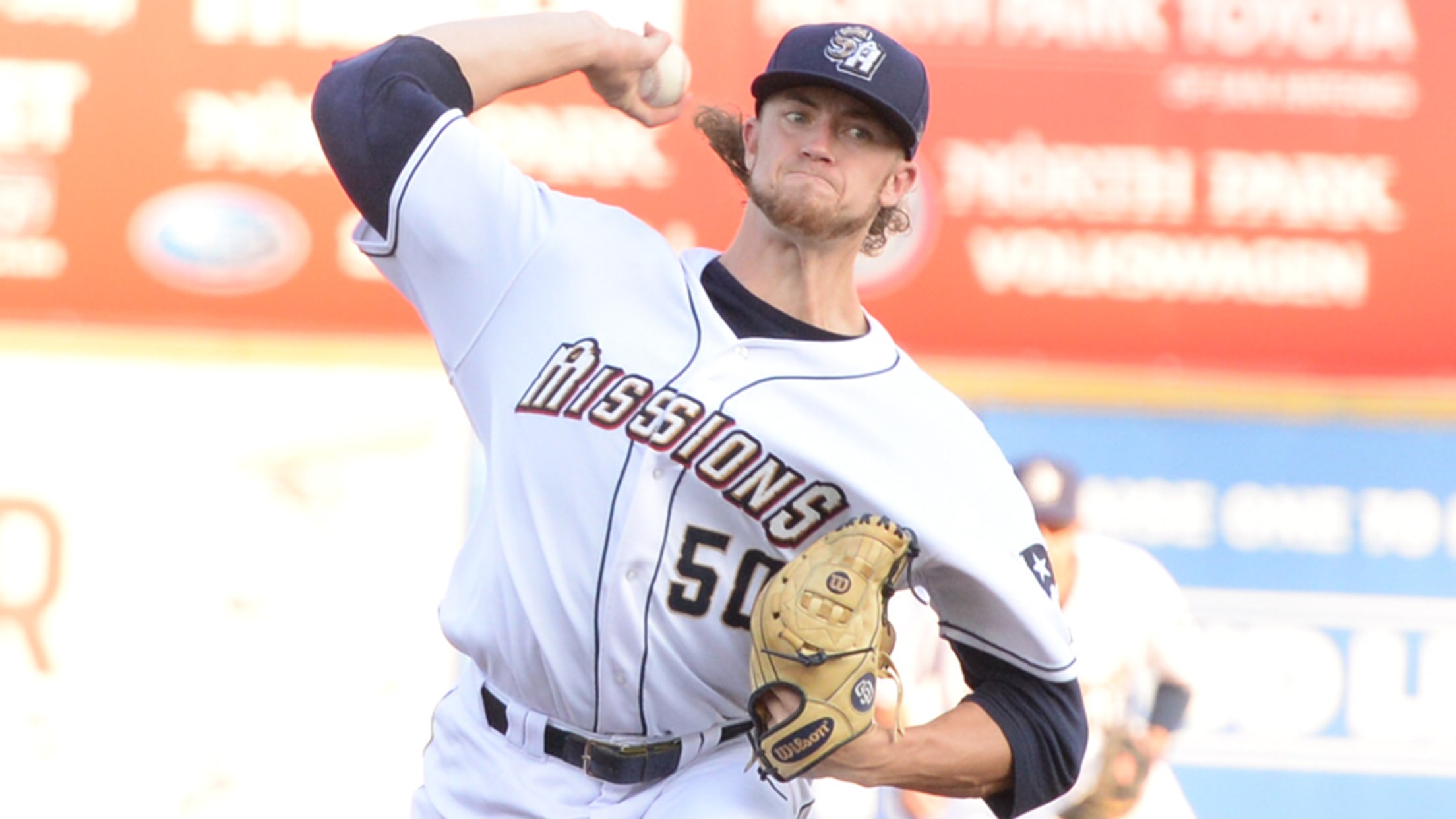 Chris Paddack led all of MLB Pipeline's Top 100 Prospects with a 1.94 FIP. (Reynaldo Holguin/San Antonio Missions)
For pitchers, Tommy John surgery has become more of a rite of passage than a career roadblock, but a long recovery time and doubts about a return to form can still push a player to either side of a very narrow line that separates a prospect from obscurity.Chris Paddack opened
For pitchers, Tommy John surgery has become more of a rite of passage than a career roadblock, but a long recovery time and doubts about a return to form can still push a player to either side of a very narrow line that separates a prospect from obscurity.
Chris Paddack opened the year ranked 23rd among the Padres' top 30 prospects. The right-hander suffered through a hiatus of nearly two years after undergoing the procedure to repair a torn ulnar collateral ligament in late 2016.
"Being away from the game that you love for a year, you can really learn a lot, just about yourself and how much you actually miss the game," Paddack said. "I look back on it and it was 20 months of rehab and hard work, but I'd do it all over again if I knew that I was going to come back the way I did."
Fans' Choice: Yankees' Michael King »
Now the No. 35 overall prospect, Paddack admits that the negative thoughts and troubling questions about his future were tough to shake. But, as it turns out, what he was working toward was the best pitching performance in the Minors this season, earning the staff pick for the 2018 Top Starting Pitcher MiLBY Award.
"It feels awesome. I'm still soaking it all in and taking a moment to just -- I'm so proud of my hard work," the fifth-ranked Padres prospect said. "Coming back and having a successful year and achieving all my goals and having my family supporting me day in and day out, it's just been such a blessing.
"It's kind of one of those things that the numbers don't lie, and you've just got to be proud of yourself for all your accomplishments."
Paddack pushed it to 90 innings across two levels this season, sporting a 7-3 record with a 2.10 ERA, .204 opponent's batting average and 120 strikeouts. He made 17 starts but insisted that the first step was the hardest. In his debut for Class A Advanced Lake Elsinore on April 30, he reached the six-inning threshold for the first time as a pro while yielding three hits and fanning three in a scoreless performance.
"That moment, at that time, was probably the biggest moment for me of the year, just because it just kind of gets the feet wet," Paddack said. "I knew that having success early on would help me mentally and get me prepared for my next 15-20 starts down the road."
The Austin, Texas, native kept the ball rolling in the California League, posting four consecutive scoreless starts before hitting a rough patch with back-to-back difficult outings in mid-May. Though his ERA swelled to its season-high -- still a remarkable 2.27 -- the minor skid didn't derail him. Paddack continued to dominate the level and earned a promotion to Double-A San Antonio, finishing his stint with the Storm with a 2.24 ERA and 83 strikeouts over 52 1/3 innings.
"Once he got past all the hiccups and showed he could respond to a six-man rotation and not only respond but compete, that's when I felt like we were OK," Padres pitching coordinator Eric Junge told MiLB.com in September. "He needed to be able to throw 15 starts in a row, and through all his hard work, he got there. Once he did, he really crushed it."
Paddack's bump to the Texas League was something of a homecoming -- he was greeted by 80-100 familiar cheering faces in his first start in San Antonio. In front of friends, family and former coaches, the 22-year-old surrendered a hit, a run and a walk while striking out five over six innings against Arkansas in his Double-A debut.
"For me to have a fan base, and to also have success on the mound that night, it was very special for me and my family," he said.
The 6-foot-4, 195-pounder provided a steady presence in the Missions rotation for the remainder of the season, finishing with a 1.91 ERA and .177 opponent's batting average over seven starts. As brilliant as he was with San Antonio, he never threw more pitches in any outing than the 86 he tossed during his final start against Frisco on August 22.
Paddack's FIP helps pad resume
Paddack admitted the predetermined pitch-count limit sometimes got frustrating, particularly during good outings. But he understood that the plan had been laid out long before he even took the mound in Lake Elsinore. Even with his tight leash, Paddack went beyond four innings in all but two appearances, topping out at six frames on five different occasions.
"I'm a big competitor in whatever I'm doing, not just baseball. If it's playing a game of chess, whatever it is, I want to win," Paddack said. "That kind of helped me grow as a player as well -- knowing that I can get through five or six innings with 85 pitches. Whenever they bump me up to 100-110, I can get into the seventh or eighth, potentially the ninth inning, and give my team a chance to win."
The shorter outings and sheer dominance usually had Paddack working two turns through the opposing lineups. He got away with relying exclusively on a fastball-changeup combination -- an admittedly impressive one-two punch -- without a refined third pitch. The righty hopes to develop his curveball into a more effective offering.
"If you can have a third or fourth pitch in the bag and be able to show [hitters] that later on, it just gives you that much more of a head start," Paddack said. "My curveball is still not where I want it to be. … I'm a big believer in how much work you put in [over] the offseason is kind of the results you get during the season."
In addition to fine-tuning his off-speed pitches, Paddack said he's looking to stay in top shape physically throughout the offseason. The 2015 eighth-round pick of the Marlins has some extra motivation to stay off the couch in the winter, as he aims to avoid missing any more time from injuries.
Before the 2018 season, the organization encouraged him to focus some of his rehab work on mechanical changes that can help develop a breaking pitch while staying healthy. Paddack said that before the surgery, he would fall into an "inverted W," a position in his delivery that he felt put added strain on his elbow and shoulder while preventing relaxed and fluid movement.
In addition to those adjustments, being able to pick the brains of big leaguers like Colin Rea and Robbie Erlin helped him stay mentally locked in during his year off.
"Whether it was us taking them to dinner or them taking us to dinner, we got to build a relationship with those guys," Paddack said. "For me, I love being able to talk to older guys who have already played at the highest-level. … I learned a little bit about myself off the field, too -- what I can handle mentally.
"Now, mentally, I'm so tough and I can handle just about anything that's in my way or in my path."
Acquired from the Marlins in the June 2016 deal that sent reliever Fernando Rodney to Miami, Paddack was a comfortable fit in a system that puts a premium on eliminating walks and inducing soft contact. He logged six starts with at least nine strikeouts and never walked more than one batter in a single outing, issuing eight free passes all season.
View all the 2018 MiLBY Award categories »
He also led all Top 100 Prospects and was 15th among hurlers with at least 50 innings in fielding independent pitching with a 1.94 mark.
"There's nothing specific or fundamental-based we went over with him when it came to control," Junge told MiLB.com. "It was just about hitting targets with purpose and intent. For a guy like him, all he needs is the carrot and the challenge, and he did the rest himself. During the throwing program we had him on, he was always focusing on peppering his partner right there in the chest over and over and over.
"It wasn't a whole lot of delivery or mechanical work on our end. His preparation is just tops among anyone I've worked with or even played with in my 20 years in the game."
If any one system has the horses to see a the-more-the-merrier approach pay off in a big way, it's the Padres. San Diego boasts six pitchers among the Top 100 prospects, and -- at 22 years old -- Paddack is the oldest among them. Considering the trade, surgery, rehab and a successful recovery, he feels he has a responsibility to help the other pitchers in the system, just as Rea and Erlin helped him in rehab.
"I try to bring people up that are in my group or near me, so I take pride in that. I try and be the best example that I can because the younger guys, they only have one way to look, and that's up," he said. "I know in a few years what we're going to have with the Padres in the big leagues is going to be something special."
Paddack remembers being nervous about the road to becoming a big leaguer ever since his first moments as a professional ballplayer, but he's realized that no matter how much he matures, there's always something new to learn.
"You ask Clayton Kershaw, Max Scherzer, Justin Verlander. I promise you they'll always say that there's something to learn or there's something they need to get better at," he said. "Once you start accepting your success and all you've accomplished, you're going to start getting passed up.
"The saying is, 'It's easy to make it; it's hard to stay.'"

Michael King
put a cherry on top of his brilliant season with MiLB Player of the Month honors in August. He went 3-0 with a 1.09 ERA over his final three starts for Triple-A Scranton/Wilkes-Barre.
Acquired from the Marlins last November, the 23-year-old right-hander finished with the best ERA in the Minors (1.79) and an 11-5 record over 161 1/3 innings, striking out 152 and holding opposing batters to a .202 average. He began the year at Class A Advanced Tampa and sported a 1.79 ERA with 45 strikeouts over 40 1/3 innings before being moved up to Double-A Trenton in May.
His remarkable tenure with the Thunder included his first nine-inning shutout, when he matched his career-high with 11 strikeouts against New Hampshire on June 30 to cap his performance as Eastern League Pitcher of the Week.
"Early on, I like to attack a hitter kind of how I'm not going to attack him later in the game, how I really want to get him out, just to open up different holes. That's what we did," King told MiLB.com after blanking the Fisher Cats. "Every hitter has holes, it's just a matter of exploiting them. ... Once you find them and you're able to attack them in those proper spots, then it makes my job a lot easier."
The 2016 12th-round selection out of Boston College left Trenton with a 2.09 ERA and 76 strikeouts over 12 appearances, spanning 82 innings. After being elevated to the International League in August, King made six total starts with the RailRiders and finished with a 4-0 record and 1.15 ERA over six starts.
In just his second full season and first with the Yankees, the Rochester, New York, native adapted to his new surroundings well.
"It was a little change for me because I've never moved up to a level without friends there," King told MiLB.com after being promoted to Triple-A. "It's been very easy with the coaching staff, coordinators and the players. They've accepted it and we're just going out there and trying to go out and win as many games as we can as a team."
Gerard Gilberto is a contributor to MiLB.com. Follow and interact with him on Twitter, @GerardGilberto4.