Reyes takes Texas two-step on the road
Chihuahuas slugger belts two homers for third straight game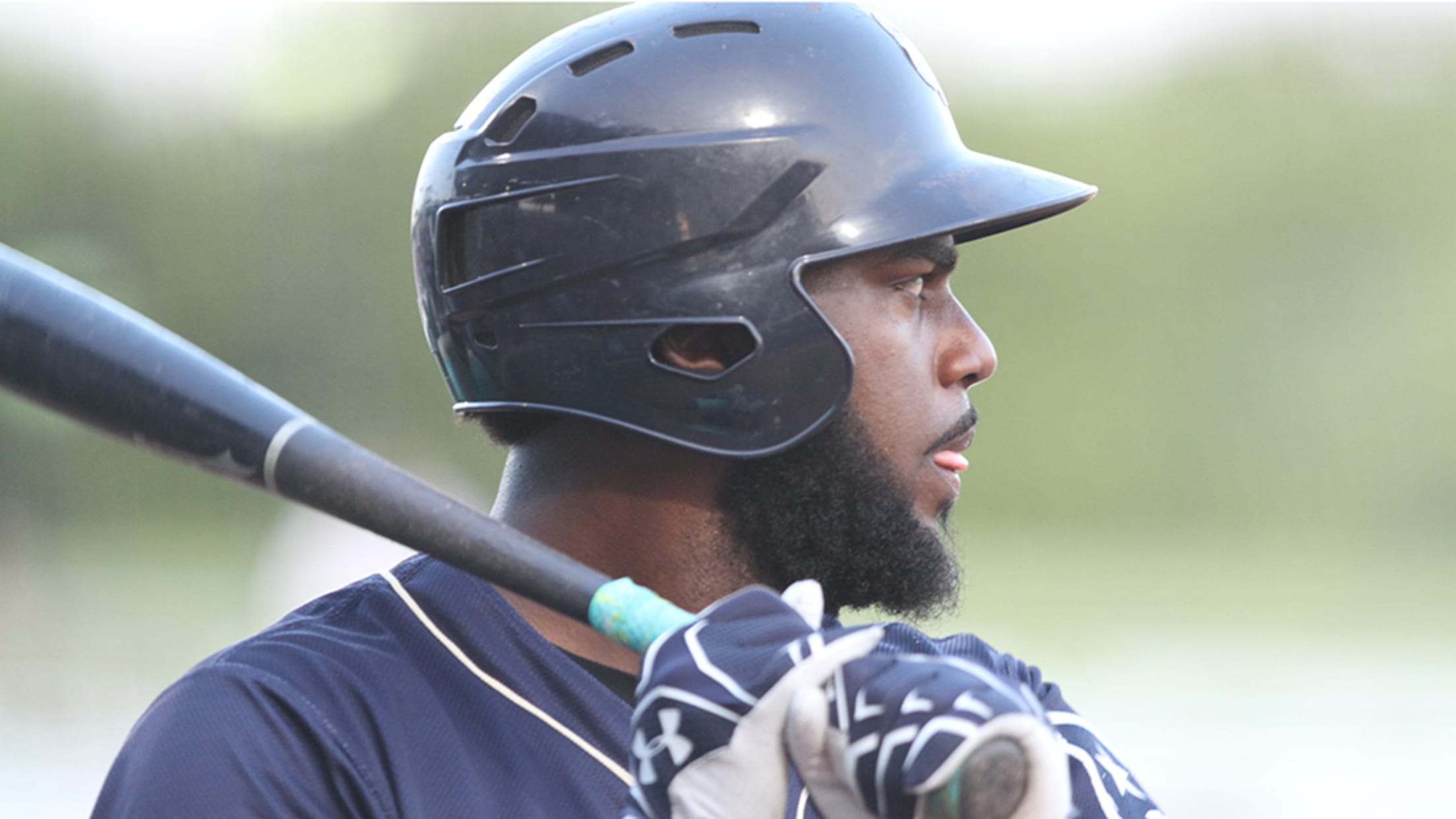 Franmil Reyes, who hit 25 homers last season at Double-A, has 11 through 28 games with Triple-A El Paso. (Dave Michael/MiLB.com)
How long can Franmil Reyes keep this up?The Padres outfield prospect posted his third consecutive two-homer game on Friday, powering Triple-A El Paso to a 7-1 win over Albuquerque at Isotopes Park.
How long can Franmil Reyes keep this up?
The Padres outfield prospect posted his third consecutive two-homer game on Friday, powering Triple-A El Paso to a 7-1 win over Albuquerque at Isotopes Park.
Gameday box score
Reyes' amazing run has impressed his manager, Major League veteran Rod Barajas.
"It's something special," the former catcher said. "It seems like every time he goes out there, the ball is traveling 450 feet. He doesn't chase bad pitches, and I've seen when people try to pitch him away, he kills the ball to right field; and when they come in, he hits it out to left field."
The 6-foot-5, 240-pound Reyes has 11 homers on the season after hitting six in the past three games, giving him the Minor League lead by one over four others, including former Padre Jabari Blash of Salt Lake.
Barajas said he's not sure he's seen a player as locked in as Reyes is.
"For being as big as he is and as much power as he has, it's just matter of putting the barrel to ball. He's not your prototypical power hitter [in that] he doesn't strike out a ton. He's able to make adjustments in game."
Reyes' damage on Friday was bunched together. After striking out in the first inning, he singled in the fourth. In the sixth, the right-handed hitter slugged his 10th homer, a blast to the opposite field, and in the seventh he jolted one to left-center that scored Padres No. 3 prospect Luis Urías.
With a shot at his first three-homer game, the 22-year-old walked in the ninth. During his tear, Reyes has driven in nine runs and raised his average to .305.
Cory Spangenberg and Allen Craig also homered for El Paso, backing fellow former big leaguer Luis Perdomo (2-1), who pitched the second nine-inning complete game in team history.
Perdomo allowed three hits and struck out six while walking two.
For Reyes, it continued a season of validation. The 22-year-old native of the Dominican Republic signed for $700,000 in 2011, just after his 16th birthday. But despite leading the Texas League last season with 102 RBIs, and being three years younger than the league average, he was not placed on the Padres' talent-filled 40-man roster.
That left Reyes available in the Rule 5 Draft for any team with an open 40-man roster spot. He was not selected despite a profile as a power hitter with athleticism. That absolutely weighed on him, his manager said.
"Without a doubt," Barajas said. "When we have conversations, that topic does come out. It was his [Rule 5] protection yet and every team had the chance to grab him and no one did. I think that relayed a message to him. Now he wants to prove a lot of people wrong."
According to reports, Reyes would have been placed on the 40-man roster, but needed surgery to repair a broken hamate bone in his right wrist, an injury sustained during the Arizona Fall League. Before the injury, he was 5-for-30 facing some of the game's elite prospects in the AFL.
Barajas said one factor for Reyes not being chosen in the Rule 5 Draft and not being on the team's prospect list had to do with questions nabout his defense. He said Reyes has tried to address that.
"That's something he's struggled with, and people can question whether he can defend at the big league level, and he took it to heart," Barajas said. "But he constantly works at his craft, and every ball he should catch [this year] he has, from what I've seen."
One thing is certain: if Reyes continues this pace and the Padres leave him unprotected, he won't go unnoticed.
"This year or next year, we're going to have some big decisions to make," Barajas said.
Vince Lara-Cinisomo is a contributor to MiLB.com. Follow him on Twitter @vincelara.