Bachar's perfect afternoon earns weekly award
Padres prospect combined on one-hitter in fourth TinCaps outing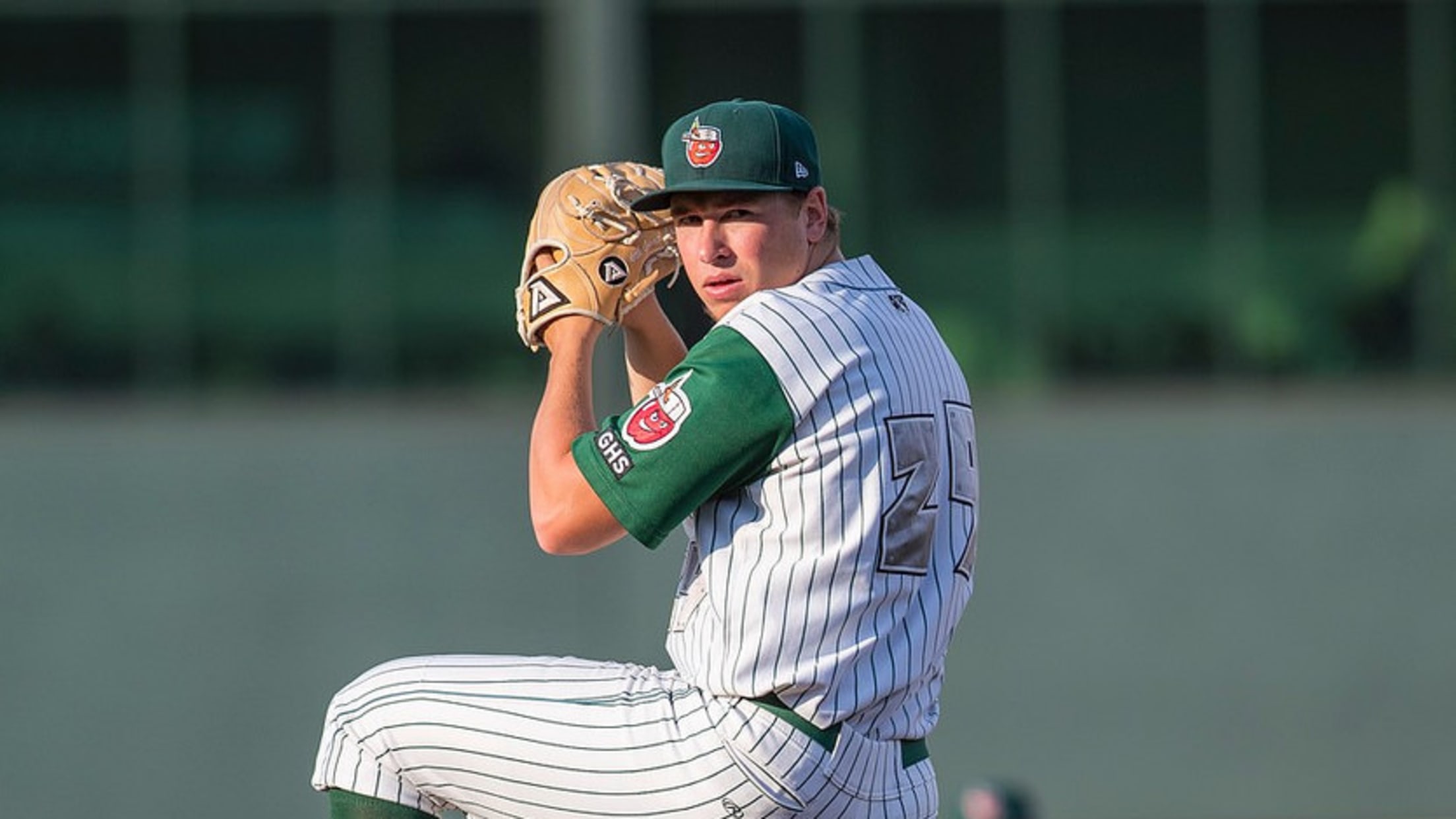 Lake Bachar is 4-0 with a 3.18 ERA in 10 games this year across two levels. (Jeff Nycz/Mid-South Images.)
Lake Bachar was perfect for seven innings last Thursday, making him an easy choice when it came to handing out the latest weekly awards. But the right-hander said he wasn't fazed by the gem he threw. "At a certain point, I don't really try to hide from it, because I
Lake Bachar was perfect for seven innings last Thursday, making him an easy choice when it came to handing out the latest weekly awards. But the right-hander said he wasn't fazed by the gem he threw.
"At a certain point, I don't really try to hide from it, because I feel like that can kind of get you in trouble, at least for me," Bachar told MiLB.com. "I accept it and continue to go out there and do what I need to do."
Bachar and Class A Fort Wayne combined on a one-hitter on Aug. 17 and the right-hander was honored Monday as the Midwest League's Pitcher of the Week. He struck out seven and earned his third win on the circuit.
"My catcher, Kyle Overstreet, and I were very synced," Bachar said. "I felt like we were on the same page and we were mixing up pitches and keeping them unbalanced. I had three solid pitches vs. every batter."
• View the Player of the Week winners »
The 22-year-old Illinois native was the Padres' fifth-round pick in 2016 and making his third start and fourth appearance for Fort Wayne last week when he found himself pitching a perfect game. That ended when TinCaps manager Anthony Contreras decided to pull Bachar after seven frames, handing the effort Jose Galindo. The reliever kept it cooking through eight but surrendered a two-out double in the ninth, ending the perfect game bid.
Bachar was cool with the outcome either way.
"I wasn't really frustrated, but I was feeling like I had a chance to go back out there and finish at least the eighth and then see where we are from there," he said, "but I had total trust in what the coaches were deciding and trust in Galindo to close out the game."
Bachar began the season late, making his debut in June in the Rookie-level Arizona League. He joined Fort Wayne on July 28. Last year, he went 2-2 with a 3.19 ERA in 15 games between Fort Wayne, Class A Advanced Lake Elsinore and the AZL Padres.
Below is the complete list of Minor League Pitchers of the Week for Aug. 14-20:
| League | Player | Team | MLB | Stats |
| --- | --- | --- | --- | --- |
| International | Alec Asher | Norfolk | BAL | 1-0, 0.00 ERA, 1 G, 1 GS, 7 IP, 3 H, 0 R, 0 ER, 1 BB, 5 K |
| Pacific Coast | Bubba Derby | Colorado Springs | MIL | 2-0, 1.42 ERA, 2 G, 2 GS, 12 2/3 IP, 7 H, 2 R, 2 ER, 2 HBP, 2 BB, 10 K |
| Eastern | Dan Slania | Richmond | SF | 1-0, 0.00 ERA, 1 G, 1 GS, 1 SHO, 7 IP, 2 H, 0 R, 0 ER, 1 BB, 8 K |
| Southern | Touki Toussaint | Mississippi | ATL | 1-0, 0.00 ERA, 1 G, 1 GS, 7 IP, 2 H, 0 R, 0 ER, 2 BB, 9 K |
| Texas | Corey Copping | Tulsa | LAD | 0-0, 0.00 ERA, 3 G, 0 GS, 3 SV, 3 2/3 IP, 0 H, 0 R, 0 ER, 1 HBP, 1 BB, 4 K |
| California | Jesus Tinoco | Lancaster | COL | 2-0, 0.73 ERA, 2 G, 2 GS, 12 1/3 IP, 7 H, 3 R, 1 ER, 1 HBP, 6 BB, 15 K |
| Carolina | Wes Benjamin | Down East | TEX | 0-0, 0.00 ERA, 1 G, 1 GS, 7 2/3 IP, 2 H, 0 R, 0 ER, 0 BB, 7 K |
| Florida State | Burch Smith | Charlotte | TB | 1-0, 0.00 ERA, 1 G, 1 GS, 6 IP, 0 H, 0 R, 0 ER, 2 BB, 9 K |
| Midwest | Lake Bachar | Fort Wayne | SD | 1-0, 0.00 ERA, 1 G, 1 GS, 7 IP, 0 H, 0 R, 0 ER, 0 BB, 7 K |
| South Atlantic | Lucas Humpal | Delmarva | BAL | 1-0, 0.00 ERA, 1 G, 1 GS, 6 IP, 4 H, 0 R, 0 ER, 1 BB, 10 K |
| New York-Penn | Juan De Paula | Staten Island | NYY | 1-0, 0.00 ERA, 1 G, 1 GS, 7 IP, 1 H, 0 R, 0 ER, 1 BB, 7 K |
| Northwest | Jhoan Duran | Hillsboro | ARI | 1-0, 0.00 ERA, 1 G, 1 GS, 7 IP, 1 H, 0 R, 0 ER, 1 BB, 5 K |
| Appalachian | Sal Biasi | Burlington | KC | 1-0, 0.00 ERA, 1 G, 0 GS, 5 IP, 0 H, 0 R, 0 ER, 0 BB, 7 K |
| Pioneer | Justin Hoyt | Ogden | LAD | 1-0, 0.00 ERA, 2 G, 0 GS, 5 IP, 1 H, 0 R, 0 ER, 1 BB, 9 K |