Padres Prospect Primer: Trades bearing fruit
Acquisitions such as Espinoza, Margot headline rapid rebuild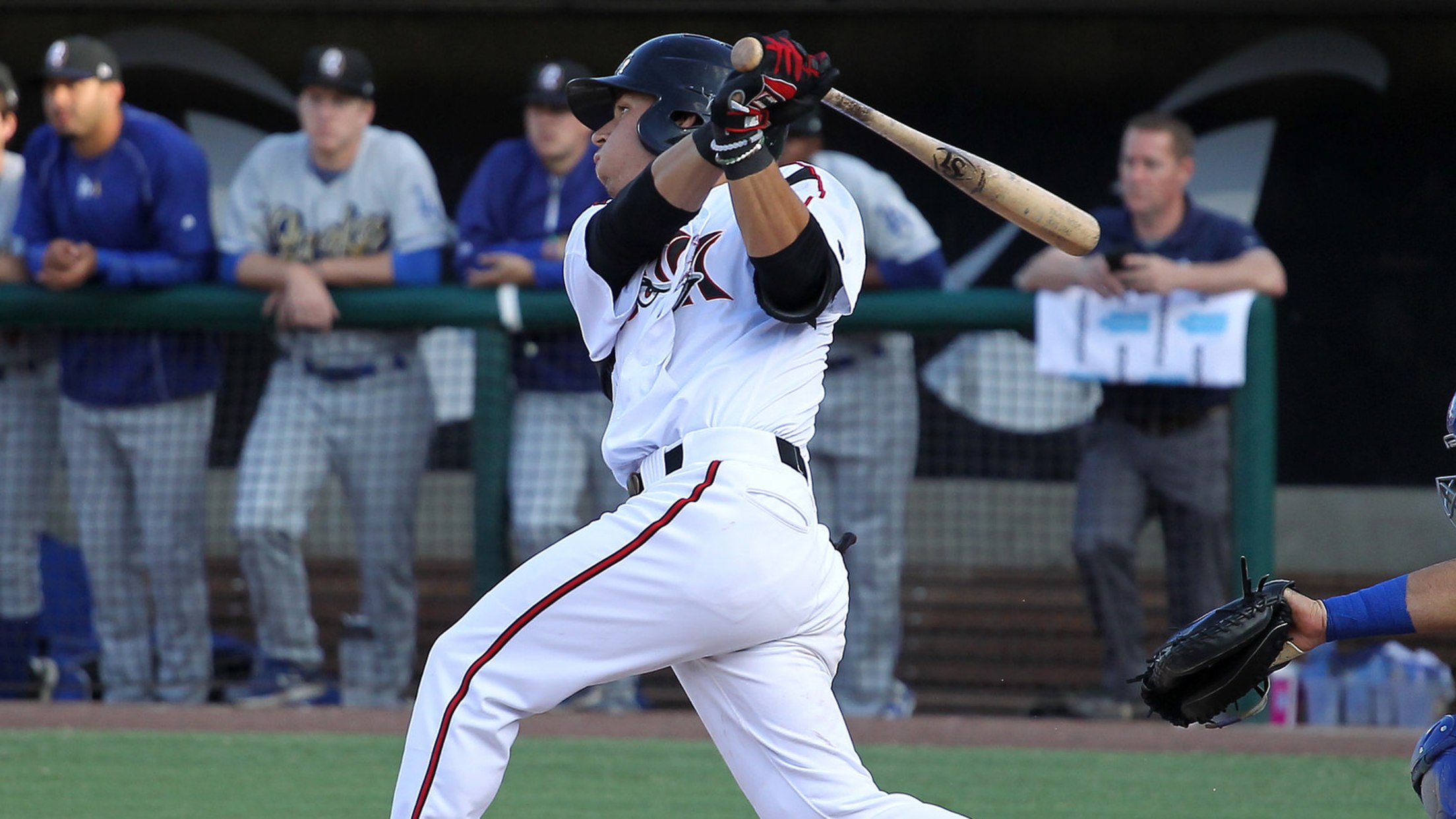 Luis Urias batted .330 in Lake Elsinore last year and is a .317 career hitter in three seasons. (Ben Sandstrom/MiLB.com)
Some players are on the verge of stardom, others are entering a crucial phase of their development and still others are getting their first tastes of full-season ball. With the 2017 season approaching, MiLB.com takes a look at the most intriguing prospects from each MLB organization.Shining star: Anderson Espinoza, RHPThe
Some players are on the verge of stardom, others are entering a crucial phase of their development and still others are getting their first tastes of full-season ball. With the 2017 season approaching, MiLB.com takes a look at the most intriguing prospects from each MLB organization.
Shining star: Anderson Espinoza, RHP
The Padres' grand experiment of mass Major League acquisitions in the 2014-15 offseason didn't work out as planned, and it left their farm system lean. As San Diego has parted with the big league assets it brought in, a wealth of talent has come in return, and Espinoza might be the headliner of the group. Obtained from the Red Sox in last year's trade for big league lefty Drew Pomeranz, Espinoza boasts an above-average curveball, plus changeup and 70-grade fastball, one of the best in the Minors.
"Getting him midseason, I think he was doing a lot of things right to start with, so there's not really a desire to put our hands on it or stamp on him, so to speak, for the sake of doing it," San Diego director of player development Sam Geaney said earlier this month at the Padres' Spring Training facility in Peoria, Arizona. "Nothing can really replace having spent the last six months or whatever it's been since we've had him, in countless conversations with him, constantly being around him in the gym, to really get to know the person and then kind of start crafting our own plans and evaluations of where he's at and what we need to do with him."
Espinoza spent last year at full-season Class A, first with Greenville in the South Atlantic League and then Fort Wayne of the Midwest League after the trade. In all, he compiled a 4.49 ERA in 25 outings (24 starts) at 18 years old. The Padres rave about his maturity and expect it to complement his on-field talent as he continues to rise through the ranks.
"He's so athletic, it's continuing to kind of make sure that that athleticism plays in every delivery, in every pitch, probably finding a little more consistency with his breaking ball," Geaney said. "Obviously he's still a prospect, so we don't ever want that to get in the way of continuing to strive to get better. Whether it's his idol, someone like Felix [Hernandez], it's how to, at a certain point, go from prospect to Major Leaguer and then from Major Leaguer to elite."
Class A Advanced Lake Elsinore, which plays in one of the California League's pitcher-friendly parks, will be Espinoza's home this year.
Major League-ready: Manuel Margot, OF
Along with Hunter Renfroe, Margot is set to help reshape the Padres' outfield in 2017 and beyond. San Diego's top prospect debuted in the Majors last season at 21, the culmination of his swift climb through the Red Sox and Padres systems. Acquired from Boston in the 2015 trade for big league reliever Craig Kimbrel, Margot has all the tools to be the Friars' center fielder of the future. Last year, the Pacific Coast League All-Star batted .304/.351/.426, swiped 30 bases, scored 98 runs and recorded a league-best 18 outfield assists. Margot should be a contributor at the top of the lineup in San Diego.
Renfroe debuted with a flourish last year as well, batting .371/.389/.800 in 11 big league games. He'll hit behind Margot in the heart of the Padres order.
Breakout prospect: Luis Urías IF
A versatile sparkplug who introduced himself to a global baseball audience while playing for Mexico in this month's World Baseball Classic, Urias is set to take the next step to the upper Minors in 2017. At just 19 for the bulk of last season, the infielder batted .330/.397/.440 in 120 games with Lake Elsinore on the way to capturing California League MVP and Rookie of the Year honors.
Urias developed some pop in his first full season, tallying 26 doubles, five triples and six homers and saw action defensively at second, third and shortstop.
"Every year to this point, there have been challenges, and he's obviously met them to continue to have the success he's had," Geaney said. "He's continued to make adjustments on a year-to-year basis, and I think if you looked at him physically a year ago, you'd be like, 'This is a guy who's getting beat in [on pitches],' but he made the adjustment. He's learned how to drive the baseball."
• Read more on the blog »
Loudest tool: Adrian Morejon, LHP
The tool referred to here is more like a Swiss Army knife. Morejon was the second-best prospect on the international market last season, according to MLB Pipeline, and the Padres shelled out $11 million to land him. In Morejon, they've gotten a mature lefty who just turned 18 last month and possesses a diverse portfolio of pitches, including a 60-grade fastball that can touch 96 mph and two changeups, one of which defies conventional description.
"By my count, we have six or seven Cubans [in camp] now depending on how you count them, and a lot of them have these, not bizarre, but very unique pitches," Geaney said. "He throws this exotic knuckle thing."
The Padres haven't yet nailed down exactly how to describe the pitch. So how do they continue to develop it with Morejon?
"Burt Hooton is one of our pitching coaches, and he threw a super unique knuckle-curveball back in the '70s and '80s, but it's not like we teach guys that one," Geaney said. "[Morejon's] is good. We're going to let him go [with it]."
Morejon left his native Cuba in the winter of 2015 and hasn't pitched in game action since. The Padres are fine with moving slowly with the southpaw.
"He comes to us very advanced," Geaney said. "I think the plan is to build for short-medium future rather than worrying about April 1, so to speak. From a stuff standpoint and how the delivery is solid, it's a guy who potentially could move fast."
Back and healthy: Cal Quantrill, RHP
Quantrill returned to the mound last year after 2015 Tommy John surgery but was still restricted to 37 innings in his debut season. Now, the kid gloves are off for the Stanford product, last year's eighth overall pick.
"It's not like we're going to be reckless with him, but he's going to have the full season," Geaney said. "It's not something where we need to start him late or end him early. He's going to pitch. He's going to pitch from April through the end of the season."
Quantrill reached Class A Fort Wayne last year but, if he starts with Lake Elsinore, could climb to Double-A quickly given his advanced three-pitch mix that includes a changeup "scouts consider to be among the best in the Minor Leagues," according to MLB.com.


Others to keep an eye on: The Padres took the top three selections in December's Rule 5 Draft. Among those picks was Panamanian shortstop Allen Córdoba, who won two batting titles in his first two years in the Cardinals system and was the Rookie-level GCL's MVP in 2015. … After a tumultuous stay with Miami, slugging first baseman Josh Naylor is getting a fresh look with San Diego, and Geaney praised his leadership capabilities. … Last year's second-rounder Buddy Reed struggled through his junior year at Florida, but the toolsy outfielder had a good pro debut with a .254/.326/.337 slash line in 41 games for Class A Short Season Tri-City.
Tyler Maun is a contributor to MiLB.com. Follow him on Twitter @TylerMaun.