Mazeika perfect at dish in Ponies' debut
New York's No. 26 prospect doubles twice, reaches five times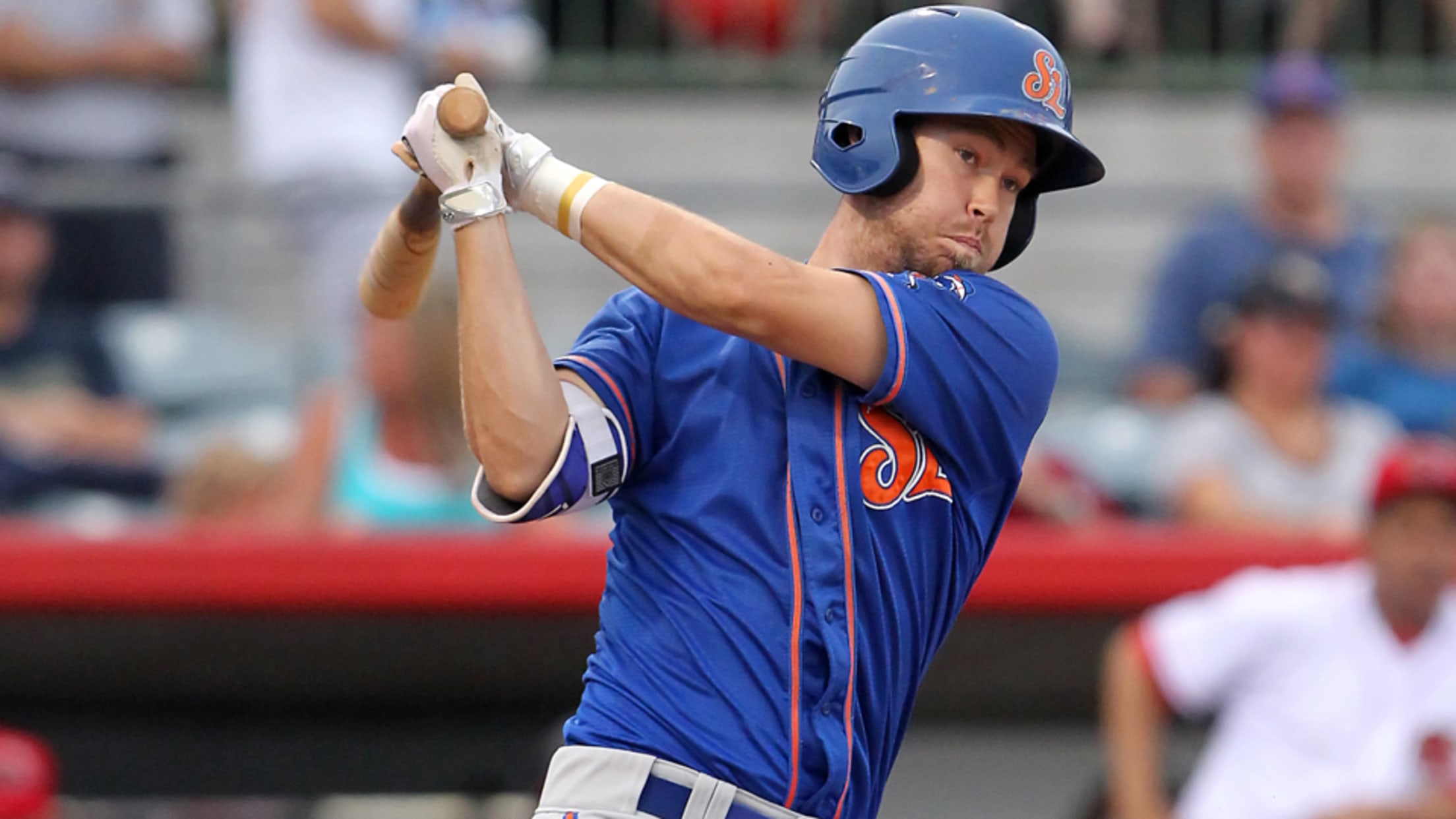 Patrick Mazieka has a .313 average and a .417 on-base percentage over 233 Minor League games. (Cliff Welch/MiLB.com)
Patrick Mazeika arrived in northwest Pennsylvania about three-and-a-half hours before the first pitch of his Double-A debut Monday night, but it didn't take long for him to get -- and leave -- a positive impression."I'm excited to join a great team," the Mets No. 26 prospect said. "This is a
Patrick Mazeika arrived in northwest Pennsylvania about three-and-a-half hours before the first pitch of his Double-A debut Monday night, but it didn't take long for him to get -- and leave -- a positive impression.
"I'm excited to join a great team," the Mets No. 26 prospect said. "This is a great group of guys, and it's a little cooler here than in the Florida State League so far."
Mazeika showed his appreciation by reaching five times in five plate appearances to help Binghamton to a 10-6 win over Erie at UPMC Park. The 23-year-old went 3-for-3 with two doubles and two walks, driving in one run and scoring another.
Gameday box score
"That was fun. It was a great team win and I'm happy I was able to help the team," Mazeika said, noting he had no extra butterflies about making the jump from Class A Advanced ball. "I knew a lot of guys on the team and I'd [worked] with the coaching staff in Spring Training. I knew everybody except three or four guys, so I was pretty comfortable. They were welcoming.
"It's just another game a little farther away. It was a long day of travel, but I was glad I got into the lineup, and had some good at-bats."
The 2015 eighth-round pick batted .305 but got into just 70 games with Class A Columbia last season. However, with St. Lucie this year, he hit .287/.389/.406 with 21 doubles while spending 76 games behind the plate, 12 at first base and 12 as a designated hitter. Mazeika served as DH on Monday, which gave him less time to think about in his first crack at the Eastern League.
"I think so, but either way, you're still focused out there and having fun," the Stetson product said. "DH-ing, you have your focus on one thing and having good at-bats. I also got to watch some [SeaWolves] hitters in case I catch in the next few days, so I'd be prepared for that. It was a good way to start off, with a chance to get familiar with the way things work on this team and this league."
Binghamton led, 2-0, with two outs in the first inning and runners on first and second when the left-handed hitter stepped to the plate and promptly pulled a 1-1 pitch from right-hander A.J. Ladwig (7-5) for an RBI two-bagger.
"That was awesome. That first inning was great. Four of the first five guys got hits," Mazeika said. "They put me in a good position and put the pitcher under some pressure. He left the ball over the plate and I was able to pull it up the line."
The Wilbraham, Massachusetts native doubled off Ladwig to start the third, drilling the ball to right field on a 1-0 pitch.
"He threw me a changeup that caught a little of the plate. It was in a similar spot and I hit it down the line again," he said.
After walking in the fourth, Mazeika ripped a single to right in the sixth and walked in the eighth.
"It was good to get pitches I could handle and not miss. The name of the game is don't miss your pitches, and I didn't," he said. "That's one of the good things I have as my approach. I'm aggressive on my pitch and I just take what the pitcher gives me. If he makes a mistake, I take advantage of it, but if he wants to try to nibble around the zone and pitch off the plate, I'll take my walks."
Luis Guillorme, ranked No. 13 in New York's organization, went 4-for-5 with a double, two RBIs and a run scored.
"He's unbelievable," Mazeika said. "Defensively, he gets all the credit, but he's a heck of a leadoff hitter. He doesn't strike out very much, he's a good baserunner -- he's just a great player."
• Get tickets to a Rumble Ponies game »
Fifth-ranked Detroit prospectChristin Stewart hit his league-leading 25th home run, a two-run dinger, for Erie. No. 9 Mike Gerber and 14th-ranked Dawel Lugo also went yard in the losing effort.
Josh Jackson is a contributor to MiLB.com. Follow and interact with him on Twitter, @JoshJacksonMiLB.