Peña, Rincon Lead Second-Straight Win
Starter's four-plus hitless innings, three RBI from designated hitter help Ogden stay three games ahead of Grand Junction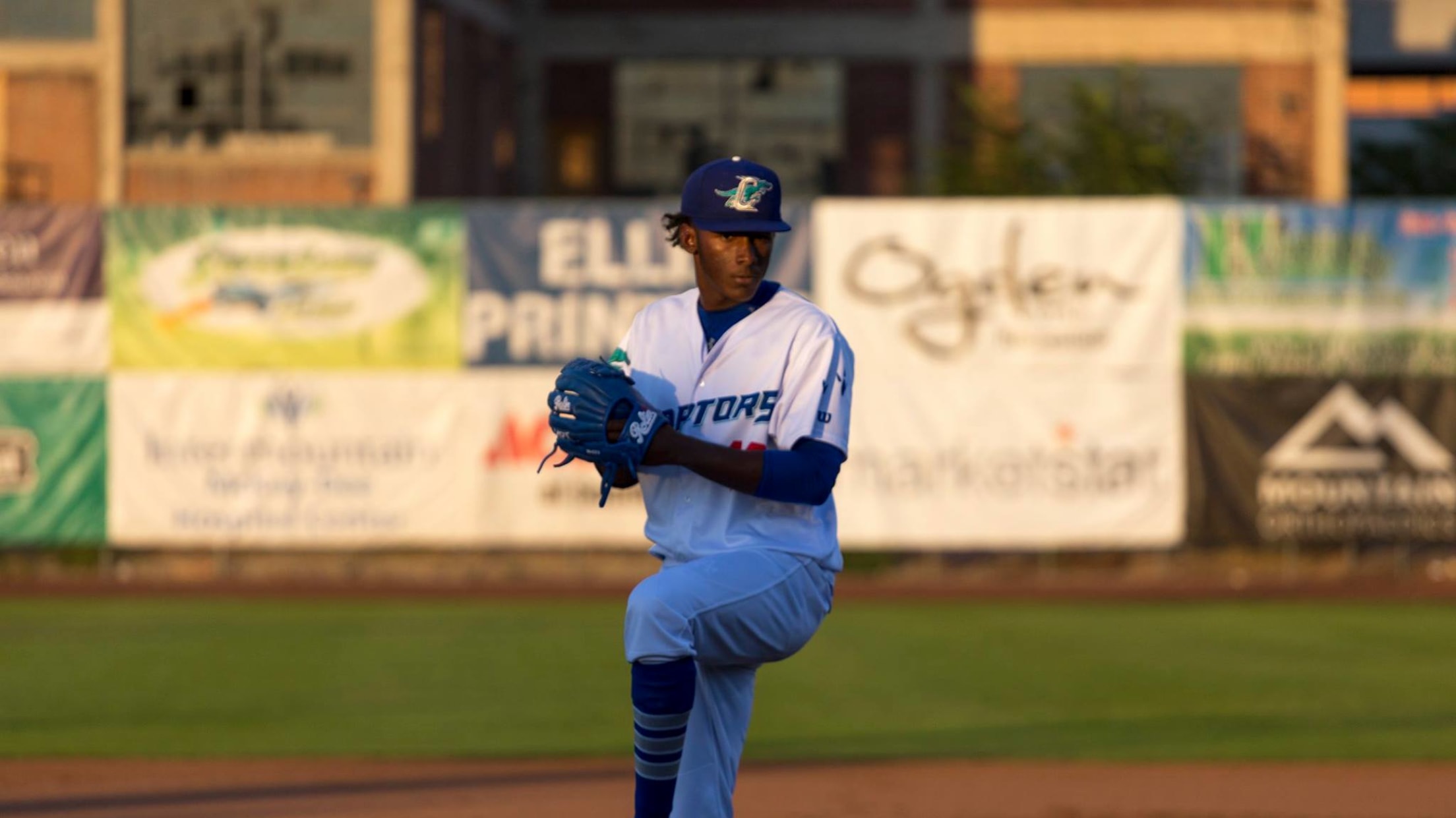 Adalberto Peña pitched nearly five innings of one-hit ball in the Raptors' win (Kevin Johnson)
Coming off two consecutive rough outings, Adalberto Peña was looking to get back on track against one of the Pioneer League's best offenses.The Ogden Raptors' designated hitter, Carlos Rincon, was searching for consistency after going hitless in his first eight at-bats with Ogden before a home run and single Sunday
Coming off two consecutive rough outings, Adalberto Peña was looking to get back on track against one of the Pioneer League's best offenses.
The Ogden Raptors' designated hitter, Carlos Rincon, was searching for consistency after going hitless in his first eight at-bats with Ogden before a home run and single Sunday evening.
Both found their stride as the Raptors beat the visiting Idaho Falls Chukars for a second-straight night, 7-1.
Peña, who had allowed four runs in four innings to Idaho Falls his previous start and six runs in just over an inning before that against Great Falls, set down the first six Chukars he faced on four grounders and two fly balls. The first Idaho Falls runner reached on an error opening the third, but Peña worked around that miscue, a two-out walk and a walk in the fourth without allowing a hit or run.
Just like Sunday, Ogden's offense scored three runs in the first. Brayan Morales opened the inning with a bounding ball over the third baseman for a single, and Mitchell Hansen followed with a line drive to right. After an out, Romer Cuadrado lined sharply to center field. The ball took a bounce and skipped past the center fielder for a two-run triple. Rincon then grounded to short to bring in Cuadrado while reaching on a throwing error.
Peña opened the fifth inning on the verge of reaching his pitch count limit but just three outs from qualifying for a win. He struck out the first batter before issuing his third walk. A line drive to right appeared caught by Cuadrado on a slide, but the ball rolled out of his glove. Because the runner had to freeze, Cuadrado threw in to second base for a force out to turn the play into a fielder's choice for the second out. Finally, Idaho Falls' leadoff hitter pulled a grounder through the left side for the Chukars' first hit. It was the end for Peña, and he finished with four and two-thirds innings of one-hit ball with no runs allowed.
The hosts added two runs in the sixth. Rylan Bannon took a leadoff walk and Cuadrado doubled to the track in right field, and Rincon hit a soft line drive inside the first-base bag to bring both runs across.
After a two-out single scored the Chukars' only run in the seventh, Ogden had Connor Heady reach on a throwing error and later score as Bannon grounded out later in the seventh. In the eighth, Rincon singled and moved to second on a wild pitch before a two-out double by Ramon Rodriguez plated the final run.
The Grand Junction Rockies also won, beating the Orem Owlz to stay three games behind division-leading Ogden with 12 games to go in the regular season.
The Raptors and Chukars finish their three-game series at Lindquist Field and seven-straight games between the two on Tuesday night at 6:30.