Pepiot, Kendall Help Drillers Beat Cards
Dodgers catching prospect Feduccia throws out two attempted base stealers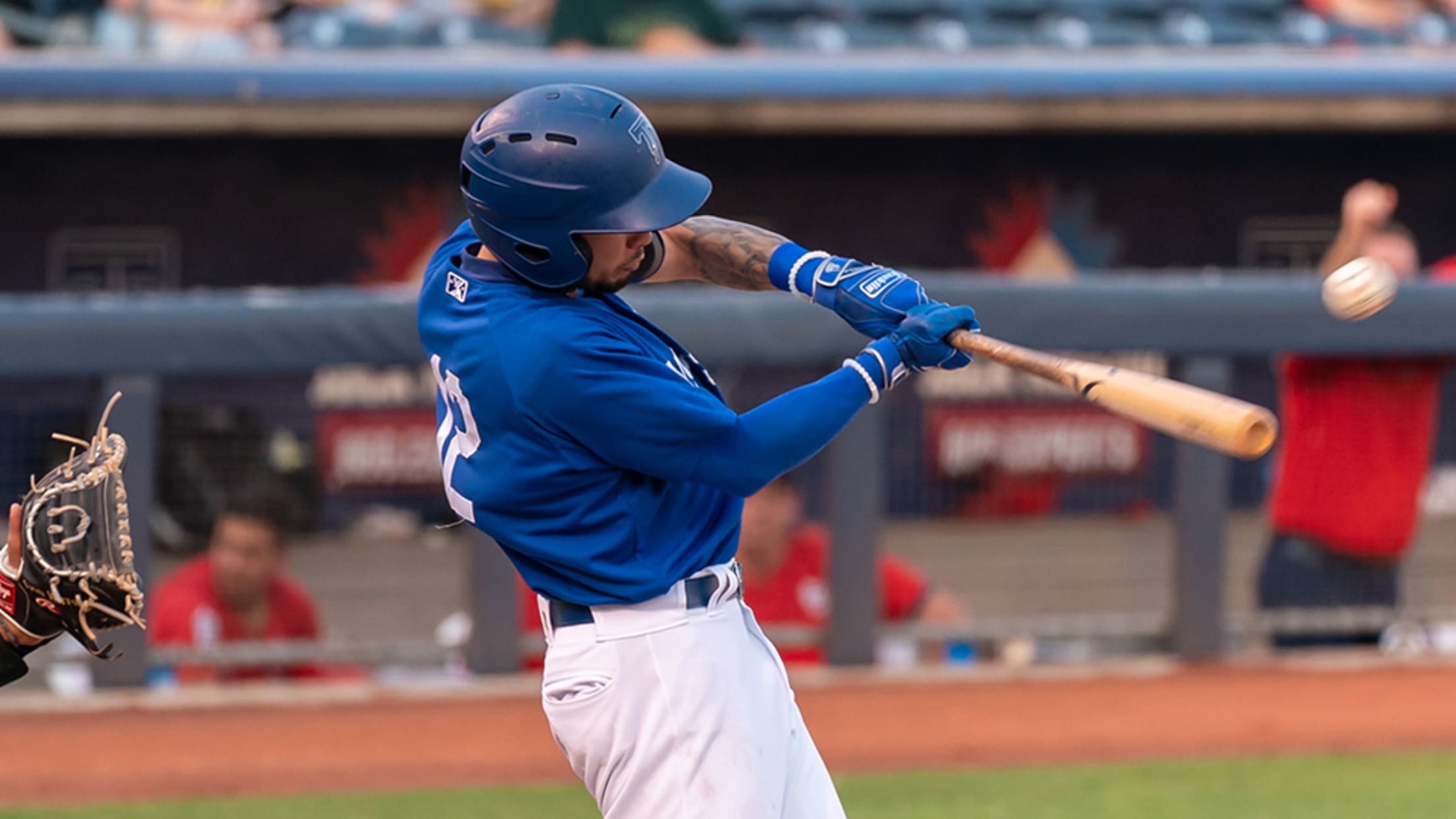 Los Angeles Dodgers #10 ranked prospect Jacob Amaya, drove in two run on his double to right in the first. (Tim Campbell)
TULSA, Okla. -- Los Angeles Dodgers No. 7 ranked prospect Ryan Pepiot pitched another gem from the mound Wednesday night at ONEOK Field, completing the longest outing for a Tulsa Drillers starting pitcher this season while only allowing one batter to reach base. The dominant performance helped the Drillers defeat
TULSA, Okla. -- Los Angeles Dodgers No. 7 ranked prospect Ryan Pepiot pitched another gem from the mound Wednesday night at ONEOK Field, completing the longest outing for a Tulsa Drillers starting pitcher this season while only allowing one batter to reach base. The dominant performance helped the Drillers defeat the Springfield Cardinals 4-3 for their second straight victory and gave Pepiot his first professional win.
Tulsa jumped out to an early 3-0 lead that held up behind by Pepiot's strong performance, but the Cardinals made things interesting in the ninth bringing the game to within one run before Jeren Kendall kept the tying run from scoring with a strong throw to the plate.
The win allowed the Drillers to keep pace with first place Wichita, only a half-game back of first.
BOXSCORE »
Tulsa's early outburst came from a three-run first inning. A single and a walk put two runners on base. Miguel Vargas drove in Donovan Casey with a single to right, and two batters later, Jacob Amaya brought home two more on a double to right.
Pepiot opened the game with four perfect innings before giving up his only hit of the game in the fifth. He departed after six innings as Cyrillo Watson came on to start the seventh. He threw one clean inning before the Cardinals struck in the eighth. Following a fielding error, Brendan Donovan hit a two-run home run to cut Tulsa's lead to 3-2.
The Drillers added one insurance run in the eighth. Following a walk to Hunter Feduccia, Casey doubled into the left field corner, bringing Feduccia to the plate and giving Tulsa a 4-2 lead.
In the ninth, Springfield loaded the bases against Guillermo Zuniga with back-to-back, one-out singles and a walk. Nick Robertson replaced Zuniga and was greeted by Alec Burleson with a single to right fielder Kendall, scoring one run. Nolan Gorman also attempted to score from second base, but a strong throw to the plate from Kendall nailed Gorman and denied the Cardinals the game-tying run. Luken Baker then flew out to end the game and give the Drillers the 4-3 win.
THE HIGHLIGHTS
* Pepiot lowered his season ERA to 1.42 with his six shutout innings, the lowest among Tulsa starting pitchers. His six are the longest outing by a Drillers pitcher this season.
* Catcher Feduccia threw out two attempted base stealers in the game and is tied for first among all Double-A catchers with 16 thrown out base stealers.
* Casey had two hits in the game with one run scored and one driven in.
* For Robertson, it was his second save in as many nights. He now leads the Drillers with three saves this season.
UP NEXT
Springfield at Tulsa on Thursday, June 24 at 7:05 PM at ONEOK Field. The pitching matchup will be Springfield RHP Andre Pallante (3-1, 5.82 ERA) vs. Tulsa RHP Bryan Brickhouse (1-1, 1.46 ERA).