Fanti starts, Bettencourt closes 'Claws' no-no
Phillies prospect strikes out career-high nine over 8 2/3 innings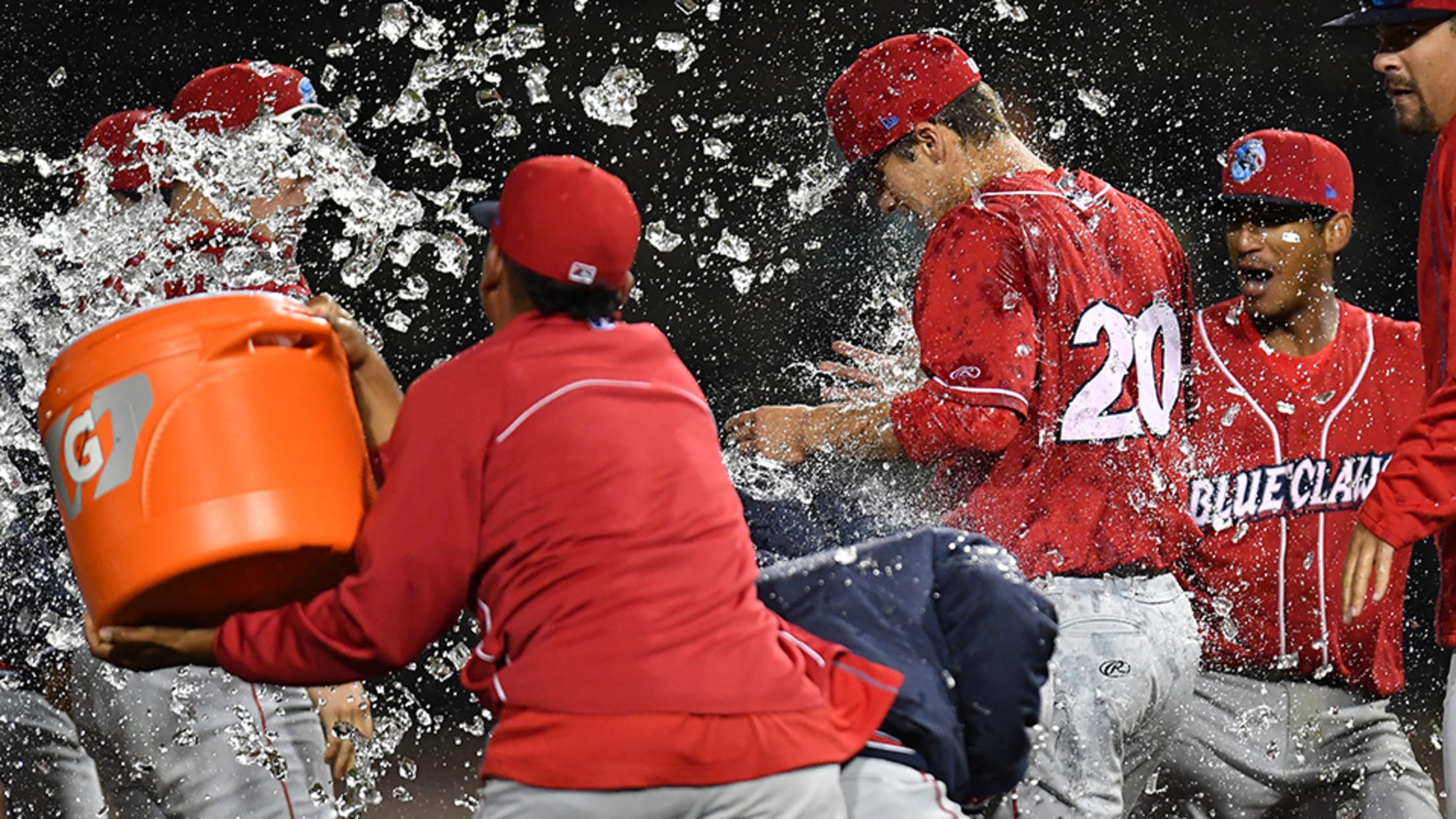 Nick Fanti ranks fifth in the South Atlantic League with a 0.79 WHIP and sixth with a 1.48 ERA. (Tom Priddy/Four Seam Images)
Nick Fanti knew what he started was in good hands as he walked off the mound in the ninth inning. Those hands belonged to Trevor Bettencourt, who was asked to complete the mundane task of finishing a no-hitter for his teammate, friend and roommate.  Mission accomplished.Fanti recorded a career-high nine
Nick Fanti knew what he started was in good hands as he walked off the mound in the ninth inning. Those hands belonged to Trevor Bettencourt, who was asked to complete the mundane task of finishing a no-hitter for his teammate, friend and roommate.
Mission accomplished.
Fanti recorded a career-high nine strikeouts over 8 2/3 innings and Bettencourt fanned the only batter he faced as the Phillies prospects combined on the fifth no-hitter in Class A Lakewood history, a 1-0 win at Columbia on Saturday night.
It was the first BlueClaws no-hitter since since July 11, 2013 against Rome, which also was a 1-0 victory.
Box score
For Fanti (2-0), it was a collaborative effort and one he had no problem sharing.
"It was a great feeling walking off the mound," the 20-year-old said. "I put my full trust in our bullpen. Those guys have been behind me the whole year and always give us chance to win. Trevor's been great and he's also my roommate, so that made it pretty special."
Fanti (2-0) entered the ninth having retired 12 in row. Ali Sanchez reached second on a throwing error by third baseman Danny Zardon to open the ninth but was thrown out at third on a grounder to short. Fanti whiffed Andrés Giménez on a full count for the second out but walked Luis Carpio to put an end to his evening and shot at history after 113 pitches.
Bettencourt ended the South Atlantic League's second no-hitter of 2017 by striking out Michael Paez with the tying and winning runs on base.
"It's not so much disappointment at having to come out. The no-no was still intact and I did my job," Fanti said. "Maybe I was getting tired at that point. Sometimes your emotions tell you that you need to finish and the body says something different. But [Lakewood manager Marty Malloy and pitching coach Brian Sweeney] know what's best for all of us, so I won't quibble with it."
Fanti pitched with no margin for error until Lakewood pushed a run across in the eighth on Jose Antequera's sacrifice fly.
"I'd say pitching in a game like that probably increased my focus even more," the Smithtown, New York native said. "Being a close game ... the no-hitter is whatever at that point. It's 0-0 and one pitch, one hit could make all the difference."
The left-hander set the Fireflies down in order six times. He issued walks in the fourth and fifth innings but struck out the side in the eighth.
"It's tough to reach the ninth inning and push the thought of a no-hitter out of your mind," Fanti admitted. "You know guys stop talking to you and all of those other baseball superstitions happen, so you fully catch on later in the game, though I actually knew I had a no-no going from the third inning. I looked up and saw their leadoff man coming up to start the fourth and I realized I had gone nine up, nine down. But the most important thing was getting the win, and we were able to do that tonight."
It's been a quick and successful rise for the 2015 31st-round pick, who spent his first two years in the Rookie-level Gulf Coast League before making the jump to Class A, where he has a 1.48 ERA in five starts. Fanti also pitched for Team Italy in the World Baseball Classic this spring, which was an eye-opening and confidence-building experience.
South Atlantic League no-hitters
"Being able to pitch against big leaguers was really an honor and I feel like it really helped me," he said. "I was able to get Major Leaguers out, and it showed me that these guys are human. If you make your pitch, and sometimes even if you don't, you can get outs. It's a great confidence-boost and it was a real honor to be a part of it."
Columbia starter Blake Taylor matched Fanti zero for zero through six innings. The 21-year-old allowed three hits and a walk while striking out three in his best outing of the season.