Accurate Eshelman sets sights on Phillies
No. 22 prospect stays on target in first big-league Spring Training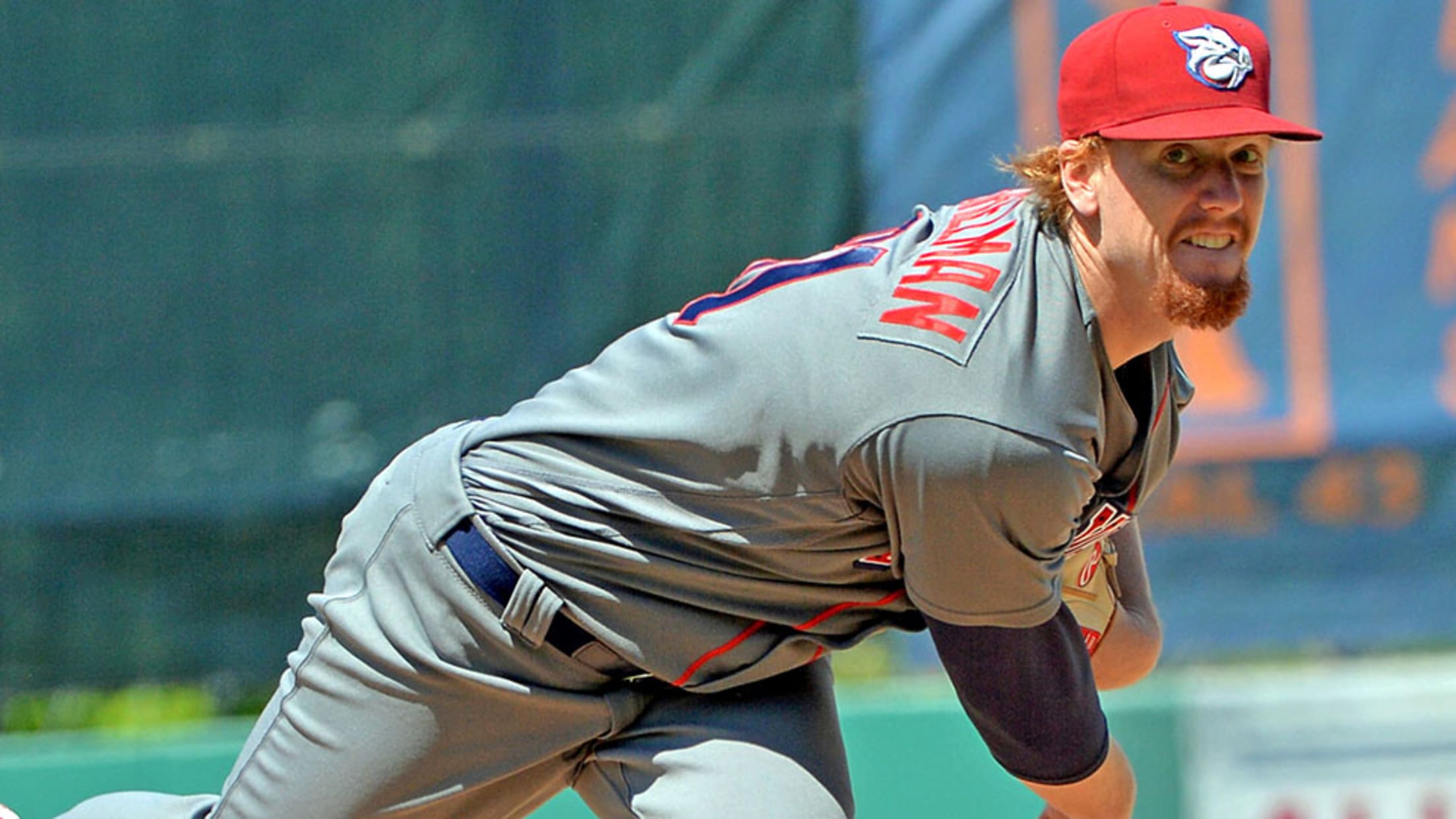 Tom Eshelman led all qualified pitchers at the Triple-A level with a 2.8 percent walk rate. (Rick Nelson/MiLB.com)
Baseball can be a very complicated game, especially when looking at the numbers behind the sport.Phillies pitching prospect Tom Eshelman learned a simple truth about the game at an early stage. When he was a freshman at Cal State Fullerton, Mike Kirby, an assistant coach who has since left the
Baseball can be a very complicated game, especially when looking at the numbers behind the sport.
Phillies pitching prospect Tom Eshelman learned a simple truth about the game at an early stage. When he was a freshman at Cal State Fullerton, Mike Kirby, an assistant coach who has since left the program for the University of Nebraska, took him behind the cage to watch the team's batting practice. After studying the hitters for a few rounds, the right-hander developed a new philosophy on pitching.
"I was like, 'They were kind of rolling over and popping up good pitches to hit.' And then [Kirby] goes, 'Exactly, a good hitter, one of the best in the game, is going to miss seven out of 10 times and still hit .300," Eshelman said. "Basically, I took that into consideration and I did exactly what [they did in] BP. Just throw strikes and put the pressure on the hitter."
Nearly five years later, Eshelman was the Phillies' No. 22 prospect at the end of last season with a reputation built on his ability to keep the ball in the zone. Over 150 innings between Double-A Reading and Triple-A Lehigh Valley last summer, Eshelman walked just 18 batters and never issued more than one free pass in any start. He led the International League with a 0.94 WHIP in 121 Triple-A innings, and his 2.8 percent walk rate ranked at the top of all qualified pitchers at the level.
"I think it's a tribute to the people I've been around my whole career," said the Carlsbad, California, native. "My catchers last year in Lehigh were some of the best and the coaching staff that was around there too … they all just came up with game plans for me and all I really do was go out there and execute."
The key behind the game planning that Eshelman and his support staff had last summer was an understanding who he was as a pitcher. The 23-year-old has always been a prolific strike-thrower, walking only seven batters over 137 innings in his junior season at Fullerton.
He struggled to produce the same numbers in 2016, issuing 28 free passes over 120 2/3 innings between Reading and Class A Advanced Clearwater before suffering from appendicitis at the conclusion of the season.
"[Appendicitis] was pretty much the cherry on top to a year that … was a learning year," Eshelman said. "I think it really was. I learned a lot from that year. ... As long as you keep telling yourself to learn and understand what you do right and what you do wrong. I think that goes a long way in this game.
"Once you think you have it figured out, the game will chew you up and spit you right out. I think that if I had that mentality of understanding what I can do to better myself or learn from everybody that's on our staff right now, it'll be beneficial for me in bettering my game."
In certain ways his greatest strength on the mound -- a penchant for staying in the zone -- can present itself as a weakness. His fastball stays in the 89-92 mph range and scouting reports do not look favorably on his breaking pitches. Combine that with the fact that, more often than not, most pitches will be in the strike zone and it becomes quite challenging to keep hitters off-balance.
"I think that's more of -- you can throw a strike with any pitch in any count," Eshelman said. "Having confidence in every one of my pitches -- like when I'm behind the count, I can get an even count again. I like that mentality and, also, I can throw a ball when I want to. I can start a ball in the strike zone and let it go out of the zone. … I think throwing your pitch in the hitter's count is a big thing for me."
This philosophy has also helped Eshelman be economical on the mound, going an average of more than six innings and less than 85 pitches per start last season. He eclipsed 100 pitches twice over the course of the year, including his only complete game shutout against Indianapolis in late May.
"If you think about it, if you get a hitter down to two strikes, they're on their heels and you have three pitches to work with," Eshelman said. "I think, mentally, I just get, not wrapped up in it, but more confident that if I do throw a strike early in the count it could produce weak contact and get an out early and save my pitch count or I can get ahead of the hitter and start to throw my pitch instead of their pitch."
Eshelman's success last season earned him his first invite to big-league Spring Training. He was told about his invite while at a prospect educational program in Philadelphia where the players got to meet the front office staff and some of the people in the team's analytics department.
"It was special for me, being in Philadelphia at the time," Eshelman said. "Probably doesn't top the getting drafted [story], but it was still an honor to get the invite to come down."
Eshelman was on the mound in the 11th inning of a decisive Super Regional matchup against Louisville -- he entered in relief after throwing 100 pitches the previous day -- when commissioner Rob Manfred announced he would be the Astros' second-round selection. The Titans booked the final out to earn their spot in Omaha, and Eshelman learned of his news as the team dispersed from the obligatory dog pile.
He made four starts, spanning 10 1/3 innings, in the Rookie-level Gulf Coast League and Class A Quad Cities later that summer. He was prepared to enter camp with the Astros until the team struck a deal with the Phillies for closer Ken Giles, sending Eshelman to Philadelphia along with right-handers Vince Velasquez and Harold Arauz, No. 1 overall pick in 2015 Mark Appel and southpaw Brett Oberholtzer.
The Astros also acquired infielder Jonathan Arauz in the deal. Both he and Harold Arauz are natives of Panama, though the two are not related.
Eshelman said that the toughest part of being traded was disconnecting from personal relationships just as they began, and then trying to develop new ones. He says the Phillies have helped him through that over past two seasons.
"I've created relationships with guys on this team and this organization that will last throughout my whole lifetime," Eshelman said. "It's just a super positive organization. They know what to do, they get after it, and I wouldn't trade any other spot to be here. I'm super stoked to be with the Phillies and I think it was good for me to come over here."
Philadelphia Phillies Organization All-Stars
The thing that has stood out the most for Eshelman at the beginning of his first big-league camp has been the efforts of first-year manager Gabe Kapler to make non-roster invitees and fellow first-timers feel welcomed while establishing a unique clubhouse culture.
"I think that's a big thing when you come over from the Minor League side," Eshelman said. "You don't really know who to talk to, you don't really know the names of certain guys, but he'll come over to you, shake your hand and kind of break it down with you.
"Every one of the guys have been hopping from station to station, PFPs and bunts and all that. He's been to every one of our stations observing us, he's been watching our pens with intent. He's making everybody feel more confident in their abilities and it's been fun."
Moving forward, Eshelman said he is working toward his goal of breaking camp with the Major League club or, at least, getting the call sometime this season. He finished 2017 with a 13-3 record and a 2.40 ERA with 102 strikeouts but mentioned that he would like to get better with some of the nuances of pitching at such a high-level, such as holding runners on base.
"Just every bullpen, learn," Eshelman said. "Learn from my last start and when to throw pitches at certain times and all that kind of stuff. I know myself and understand myself. … It's more or less little things that create who I am, so I think that's what I need to do continuously in order for me to have success."
Gerard Gilberto is a contributor to MiLB.com. Follow and interact with him on Twitter, @GerardGilberto4.