Eshelman flirts with no-hitter for IronPigs
Phillies No. 13 prospect goes seven innings in bounceback start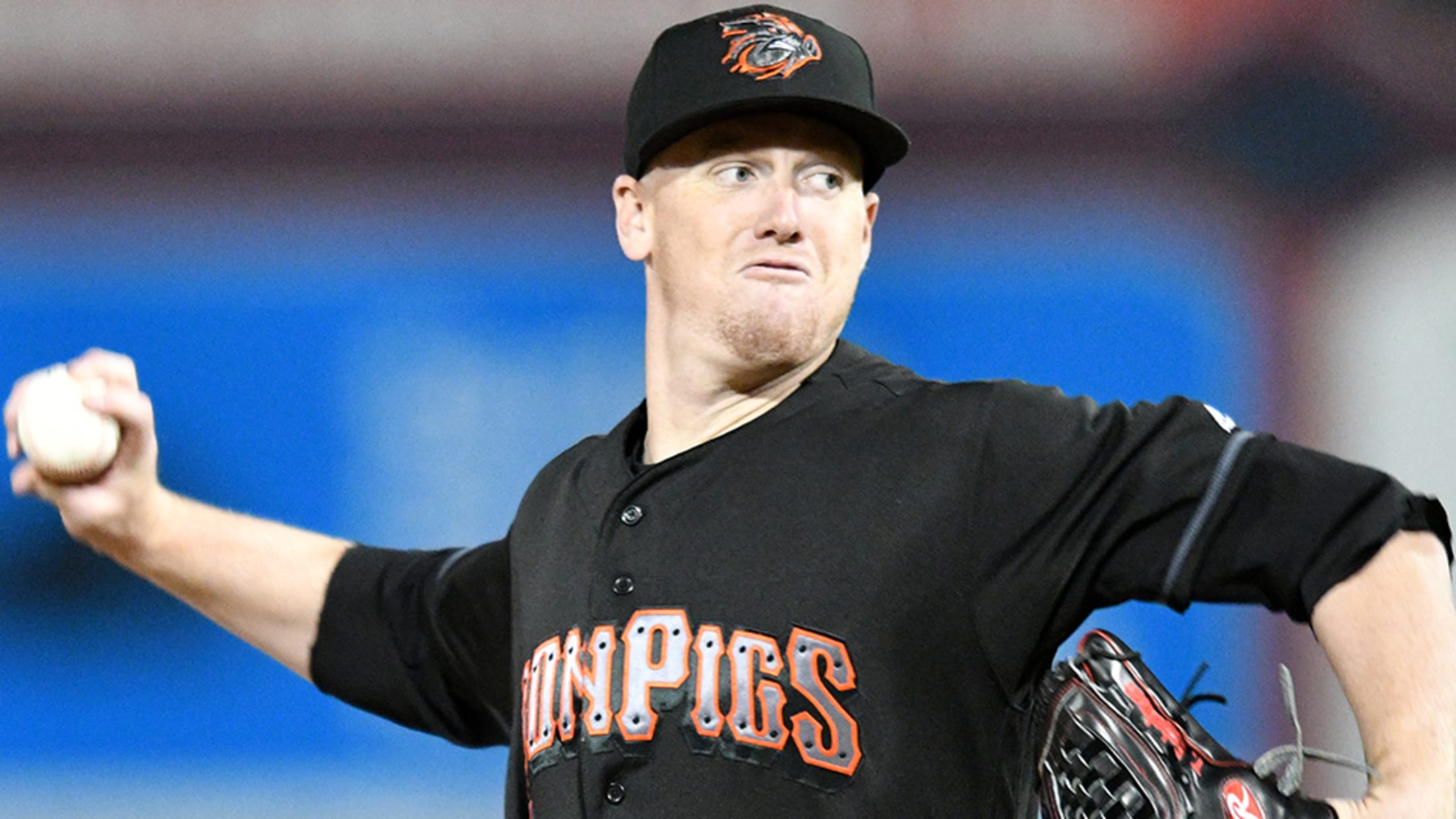 Tom Eshelman has three starts this season in which he has not walked a batter. (Ken Inness/MiLB.com)
Tom Eshelman has found it difficult to get into a rhythm on the mound early this season, so he's worked tirelessly with the Triple-A IronPigs coaching staff to develop a solution. Wednesday's performance proved to be a positive step toward finding that answer.Philadelphia's No. 13 prospect took a no-hit bid into
Tom Eshelman has found it difficult to get into a rhythm on the mound early this season, so he's worked tirelessly with the Triple-A IronPigs coaching staff to develop a solution. Wednesday's performance proved to be a positive step toward finding that answer.
Philadelphia's No. 13 prospect took a no-hit bid into the seventh inning, eventually yielding one run on four hits with two strikeouts over a season-best seven frames, but Lehigh Valley fell to Rochester, 3-2, at Coca-Cola Park.
Gameday box score
"Obviously things haven't been going my way, but it was nice to be able to control what's going on," Eshelman said. "I just can't say enough about everyone around me at this point in time -- my coaches and teammates -- they've hung in there with me and have helped me grind through everything that's been going on."
After a promotion to Triple-A last May 8, the right-hander went 10-3 with a 2.23 ERA and an International League-leading 0.94 WHIP over 121 innings. Known for his pinpoint control, he sported a 6.48 ERA and 1.85 WHIP through his first eight starts this season.
Eshelman noted he's worked on regaining his form with his 70-grade control, which he feels has turned a corner over his past few outings. In particular, Iron Pigs pitching coach David Lundquist has played a vital role to ensure the California native can turn things around this season.
"He's done everything for me, he's done a lot," the 2015 second-rounder said of his coach. "We've broken it down to mechanical fixes and finally kind of saying, 'We've put all the work in and now just let things happen and attack the strike zone.' That's kind of what my mentality was tonight and just trusting all the work I've put in with him and all my catchers -- Logan Moore, Nick Rickles and Matt McBride. Everything kind of translated tonight and it was a good start for me to reset and focus on the future and build off it."
Eshelman got back to commanding the zone against the Red Wings, throwing 51 of 83 pitches for strikes and not issuing a walk for the second straight start. The 23-year-old recorded 10 ground-ball outs with six in the air and tossed first-pitch strikes to 15 of the 25 hitters he faced.
"I think that's one of the things that gives me success is having the ability to command the strike zone with all of my pitches," he said. "And the more I realized I can do that, the better off I'll be in the future. It's from strike one and then go on and put myself in the driver's position and make the hitter back on their heels -- that's been my MO. I've just got to get back to that and go ahead forward with it."
After retiring the first eight batters, Eshelman plunked Taylor Featherston with a 2-2 pitch with two outs in the third. After Featherston stole second, the 2015 second-round pick got No. 26 Twins prospect Zack Granite to bounce out to first.
Eshelman worked back-to-back clean frames before fourth-ranked Twins prospect Nick Gordon led off the seventh with a line single to right field for his first Triple-A hit to break up the no-hitter. Rehabbing slugger Miguel Sanó followed with a base knock, but the Cal State Fullerton product induced a double play from Kennys Vargas and a comebacker from Brock Stassi.
Although he wasn't concerned with potentially making history, Eshelman was plenty happy to escape the jam without taking any damage.
"It was nice to really not have any batters on base for the first time in a long time," he said with a laugh. "[The no-hitter] was kind of something that I was thinking about, but at the same time, it was more of understanding my gameplan and utilizing it. That was the one thing I wanted to do tonight. Me and [Moore] have always been on the same page for a lot of the things we do. We created a gameplan tonight and it was working. Kudos to him for hanging with me as well."
Coming back for the eighth, Eshelman exited after giving up a homer to Willians Astudillo and a single to Nick Buss. Yacksel Ríos issued a walk but fanned Granite and Gordon to keep the IronPigs in front.
Despite the bumps in the eighth, the 6-foot-3, 210-pound hurler was pleased with his overall effort.
"It's nice to still have trust from your manager, still have trust from your coaches and have trust from your teammates when stuff's really not going your way," Eshelman said. "For them to give me the ball in that situation and keep it going was awesome. Gary Jones is awesome to play for, great manager. I know the coaching staff was pulling for me to get back out there and I have nothing but good things to say about those guys. They kept plugging with me at the point when things kind of started spiraling. It was a good one to stop the bleeding."
Down a run in the ninth, Rochester grabbed the lead on solo jacks by Sano and Astudillo.
No. 15 Twins prospect Zack Littell allowed two runs on five hits and a walk with seven strikeouts over six frames for Rochester.
Andrew Battifarano is a contributor to MiLB.com. Follow him on Twitter, @AndrewAtBatt.