IronPigs' Eshelman continues Triple-A success
Phillies prospect allows five hits, one walk in nine-inning shutout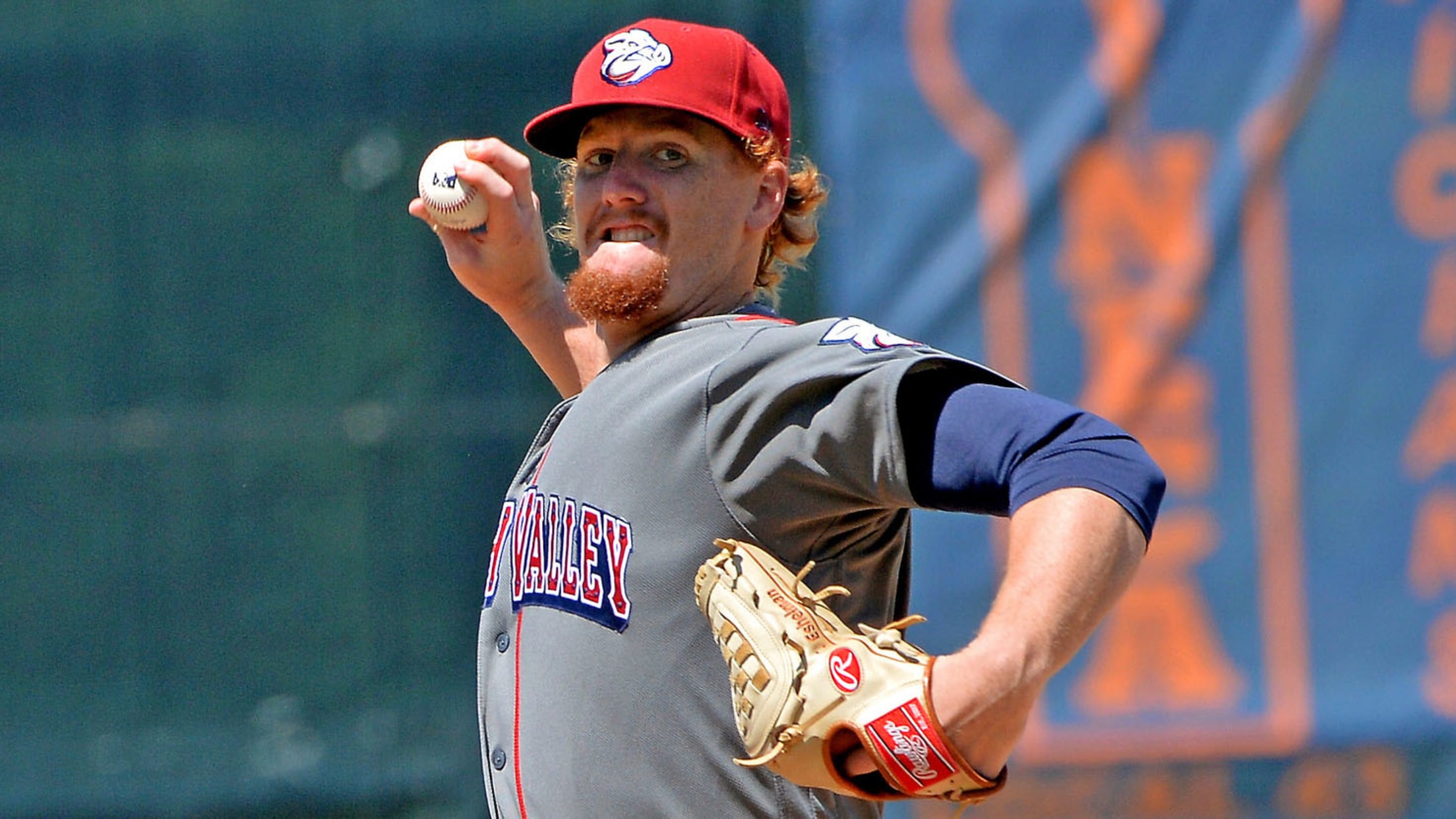 Tom Eshelman is 3-0 with a 1.40 ERA in five Triple-A starts while issuing four walks over 38 2/3 innings. (Rick Nelson/MiLB.com)
Surrounded by some great baseball minds at Triple-A Lehigh Valley, Tom Eshelman is making the most of his company."We've got a lot of people to talk to about pitching and about the game as well, so I just have to keep my ears open, have conversations with people, learn every
Surrounded by some great baseball minds at Triple-A Lehigh Valley, Tom Eshelman is making the most of his company.
"We've got a lot of people to talk to about pitching and about the game as well, so I just have to keep my ears open, have conversations with people, learn every day and go out there and compete," he said. "That's my No. 1 thing."
The Phillies prospect continued the dominant start to his International League career on Wednesday, tossing a five-hitter for his first career complete game and shutout, as the IronPigs blanked Indianapolis, 6-0, at Victory Field. Eshelman became the third pitcher in IronPigs history to pitch a nine-inning shutout.
Gameday box score
"In my last start, I didn't really have the things that I wanted to happen go for me," Eshelman said, referring to Friday's start in which he surrendered four runs over 6 2/3 innings against Louisville. "But I was just able to go out there tonight and throw strikes and give the team the ability to win. It was a fun start to be a part of."
The 22-year-old right-hander faced little resistance early Wednesday as he retired 15 of the first 16 batters he faced.
"Indianapolis is a good hitting team and I just knew I had to move the ball around and try to get them off my fastball and looking for something else," he said. "From watching them in the series that we played in Lehigh and watching them last night, I can tell they are a good offensive team. It's just one of those things where you needed to be locked in on each pitch."
The biggest threats against Eshelman came in the sixth and eighth, when there were two runners on for Austin Meadows, MLB.com's sixth overall prospect.
"I just stuck to what's worked for me," said Eshelman, who got Meadows to fly to left in the sixth and ground to third in the eighth. "I can't let the hitter dictate what I need to throw, so I just need to use that one pitch I need to get out of that type of jam. He's a really good hitter and I'm just happy I was able to get out of those innings."
After the IronPigs put up four runs in the eighth, highlighted by a three-run triple by Phillies No. 9 prospect Dylan Cozens, Eshelman began to believe he could go the distance.
"Pitching with the offense that we have is very fun," the 2015 second-round pick said. "To have them in our dugout scoring runs for us, it's fun when they do it. I just try to put my head down and give my team the ability to win and throw strikes and get them in the dugout faster."
The Indians tried to rally in the ninth as Danny Ortiz led off with a double, but Eshelman struck out Jason Rogers before getting Erich Weiss to fly to left and Pirates No. 27 prospectEric Wood to ground to third.
The shutout lowered Eshelman's ERA to 1.40 in five starts since he was promoted from Double-A Reading on May 8. The IronPigs took advantage of the addition of the Cal State Fullerton product and went 24-5 after a 12-11 April.
"It's a good group," Eshelman said. "We've got a lot of good prospects on this team along with a lot of good teammates as well. Everyone gets on one another and I'm just happy to be here and contributing for these guys. Hopefully, I can keep doing that moving forward."
Michael Peng is a contributor to MiLB.com. Follow him on Twitter @MichaelXPeng.