Pioneer notes: Rolison comes out firing
Rockies first-rounder showing dominant form under innings limit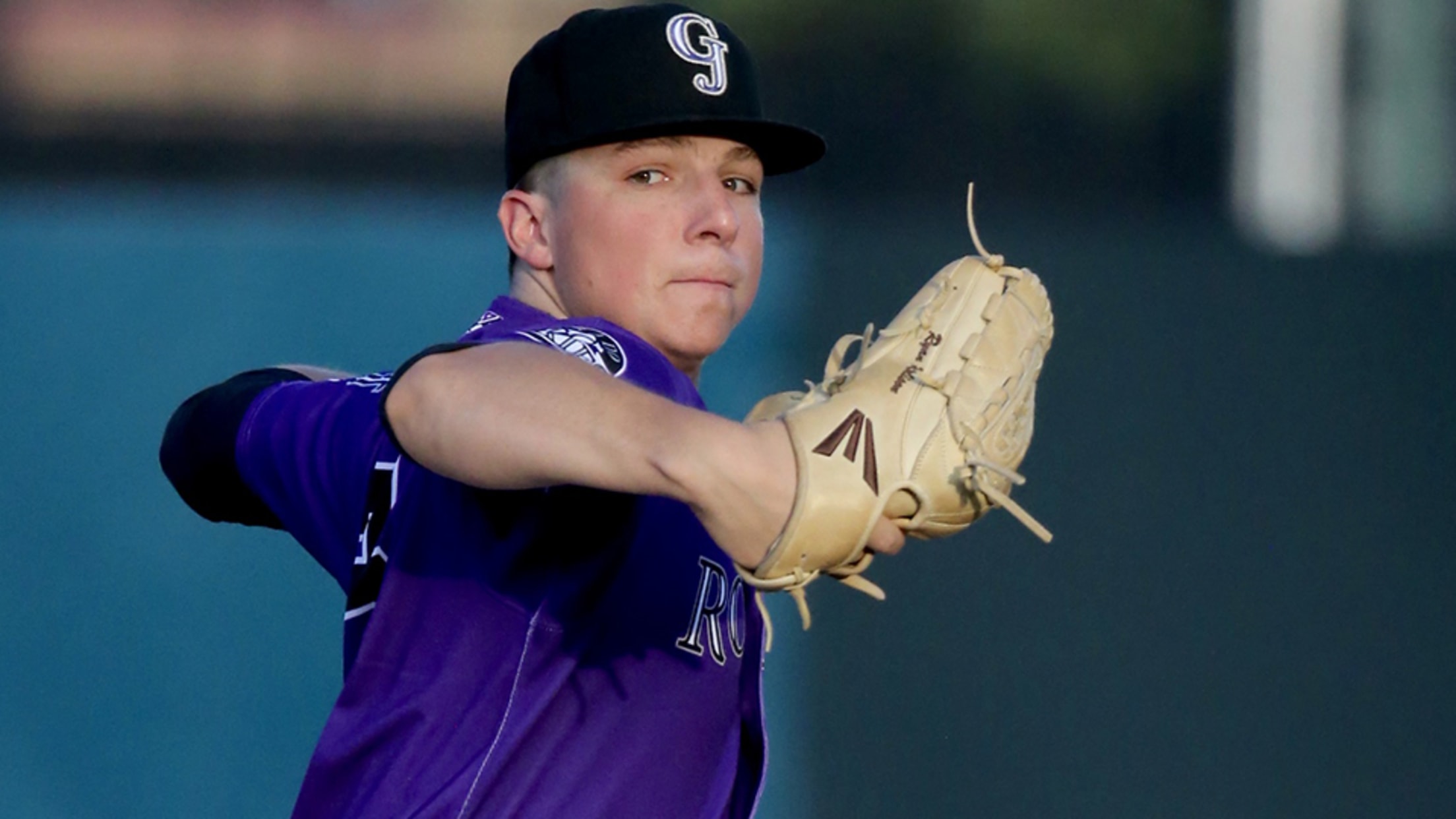 The 22nd overall pick in June, Ryan Rolison has recorded a 1.96 ERA with 28 strikeouts over his first 23 innings as a pro. (Todd Bennett)
While Ryan Rolison was racking up 10 wins this spring for Ole Miss, he figured about the only thing missing was a changeup.Now the 6-foot-2 left-hander, Colorado's first-round pick in 2018, has found a circle change with the Grand Junction Rockies of the Rookie-level Pioneer League -- not that he's
While Ryan Rolison was racking up 10 wins this spring for Ole Miss, he figured about the only thing missing was a changeup.
Now the 6-foot-2 left-hander, Colorado's first-round pick in 2018, has found a circle change with the Grand Junction Rockies of the Rookie-level Pioneer League -- not that he's had to use it much.
The 21-year-old, taken 22nd overall in June, figures he threw just a pair on Aug. 21. He started and contributed three hitless innings to the Rockies' 2-1 loss at Missoula.
"Two or three is all," he said. "I was able to command the fastball to both sides of the plate. I felt really good with the fastball, and I felt pretty good with the slider."
The off-speed stuff can maybe wait. To this point, Rolison -- who's on an innings restriction because of the 97 frames he threw for Mississippi -- has a 1.96 ERA. Ranked as the Rockies' No. 6 prospect, he's thrown just 23 innings with no start lasting more than four, but he's put together some impressive stats over that small sample size: 12 hits, six walks and 28 strikeouts.
"He's probably better than this level, at some point," said Grand Junction pitching coach Doug Jones, a former Major League reliever. "But not right now. We're not about to risk anybody, no matter where they're picked."
Jones could see him dominating, but the orders from Denver are clear -- these young arms are to be handled with care. Rolison is capped at 30 innings this summer, though he hopes that number is adjusted should his team make the Pioneer League playoffs.
"He's had a lot of innings in college," said Jones, who's in his fourth season coaching with Colorado. "They're all a little tired -- I don't care what anybody says. These kids coming out of college aren't used to going every day, the crazy bus travel, and the mental part of this game is a very hard lesson to learn.
"We don't put a whole lot of pressure on them to do much in Rookie ball."
So Rolison works on his third pitch in bullpen sessions, and every six days or so gets after some hitters. He considers himself fortunate to have Jones, a five-time All-Star with 303 Major League saves, as a coach.
There was speculation that Rolison's Draft status might match that of fellow University of Mississippi product Drew Pomeranz, who went fifth overall in 2010. He has first-round stuff.
"Not having the spring I wanted -- too many walks, and having some mechanical issues with throwing across my body and stuff -- I was pleased to go 22nd," Rolison said. "I'm just honored to go in the first round."
"Ryan obviously has arm strength, and he's had a pretty good [slurve]," Jones said. "Pretty firm break on it. That was the main reason they signed him -- the ability he had in him.
"It's kind of up to us to focus in on the details."

In brief
Pair of Zac(k)s:
Zachery Almond
and
Zack Shannon
are doing everything they can to boost the Missoula Osprey (D-backs) into the Pioneer playoffs. As of Aug. 27, they had combined for 27 home runs, with Shannon -- a 15th-round pick in this year's Draft out of Delta State in Mississippi -- having a league-best 14. The two sit 2-3 in Pioneer League hitting. But the Billings Mustangs (Reds) still lead the Northern Division.
Stealin' Tyler:
Tyler James
, a 2017 25th-round pick of the Royals, has surged to a sizable lead in stolen bases with 38 for the Idaho Falls Chukars. The next highest total is 15. James, a center fielder, is hitting .312 and also leads the Pioneer League in runs with 55.
Fritz Neighbor is a contributor to MiLB.com.