Pirates Prospect Primer: Meadows waiting
One level away and rising fast, five-tool outfielder on path to MLB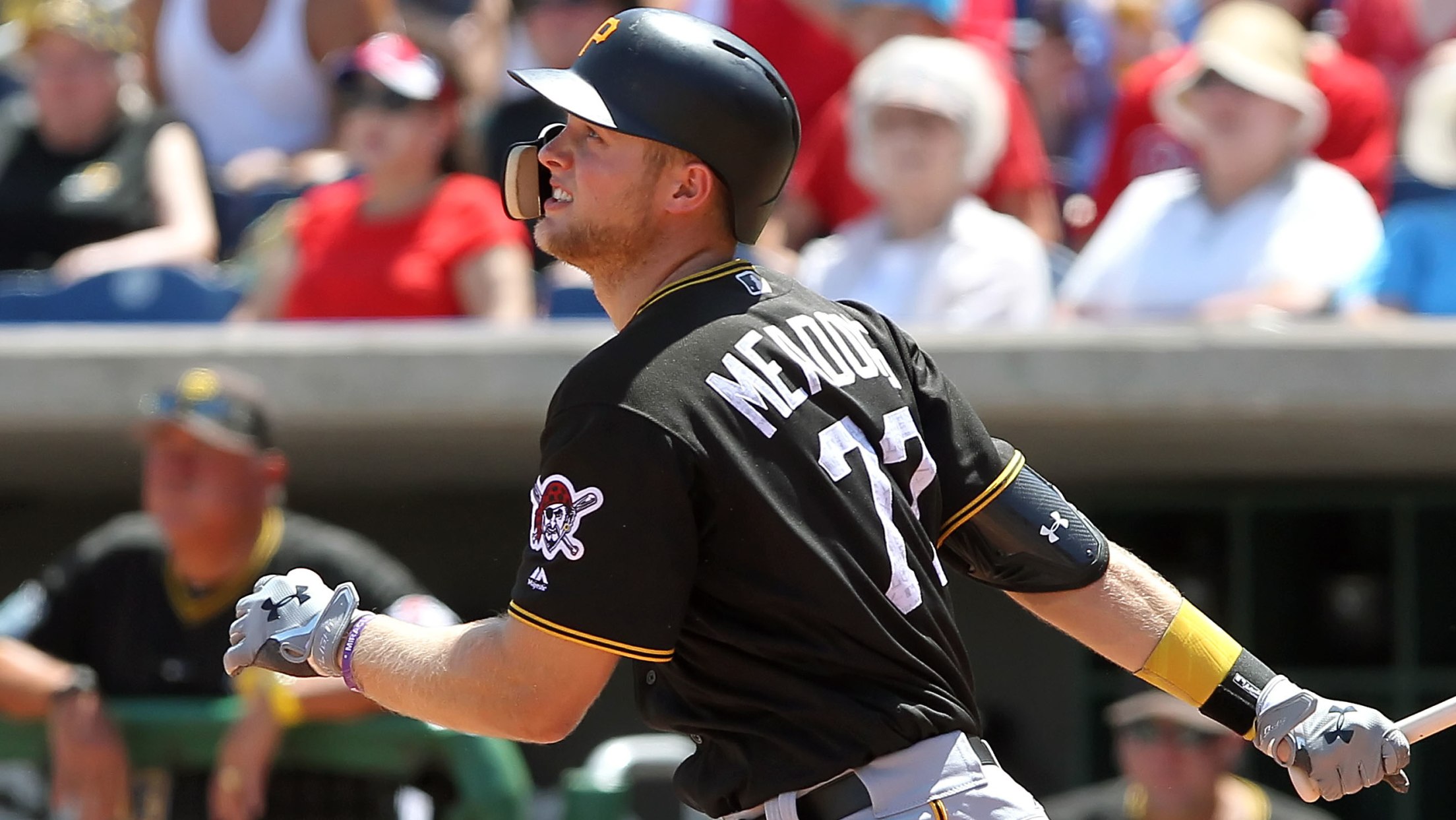 Austin Meadows hit .326 with a pair of homers in 20 Grapefruit League games this spring. (Cliff Welch/MiLB.com)
Some players are on the verge of stardom, others are entering a crucial phase of their development and still others are getting their first tastes of full-season ball. With the 2017 season approaching, MiLB.com takes a look at the most intriguing prospects from each MLB organization.Shining star: Austin Meadows ,
Some players are on the verge of stardom, others are entering a crucial phase of their development and still others are getting their first tastes of full-season ball. With the 2017 season approaching, MiLB.com takes a look at the most intriguing prospects from each MLB organization.
Shining star: Austin Meadows , OF
When Meadows has gotten on the field, he's shown why he ranks as MLB.com's No. 9 overall prospect. The 2013 first-round pick can do it all. He finished last season with a .266 average, 12 homers, 11 triples, 25 doubles and 17 stolen bases between Double-A Altoona and Triple-A Indianapolis. If not for a broken orbital bone and, later, an oblique injury limiting him to 87 games, those numbers would have been even better.
Throughout Meadows' career, injuries have held back his production. Nevertheless, he climbed all the way to Triple-A before his 22nd birthday, despite playing more than 90 games just once in four years. The Pirates do not have an immediate need in the outfield unless Andrew McCutchen gets traded at the deadline, so it's plausible that Meadows spends the year in Indianapolis.
"Ideally, we get him playing and we get him ABs in the upper levels, helping him learn how to play that cat-and-mouse game with the upper-level pitchers so we can prepare him for that next level of baseball in regards to how pitchers are attacking him and what he can do in return," Pirates director of Minor League operations Larry Broadway said. "He's come into camp in a good spot and came to camp in good position to be the athlete he needs to be."
Major League-ready: Josh Bell, 1B
Tyler Glasnow could have been a contender for this spot, but the right-hander's Jekyll and Hyde stint in the Grapefruit League makes it difficult to guarantee his big league readiness. Bell, on the other hand, already has proven capable as a Major League hitter. The 24-year-old batted .273 with three homers, 19 RBIs and 21 walks while striking out only 19 times in 45 games with Pittsburgh last season. Though he missed a portion of Spring Training after undergoing surgery on his left knee and questions remain about his glove, he looks like a good bet to make the Opening Day roster, if not slot in as the everyday first baseman.
"He looks healthy," Broadway said. "He's running full gait down the line, moving in the box, moving defensively. It's just a matter of getting his feet back under him. I think he can bring energy. He brings a swagger. There's power from both sides of the plate, there's some hit-ability from both sides. There's charisma there."
Back and healthy: Nick Kingham, RHP
Kingham finds himself in a similar position to the one Jameson Taillon was in at the start of last year. The righty missed a significant portion of each of the last two seasons while recovering from Tommy John surgery. Unlike Taillon, Kingham returned for a brief cameo in the second half of 2016 and went 3-5 with a 2.93 ERA and 36 strikeouts over 46 innings in rehab stints across three levels.
"It was big for him to get out under the lights last year in some upper-level games. He pitched in Altoona in the playoffs, pitched in meaningful games," Broadway said. "He looks like he's in a real good spot. Quality of the pitches is at or exceeded where he was at prior to getting hurt. We'll be looking for him to get out in the rotation with Indianapolis and start building up the workload again."
When Taillon returned from last season, he pitched his way from Indianapolis to Pittsburgh by early June and emerged as a regular member of the rotation soon after. Kingham could follow a similar track.
"I think that's a real likelihood," Broadway said. "He's on the 40-man roster. He's been optioned a couple times. He's on the depth chart for that. He does need to get some workload back, so we're obviously not going to push it. Hopefully, soon he's ready to make that sort of move."
Loudest tool: Kevin Newman, SS
It's hard to think of Newman's tool as "loud," but the infielder's propensity for making contact is truly impressive. The 2015 first-round pick burst on the scene last year by hitting .320 in 102 games with Class A Advanced Bradenton and Altoona. What may have been less noticeable was that he almost never struck out. In 61 Eastern League games, Newman fanned 24 times, a nine percent rate that ranked sixth-best among all Double-A hitters with at least 250 plate appearances. While he doesn't register much in the power department, the 23-year-old's hit tool alone might be enough to get him to the big leagues.
"I think there's a real high ceiling there," Broadway said. "His work ethic is tremendous, his commitment in the batter's box. I think part of what separates the guys who are pretty good hitters and the really good hitters is their awareness of who they are and their commitment to knowing their role. [He has] a commitment to knowing what his strengths are as a hitter, knowing, 'I don't have to be the guy who hits home runs. I'm the kind of guy who knows what pitch I need, I'm going to get that pitch and I'm going to put the barrel on it.'"
Breakout prospect: Luis Escobar, RHP
Signed as an international free agent in 2013, Escobar spent the last three seasons toiling in the lower Minor Leagues, with varying levels of success. Last season, he performed almost universally well, going 6-5 with a 2.93 ERA and 61 punchouts over 67 2/3 innings for Class A Short Season West Virginia.
Escobar stands just 6-foot-1 but possesses a fastball that easily reaches the mid-90's. The 20-year-old still faces the issues that plague many young hurlers: inconsistent secondary pitches and occasional lapses in control. But that hasn't stopped him from improving his numbers each season since entering the pros. That trajectory should continue when he takes the mound in 2017, even if it does not necessarily translate to a rapid ascent through the system.


Others to keep an eye on: Glasnow's spring resembled much of his 2016 season. At times, the 6-foot-8 righty appeared unhittable; other times, his command failed him. If he solves his control and consistency issues, he'd have an immeasurable impact on the Pirates rotation. ... Mitch Keller soared up prospect rankings in 2016 with a dominant season for Class A West Virginia. He'll look to continue that success against more experienced hitters in Bradenton and beyond. ... Don't sleep on Taylor Hearn. The 6-foot-5 southpaw, acquired from the Nationals in the Mark Melancon deal, spins a fastball that consistently sits in the upper 90's and an improving slider. The 22-year-old could be a solid addition to the Bucs bullpen in future seasons.