Bucs' Craig homers in third straight, nearly cycles
Altoona first baseman hits ninth homer, plates pair in Double-A road win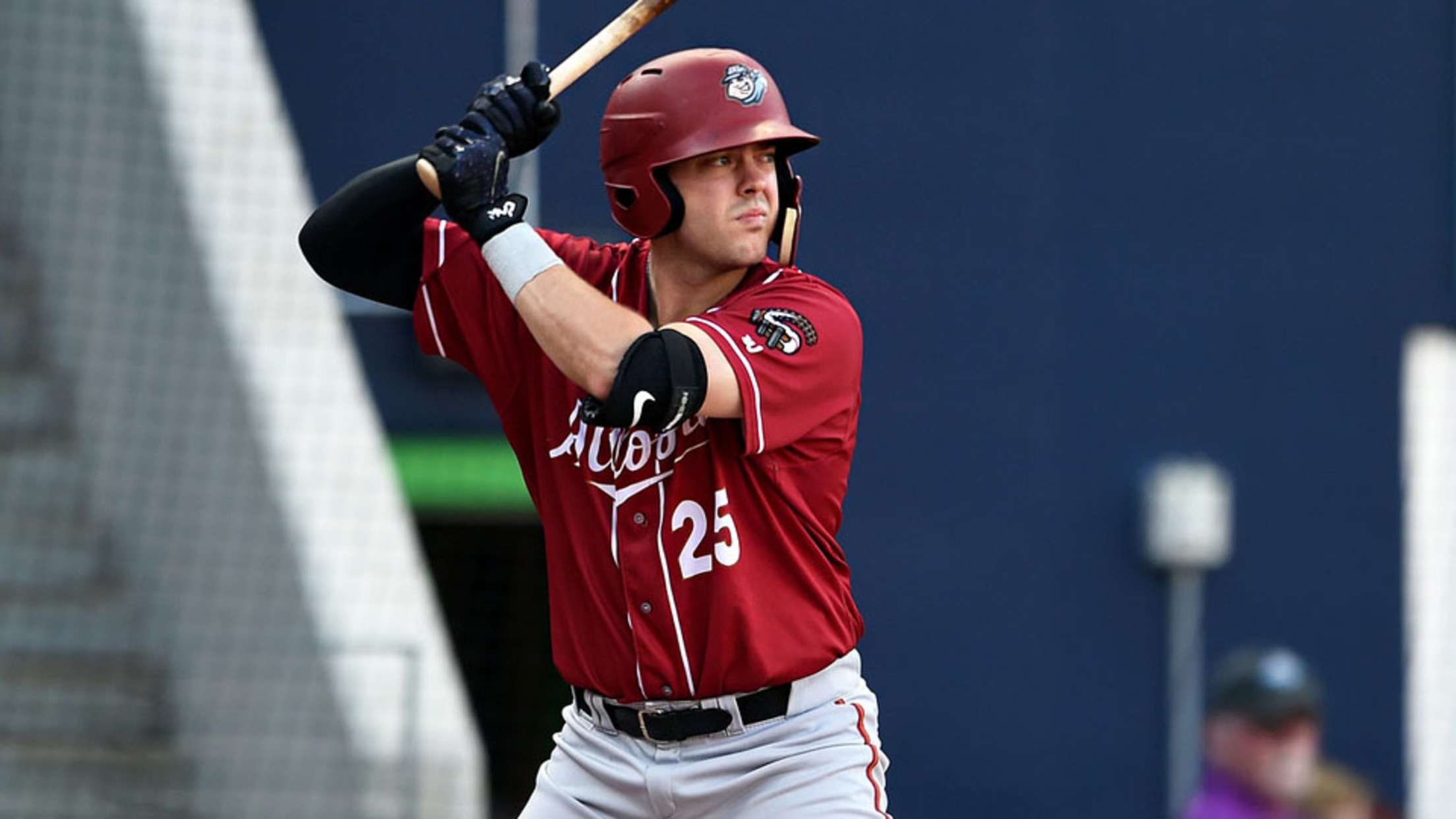 Will Craig has nine hits and three homers in his last five games for Double-A Altoona. (Kevin Pataky/MiLB.com)
Will Craig's hot hitting this week has won him some friends."Whenever I'm going good, they're gonna be cheering me," he laughed. "It's been a really good bonding experience."Craig connected again on Thursday, sending a fourth inning pitch from Binghamton starter Marcos Molina out to left field for his ninth homer
Will Craig's hot hitting this week has won him some friends.
"Whenever I'm going good, they're gonna be cheering me," he laughed. "It's been a really good bonding experience."
Craig connected again on Thursday, sending a fourth inning pitch from Binghamton starter Marcos Molina out to left field for his ninth homer of the year and third in as many days. The Pirates' No. 17 prospect finished 3-for-4 with a homer, three runs scored, two RBIs and was a triple shy of the cycle in Altoona's 9-2 win over Binghamton.
"It feels really good," Craig said. "I've been working on a lot of stuff to just get back into what makes me the best hitter I can be. Being on time to the fastball has helped, and it's been really good the last three days."
Indeed, the 23-year-old has put together a nice week in a matter of hours. He went deep on Wednesday night at Binghamton and began the series Tuesday with a 3-for-5 night in which he homered and drove in a season-high five runs.
The hot streak is fairly new territory for the highly ranked infielder -- although Craig was the Bucs' first-round pick in 2016, he hasn't shown much power until this season. The Wake Forest product hit two homers in 63 games in his debut season with Class A Short Season West Virginia and then added six in 123 games last year with Class A Advanced Bradenton.
Craig began the season going 13-for-62 with 15 RBIs in 20 April games before hitting .283 in May. He has nine hits in his last five games, shaking off a bit of a slump to start June.
Gameday box score: Altoona 9, Binghamton 2
The right-handed infielder said hitting usually gets a little easier for him in the last game or two of each series, once he's had a chance to get used to the opposing pitchers.
"Once you have the first few games or so, you see their players and the third and fourth game is a little easier. You feel locked in, you're not not doing too much."
Craig started his Thursday with a double in the first, knocking home Bralin Jackson for a 1-0 lead.
"It's really exciting to get the game going and go from there," he said. "The first at-bat of the game I hit an opposite-field double, so that was big for me to get me going offensively. I knew it would be a pretty good day."
He then led off the fourth with a drive to left for a 2-0 edge. He said the increased power this spring is a result of the hours of work he put in this past winter.
"Honestly, a lot has to do with the offseason work, trying to make more consistent hard contact and find a better launch angle," he said. "Me being a corner guy that hits a lot of fly balls and line drives, it's just a matter of how much you barrel it up. I worked hard this offseason to make more consistent barrel contact and I've slowly progressed as the season went by, just making adjustments to the pitchers up here. That's the biggest thing for me."
Craig hit .271 with 61 RBIs in 123 games last year. He owned a .373 OBP and finished with 106 strikeouts and 62 walks in the Florida State League. Now up a level in the Eastern League, he said it's been a challenge to face better pitching.
"The Eastern League has been different -- the weather, first off," he said. "It was really cold early and it's starting to warm up now. The humidity has been really good to play in -- just an atmosphere where the ball travels a bit better here. And the fans, it helps a lot too."
Curve starter and Pirates No. 10 prospect Taylor Hearn (2-4) struck out 10 and allowed two runs on six hits and a pair of walks over six innings. The 10 strikeouts matched a career high that Hearn, a 2015 fifth-round pick, set last July 13 in 4 2/3 innings for Bradenton.
Molina (1-7) dropped his third straight start. The 23-year-old from the Dominican Republic was charged with five runs -- four earned -- on nine hits and walk over six innings for the Rumble Ponies (34-31). Levi Michael homered and tripled for Binghamton and Tomás Nido, the Mets' No. 11 prospect, went 1-for-2 with a double and his seventh RBI.
"He's a got a big, long, easy delivery and an explosive fastball. He worked in and out with his fastball and he got hitters uncomfortable," Craig said of Hearn. "And then he threw off-speed pitches to make them even more uncomfortable. He was up and down in the zone, he didn't give them a lot of time to think and he was ready to go. Quick outs, strikeouts early in the count -- he was pretty fun to play behind."
And of course, Craig did his part to help out Hearn. He said a fourth straight day with a homer will be on his mind tomorrow.
"Obviously it's apart of you and everyone talks about it, but I'm just going to approach each day and try to get better and better," he said. "We have New Hampshire coming in tomorrow so I will study their pitcher and see what they have."
Craig's teammates are hoping for more bonding time, too.
"They're having a blast with me," he said. "They know I've had a lot of ups and downs this season, so they're excited for me."
Following the game, Binghamton's Peter Alonso and Jeff McNeil were promoted to Triple-A by the Mets. Alonso, New York's No. 4 prospect, is hitting .314 with 15 homers and 52 RBIs in 65 games this season. McNeil, a second baseman, is batting .327 with 14 homers and 43 RBIs.