Watch: Pirates first-rounders reflect on Draft
Hayes, Tucker and Craig recall the day they became pro ballplayers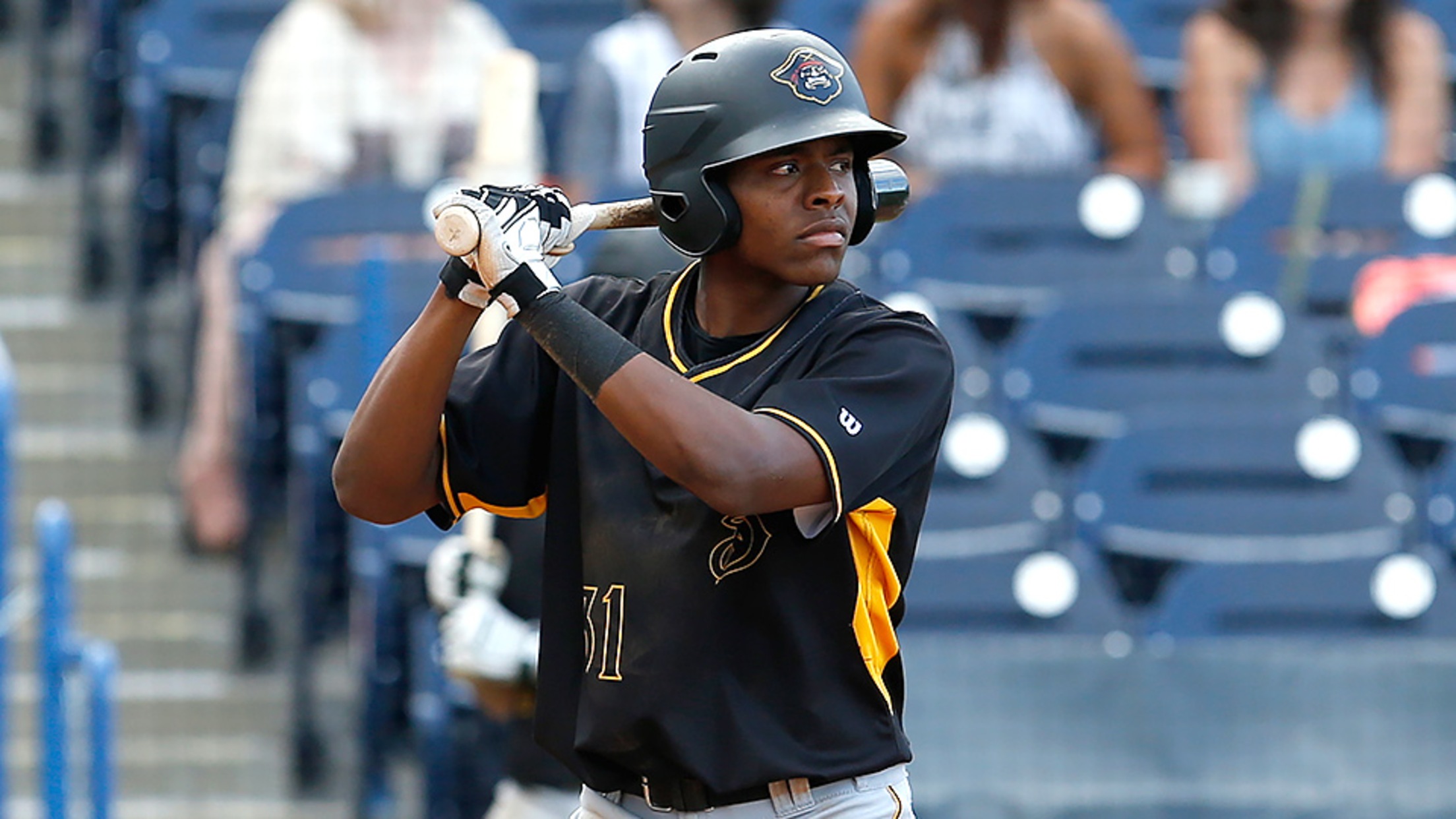 Pirates prospect Ke'Bryan Hayes' father, Charlie, played in the Majors for 14 seasons. (Mark LoMoglio/MiLB.com)
For most American, Canadian and Puerto Rican players, a professional baseball career starts with the First-Year Player Draft. It's an unusual experience -- these young men have spent much of their lives preparing for a job interview with an unknown employer. For first-round picks, the Draft brings instant fame, money
For most American, Canadian and Puerto Rican players, a professional baseball career starts with the First-Year Player Draft. It's an unusual experience -- these young men have spent much of their lives preparing for a job interview with an unknown employer. For first-round picks, the Draft brings instant fame, money and expectations.
With the 2017 Draft taking place this week, MiLB.com's Lisa Pride asked three Pirates first-rounders -- Cole Tucker (2014), Ke'Bryan Hayes (2015) and Will Craig (2016), all of whom currently play for Class A Advanced Bradenton in the Florida State League -- about what going through the Draft is like.
For Tucker and Hayes, who were drafted out of high school, the experience was particularly intense.
"Overwhelming is the perfect word for it," Tucker says. "You're 17 years old, you're going through your senior year of high school, trying to be a kid, trying to get your baseball life together.... It seems like it's larger than life -- and it is -- but you've got to stay grounded."
Will Craig turned pro after three years at Wake Forest and is two years older than Tucker and Hayes, despite being the most recent draftee. His Draft day experience was confusing at first.
"They announced I was a right-handed pitcher when I got drafted and everyone was kind of shocked. It was kind of funny because [the Pirates] called me literally within like 30 seconds of it happening and said, 'No, we're so sorry, we want you as an infielder and hitter, not a pitcher.'"
Hayes benefited from inside knowledge that not too many youngsters have -- his father, Charlie, played in the Majors for 14 seasons and his brother Tyree went through the Draft process in 2006.
"My advice to parents is to enjoy the process," says Charlie Hayes. "Baseball is a business and you have to understand that, but -- it's baseball, and it's fun, and he gets to do that for a living. We had a blast with it."
"Everyone has a chance to play for a Major League team, whether you're drafted in the first round or the 30th round," Ke'Bryan Hayes says. "I just work hard every day and don't take anything for granted."
Link token

Tweet from @JulieOwenMoylan: Welcome to peak twitter 🍿 pic.twitter.com/xoEqQjEDh4
560="" href="http://www.youtube.com/watch?v=
John Parker is an editor for MLB.com.