Tribe's Waddell fires seven scoreless frames
Pirates No. 25 prospect gives up two hits, fans career-high nine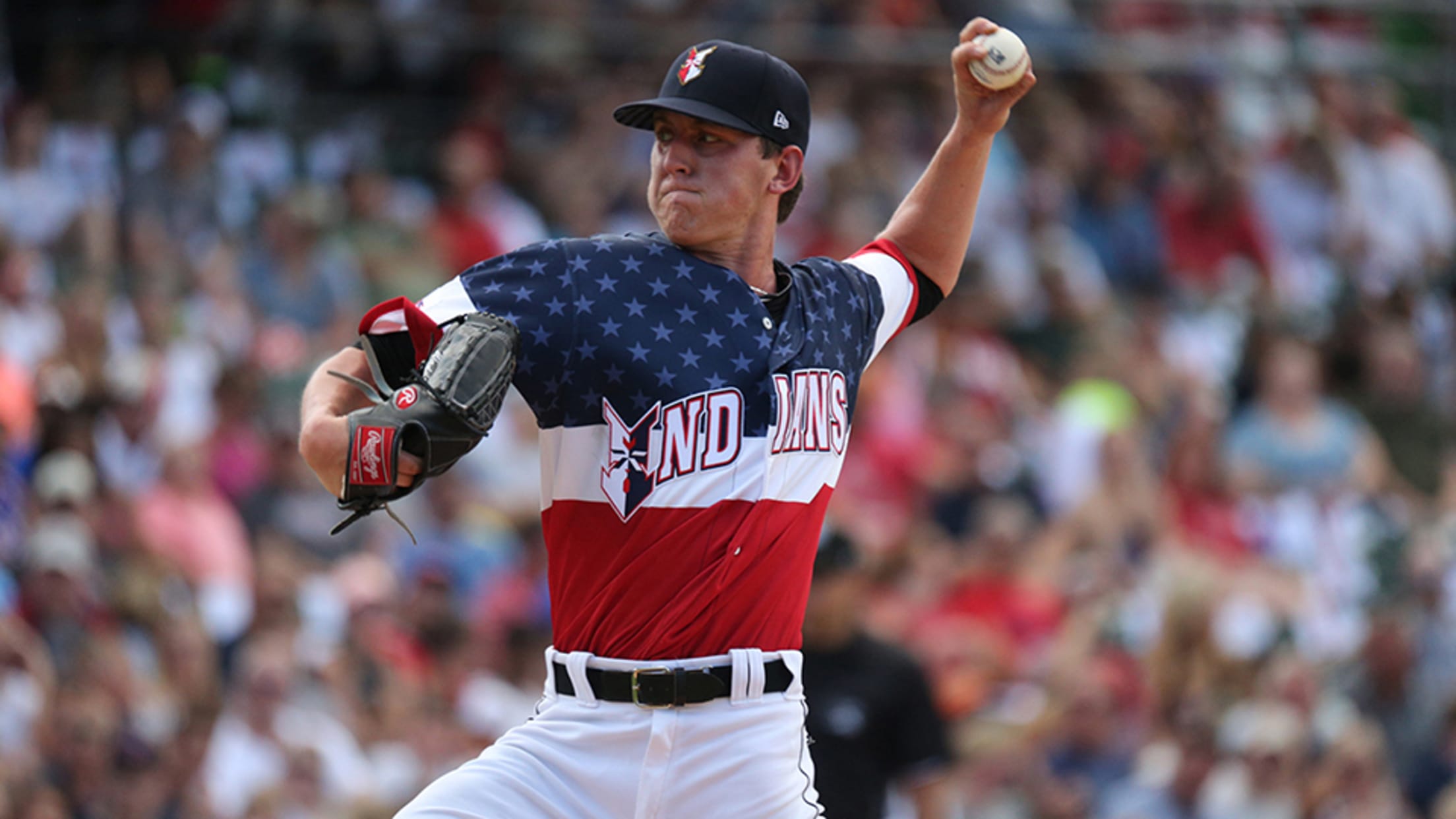 Brandon Waddell had three eight-strikeout games before posting a career high against Toledo. (Adam Pintar/Indianapolis Indians)
A difficult introduction to the International League relegated Brandon Waddell to the bullpen for the better part of June. His third go-round after returning to the Triple-A Indianapolis rotation was a step in the right direction.The Pirates' 25th-ranked prospect recorded a career-high nine strikeouts over seven innings as the Indians blanked
A difficult introduction to the International League relegated Brandon Waddell to the bullpen for the better part of June. His third go-round after returning to the Triple-A Indianapolis rotation was a step in the right direction.
The Pirates' 25th-ranked prospect recorded a career-high nine strikeouts over seven innings as the Indians blanked Toledo, 8-0, on Friday at Victory Field. He yielded two hits and a walk while dropping his ERA by more than a full run to 5.19.
"[Catcher Jacob Stallings and I] were able to stay on the same page for the majority of the game," Waddell said. "I think that goes a long way in terms of rhythm ... and feel for pitches. It was just a culmunation of a bunch of little things, but it came together and it turned out to be good."
The 24-year-old said he quickly regained the fastball command that had eluded him in previous starts.
"At that point, it becomes the game of baseball, just trying to fill up the strike zone," he said.
Waddell eclipsed his previous career best of eight strikeouts, a feat he accomplished three times -- once this season and twice in 2016 -- with Double-A Altoona. He threw first-pitch strikes to 15 of the 25 batters he faced Friday, something he said is paramount when racking up punchouts.
"It's not necessarily that anything was playing better or that the stuff was better. It's just getting into a situation where you can attack guys and you kind of have the freedom to pound the strike zone a little bit," he said.
Opening the season with the Curve, Waddell posted a 2.68 ERA with 43 strikeouts while holding Eastern League foes to a .206 average in nine appearances, including eight starts. He was promoted to Triple-A on May 30 and made three starts, surrendering 10 runs over 10 1/3 innings (8.71 ERA), before being sent to the bullpen.
"It was just a game of adjustments," Waddell said. "Especially being at a new level, there's going to be a little bit of a learning curve. Just knowing that and just taking advantage of that, try to learn something from it, take a lesson from it and try and carry that over from start to start and outing to outing."
Gameday box score
Waddell (4-4) allowed four runs over 6 2/3 innings as a reliever and returned to the rotation on June 29 in Columbus. The stint in the bullpen afforded him the opportunity to simplify his approach on the mound.
"It kind of got me out of my head and really just focused on attacking hitters," he said. "It just kind of made things easier, not easier in terms of the game but just kind of focusing on executing pitches. You can just go out there and try and attack guys for one or two innings."
The southpaw was tagged for seven runs -- four earned -- on nine hits over 3 2/3 frames against the Clippers, but he followed with his first seven-inning performance on the Triple-A level as he yielded two runs on nine hits against Louisville on July 4.
On Friday night, the 2015 fifth-round selection out of the University of Virginia worked around a two-base error by shortstop Kevin Newman and a balk that put Dixon Machado on third in the opening inning.
The Mud Hens got to Waddell on Edwin Espinal's leadoff single in the third before the left-hander set down the next eight batters. He issued a free pass to Espinal in the fifth and gave up a one-out knock to Machado in the sixth before the Houston native exited after throwing 59 of 91 pitches for strikes.
Jesus Liranzo walked one and struck out another in a hitless eighth and Dovydas Neverauskas pitched a 1-2-3 ninth in his 18th scoreless appearance of the year. The Lithuanian right-hander lowered his ERA to 1.55.
Kramer, the Pirates' No. 7 prospect, doubled, singled and scored twice for Indianapolis. Twentieth-ranked Jason Martin had two hits, including a double, two RBIs and two runs scored.
Toledo starter Artie Lewicki (4-4) took the loss after allowing two runs on three hits and a walk with four strikeouts over three innings. The 26-year-old right-hander recorded his first three punchouts on nine pitches in an immaculate first inning.
Gerard Gilberto is a contributor to MiLB.com. Follow and interact with him on Twitter, @GerardGilberto4.