Tribe's Hayes posts another four-hit game
Pirates No. 2 prospect raises August batting average to .306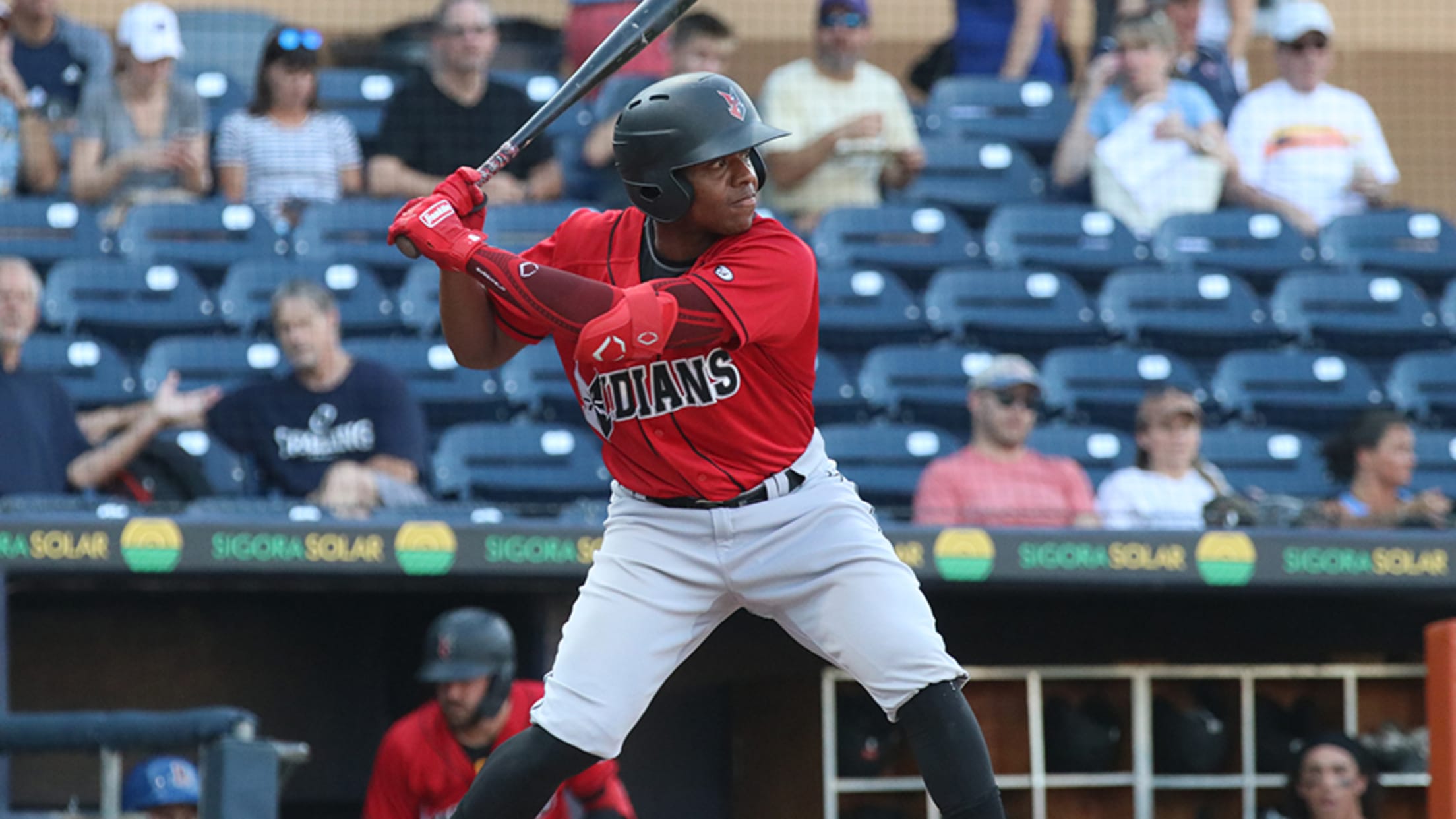 Ke'Bryan Hayes has seven four-hit games since being taken in the first round of the 2015 Draft. (Lance Carter/MiLB.com)
As a 22-year-old at the Minors' highest level, Ke'Bryan Hayes has battled through highs and lows this year, including a broken finger that sidelined him for about three weeks. Healthy again and in the homestretch of the season, he's putting it all together at the plate.The second-ranked Pirates prospect recorded his
As a 22-year-old at the Minors' highest level, Ke'Bryan Hayes has battled through highs and lows this year, including a broken finger that sidelined him for about three weeks. Healthy again and in the homestretch of the season, he's putting it all together at the plate.
The second-ranked Pirates prospect recorded his second four-hit game of the month to help the Indians to a 5-2 win over Louisville at Victory Field. Hayes drove in a run and has nine hits in his last three contests.
Part of what's helped him during this recent stretch is the extra cage work he's put in with hitting coach Ryan Long. They've put an emphasis on being able to hit breaking pitches in the zone. In the last series against Toledo and Friday against the Bats, he checked off that box.
"You work all year with the priority being to be better at the end of the year than when you started. Luckily, he is," Long said. "It's always good to see him get results, obviously, and tonight he had some hits. But the biggest thing is he's starting to hit some pitches -- he's worked hard to not only hit fastballs but balls in his zone."
Gameday box score
MLB.com's No. 37 overall prospect ended the Tribe's series with the Mud Hens with a 3-for-4 effort and kept his foot on the gas pedal in the opener against Louisville with his sixth multi-hit contest of August. With the hot stretch, the son of former Major Leaguer Charlie Hayes is hitting .306 in 22 August games. That's gotten his overall average up to .260 with a .745 OPS. Being one of the younger players on the circuit, Hayes has held his own.
"He's a young hitter to the level and just young in general in terms of experience," Long said. "There's ups and downs and he's had some, but it's about how you respond to them, and he's responded well. He's stayed the course; I think I'm more proud of him staying the course."
Hayes battled through a tough stretch that lasted about two months. In May, he hit .227 and followed that early into June with a .222 average before landing on the injured list. But after the Triple-A All-Star break, the third baseman has turned things around with a .280 average and .440 slugging percentage in 39 games.
"He's bounced back good," Long said. "I think we're proud of the way he's bounced back and handled some of the adversity that he had early on, and he's learned from it and got better from it. But, yeah, he's done a good job of it. First, when he came back I don't think he was 100 percent in terms of physically how he was holding the bat. I think it took time for his brain to get over that."
Hayes grounded out in the first inning but was perfect at the dish the rest of the night. Following Jake Elmore's double in the third, the 22-year-old legged out an infield single against No. 23 Reds prospect Keury Mella (8-13). He got the better of the right-hander again an inning later when he went back up the middle for a single that drove in Elmore.
Against Jackson Stephens in the sixth, the 2015 first-round pick ripped another knock to center. Hayes displayed his speed again with his 12th stolen base of the year, then trotted home when Eric Wood drew a bases-loaded walk.
Facing righty Matt Bowman in the eighth, Hayes bounced one back to the mound but again used his legs to beat out an infield single. It completed his second four-hit game of the month after accomplishing the feat on Aug. 1 against the Mud Hens.
Hayes also notched four putouts and did a little bit of everything on the diamond. It's things like that from the two-time Gold Glove winner that have made him a more complete player.
"Big picture-wise, it's what we like to see, and the defense has been solid all year. The catch and throw are solid, probably the best in the Minor Leagues, I would say," Long said. "You see parts of the game come around. Hitting is hard for everybody, so you start to see that happen. He uses that and he uses his weapons."
James Marvel (5-0) allowed two runs on six hits with six strikeouts to keep his record perfect with Indianapolis.
Andrew Battifarano is a contributor to MiLB.com. Follow him on Twitter, @AndrewAtBatt.