Appy notes: MacGregor maturing on mound
Pirates' No. 18 prospect looking to build on longest career outing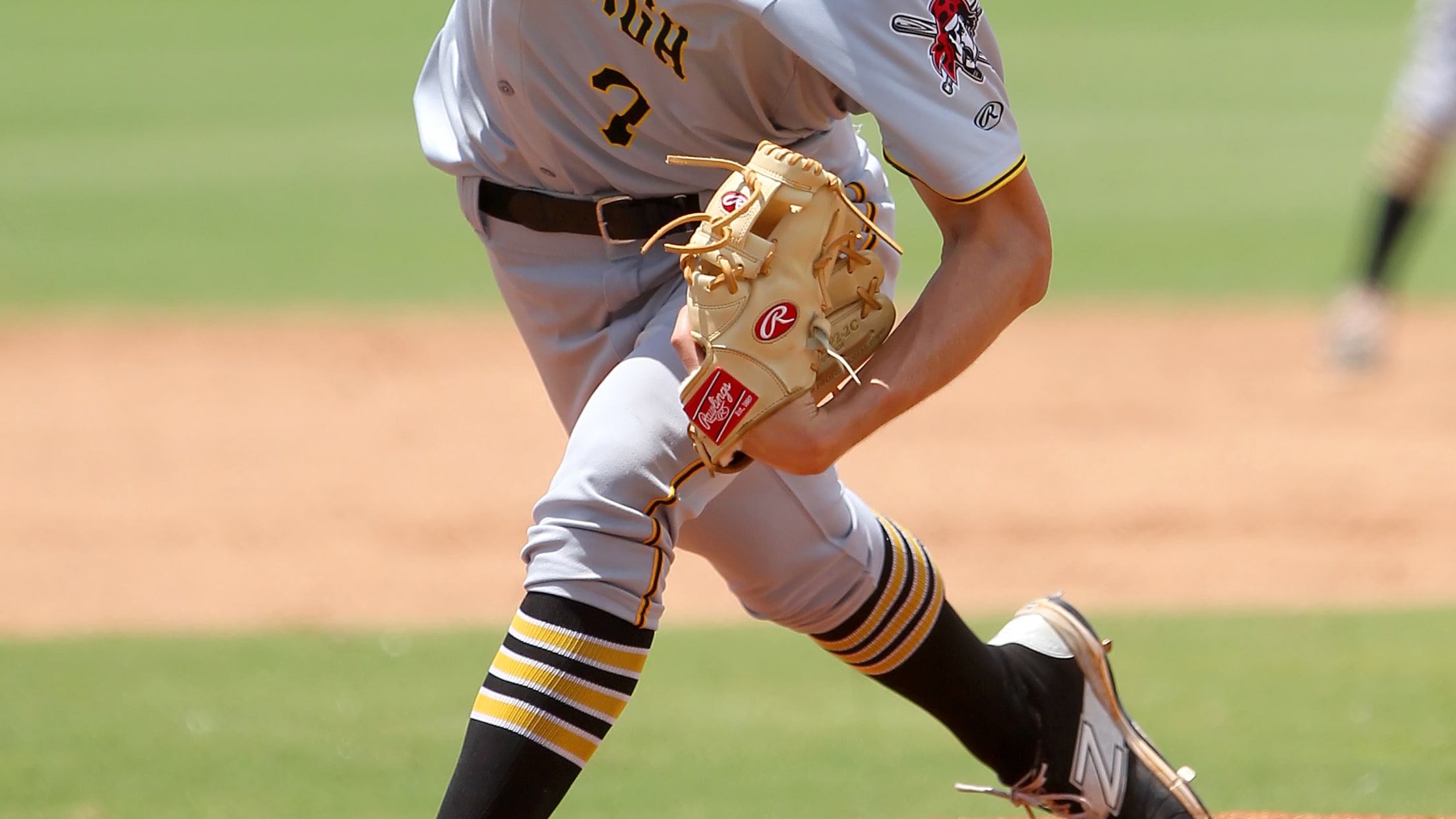 A second-round pick in 2016, Travis MacGregor lasted six innings against Danville on July 30. (Cliff Welch/MiLB.com)
Travis MacGregor is branching out -- and he's reaping the benefits in his second professional season.No longer competing an hour's drive from home, the Pirates' No. 18 prospect is making adjustments that have been rewarding on and off the field.These adjustments were displayed in his most recent outing, a career-high
Travis MacGregor is branching out -- and he's reaping the benefits in his second professional season.
No longer competing an hour's drive from home, the Pirates' No. 18 prospect is making adjustments that have been rewarding on and off the field.
These adjustments were displayed in his most recent outing, a career-high six-inning start in which he struck out five and allowed just two earned runs.
"I feel I've definitely matured my game from last year," MacGregor said. "I feel they're preparing me for the next thing."
His assignment to the Bristol Pirates marked a significant benchmark for the Tarpon Springs, Florida, resident, who played in the Gulf Coast last summer following his selection in the 2016 Draft.
To him, his move to Bristol is a move away from home.
"It has been a very neat change living on my own and taking those responsibilities," he said.
With a season to his credit and a better idea of his expectations, he's putting on a display of his maturation for the Pirates. Through eight starts, he has eclipsed last season's innings total and seems primed for more headway during the final month of the season despite playing for the league's last-place team.
"We see a different guy up here," Bristol manager Miguel Perez said. "He has a presence on the mound. That's what we expected -- now we want him to be very consistent."
MacGregor would like to have a seven-inning outing by the end of the summer. To get there under the farm system's step-ladder approach for young pitchers, he was required to log a six-inning start first.
His six-inning start in his last outing was his first, and he's recorded a five-inning start twice. MacGregor said he appreciates the chance to work deeper into games and senses he's required to demonstrate improvements on a regular basis.
"They've been preaching to get our routine," he said. "They're expecting that from you."
He has shown upgrades in control, with more strikeouts than walks in each of his last four starts.
"He has been progressing," Perez said. "He has actually pitched with a bit of confidence."
Part of MacGregor's development has been tied to the mechanics of his 6-foot-3 frame.
"They have been working with me a little bit on my delivery and getting things worked out there," he said.
Specifically, he said, that has involved a more fluent motion with his arm swing, eliminating what had been a hitch.
MacGregor, who was the 68th pick in 2016, bypassed a scholarship to Clemson to join the Pittsburgh organization. He said he understands the pace might be gradual in working his way up the system.
That's why he sees this summer as so important to establishing a foundation.
"This is just a year for building and getting in some innings," he said.

In brief
Better pace
: Elizabethton outfielder
Shane Carrier
took an 11-game hitting streak into August, hitting three home runs during the stretch. At one point, he drove in three runs in the first game of a doubleheader at Princeton and then homered in the first inning of the second game. In his first 28 games of the season, he drove in 29 runs to eclipse his RBI total with the team from 2016, when he appeared in 55 games.
Run producer
: Driving in eight runs across a four-game stretch catapulted Burlington infielder
Dennicher Carrasco
into a share of league's RBI lead with 32. Carrasco, who plays as a third baseman and first baseman, had 16 extra-base hits among his first 41 hits this season. "I felt pretty good that I helped the team a lot," he said.
Late-game work
: Pulaski first baseman
Eric Wagaman
smacked a game-tying home run in the ninth inning Tuesday night in the team's victory against the Johnson City Cardinals. Among his five homers, he also has gone deep in the sixth, seventh and eighth innings this season. The latest blast came off Cardinals closer
Jacob Patterson
, who was aiming for a league-high eighth save.
Bob Sutton is a contributor to MiLB.com.