Eppler continues to sizzle for Indianapolis
No. 27 Pirates prospect starts season with 11 scoreless innings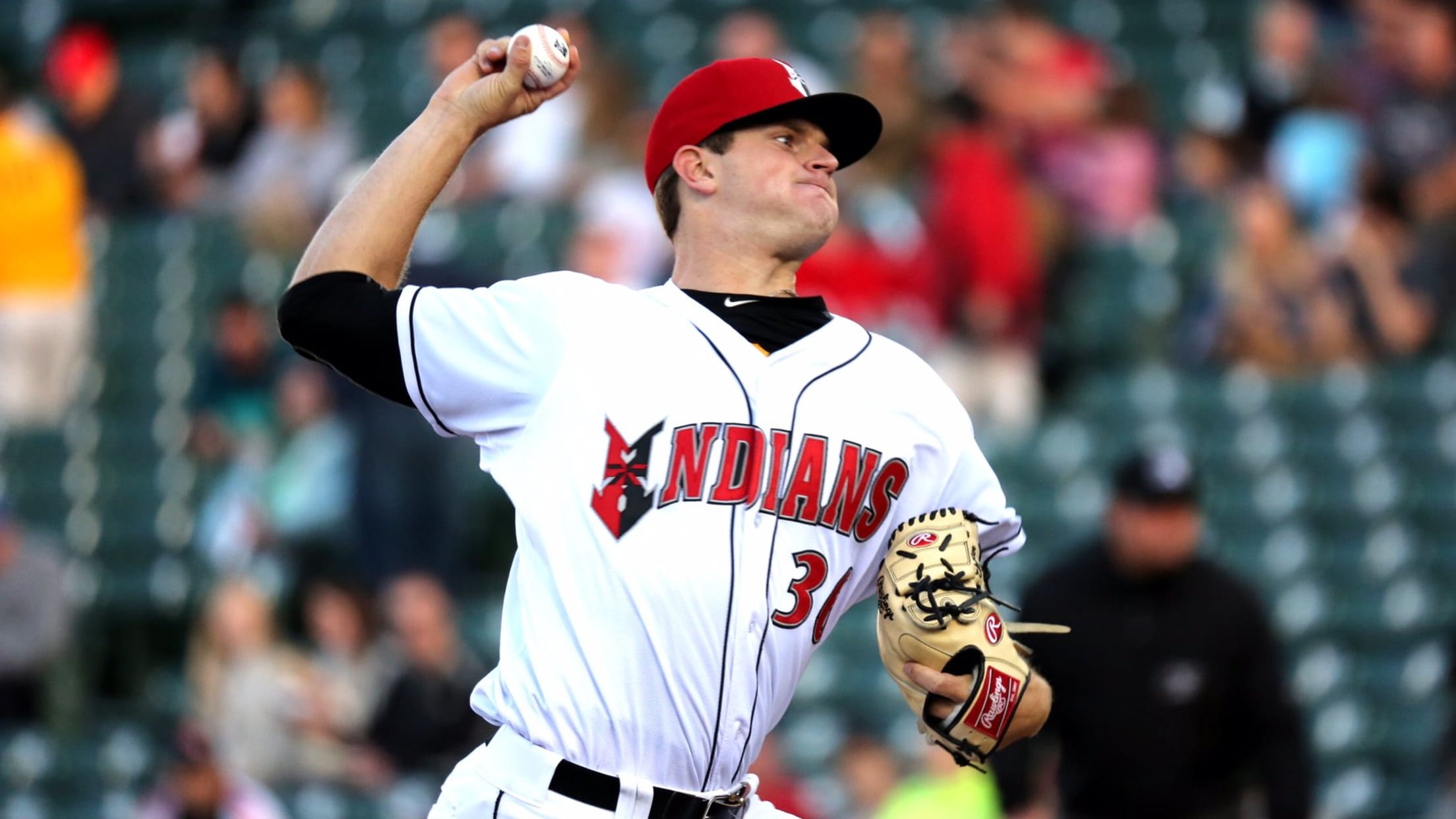 Dating back to last season, Tyler Eppler has not allowed a run in 17 consecutive innings across two levels. (Indianapolis Indians)
Tyler Eppler couldn't make the jump from Double-A to Triple-A look more seamless.After keeping Toledo off the scoreboard in his first start Saturday, Pittsburgh's No. 27 prospect gave up one hit and one walk while striking out four in six shutout innings of the Indianapolis Indians' 5-1 win over the Mud
Tyler Eppler couldn't make the jump from Double-A to Triple-A look more seamless.
After keeping Toledo off the scoreboard in his first start Saturday, Pittsburgh's No. 27 prospect gave up one hit and one walk while striking out four in six shutout innings of the Indianapolis Indians' 5-1 win over the Mud Hens on Thursday at Fifth Third Field.
"It feels pretty good. You always want to throw off as many scoreless innings as you can," he said. "That's always the goal every time you go out, but it doesn't always work out that way. But I'm off to a good start/. I'm looking to keep it that way and just throwing as many innings as I can and getting the best chance to win."
Eppler (1-0) got into a groove right away, fanning Alex Presley and Jim Adduci in the first inning. The right-hander stayed in command, throwing 71 pitches including 50 strikes.
Box score
The Indians right-hander retired the first eight Mud Hens before getting into a jam in the third. Brendan Ryan worked a two-out walk and Presley reached when shortstop Gift Ngoepe mishandled a grounder. But Eppler got Omar Infante to fly out on one pitch to end the threat.
"I got the ground ball before, threw a changeup to a lefty," Eppler said. "It was a ground ball right at Gift and it took a couple of bad hops on him. He's been making plays, but it definitely took a bad bounce and he felt bad about it. It was my job to pick him up and get the next guy out. We got out of it with no runs. I just wasn't dwelling on [the error] and focusing on just ending the inning."
The Texas native retired nine of his final 10 batters with David Lough's two-out single in the fifth being the lone blemish.
Going back to his last start in 2016 with Double-A Altoona, the 24-year-old has not been charged with a run over his last three outings spanning 17 innings.
"I think I learned a lot last year, I learned a lot about who I was, a lot about who I need to be," Eppler said. "Our organizational policy, or what we strive to do, obviously just to throw a lot of strikes. I've drilled that in my head, and I've always been a guy who's thrown a lot of strikes. But last year, I learned it's not just about throwing strikes, it's about throwing quality strikes."
The 6-foot-6 hurler already has three pitches, including a 55-grade fastball, but Eppler has developed a new offering that he thinks keeps hitters off balance.
"Me and my pitching coach last year in Double-A, Justin Meccage, we added a bit of a hybrid between a cutter and a slider. That's been the biggest thing for me. It's a pitch I can control and throw when I'm down 2-0, 2-1."
The 2014 sixth-round pick got a taste of the Major Leagues this spring when he was invited to the Pirates camp. Although he didn't allow a run and struck out three in 3 1/3 innings during Grapefruit League play, Eppler felt the biggest help to his development came off the field with some of the club's former top pitching prospects.
"Going to big league camp was a big confidence boost for me, a big learning experience being around guys who have been at the big level for a while," he said. "So it was about taking in as much stuff from them. I would listen to everybody as I could around there and tried to take something from each guy.
"Jameson Taillon was the guy I mostly hung around with during big league camp. I talked to Gerrit Cole for a bit and stuff like that. Those are two guys that I try to be like. So I was just picking their brains as much as possible."
After Dan Runzler allowed a solo homer to Adduci to start the seventh, Pat Light walked one and struck out two over the final two innings for Indianapolis.
No. 30 Pirates prospect Eric Wood had two hits, including a two-run homer, for the Indians.
Chad Bell (0-1) allowed three runs -- one earned -- on five hits with two walks and five strikeouts over five frames.
Andrew Battifarano is a contributor to MiLB.com. Follow him on Twitter, @AndrewAtBatt.