Pizzano Walks It Off in 10th for Travs, 2-1
Chris Mazza dazzles in home debut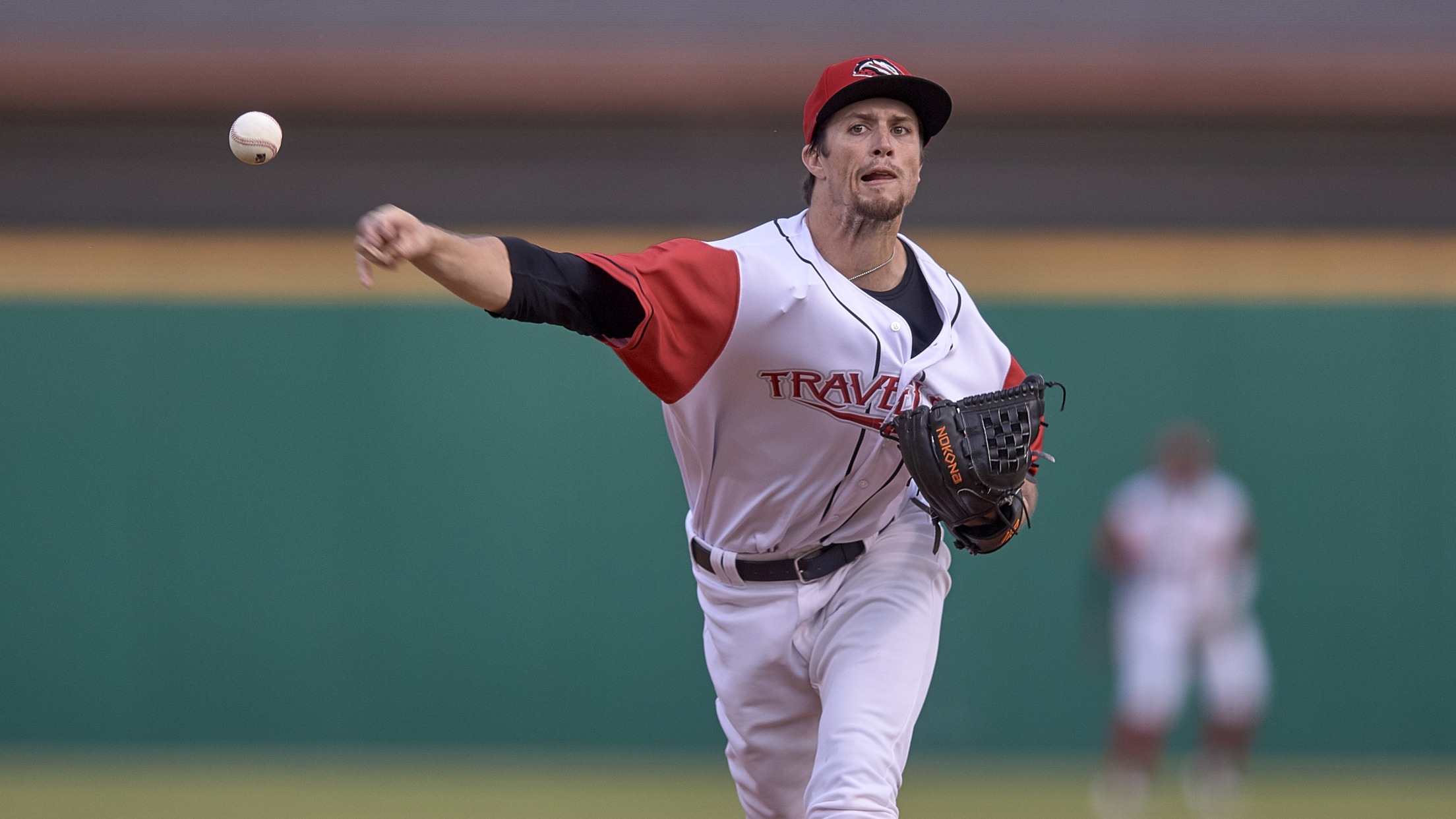 Chris Mazza allowed just one hit over seven shutout innings. (Mark Wagner)
North Little Rock, AR-In a pitcher's duel, the Arkansas Travelers prevailed in 10 innings over the Tulsa Drillers, 2-1 on Thursday night at Dickey-Stephens Park. The teams combined for only six hits on the night with Dario Pizzano's walk-off hit ending the evening. Neither team had a hit over the
North Little Rock, AR-In a pitcher's duel, the Arkansas Travelers prevailed in 10 innings over the Tulsa Drillers, 2-1 on Thursday night at Dickey-Stephens Park. The teams combined for only six hits on the night with Dario Pizzano's walk-off hit ending the evening. Neither team had a hit over the first three innings of the game. Travs starter Chris Mazza was brilliant in his home debut working seven shutout frames of one hit ball with six strikeouts. The two hits allowed by the Travs staff were a season low. It was their third win in eight extra inning games this year.
Moments That Mattered
* Yonathan Mendoza singled home a run with two out in the fifth to open the scoring.
* Matt Festa was charged with his first blown save of the season as Tulsa scored in the ninth to tie but Festa retired three straight hitters to close out the inning and keep it tied. He then worked around the automatic runner to begin the 10th inning and put a zero on the board.
* A passed ball put Mendoza at third after just one pitch in the bottom of the 10th. With one out, a pair of intentional walks loaded the bases and set up Pizzano for his sharp groundball single off the glove of the second baseman to score the game-winner.
Notable Travs Performances
* DH Dario Pizzano: 1-4, BB, RBI, 13 game hit streak
* Chris Mazza: 7 IP, H, 2 BB, 6 K
* Darin Gillies: IP, 2 K
* Matt Festa: BS, Win, 2 IP, H, R, 2 BB, 2 K
Up Next
Arkansas goes for the series win on Friday night at 7:10. Right-hander Ashton Goudeau (2-4, 5.13) gets the start against righty Mitchell White (4-6, 4.74). After the game, it is Pyro in the Park III, the biggest fireworks show of the season. The game will also be broadcast on the Sports Animal 920, the First Pitch App, TuneIn radio and milb.tv.