Atlanta Braves player pool has a real 2019 M-Braves feel 
Among 56 players, 13 of them spent time in Pearl last season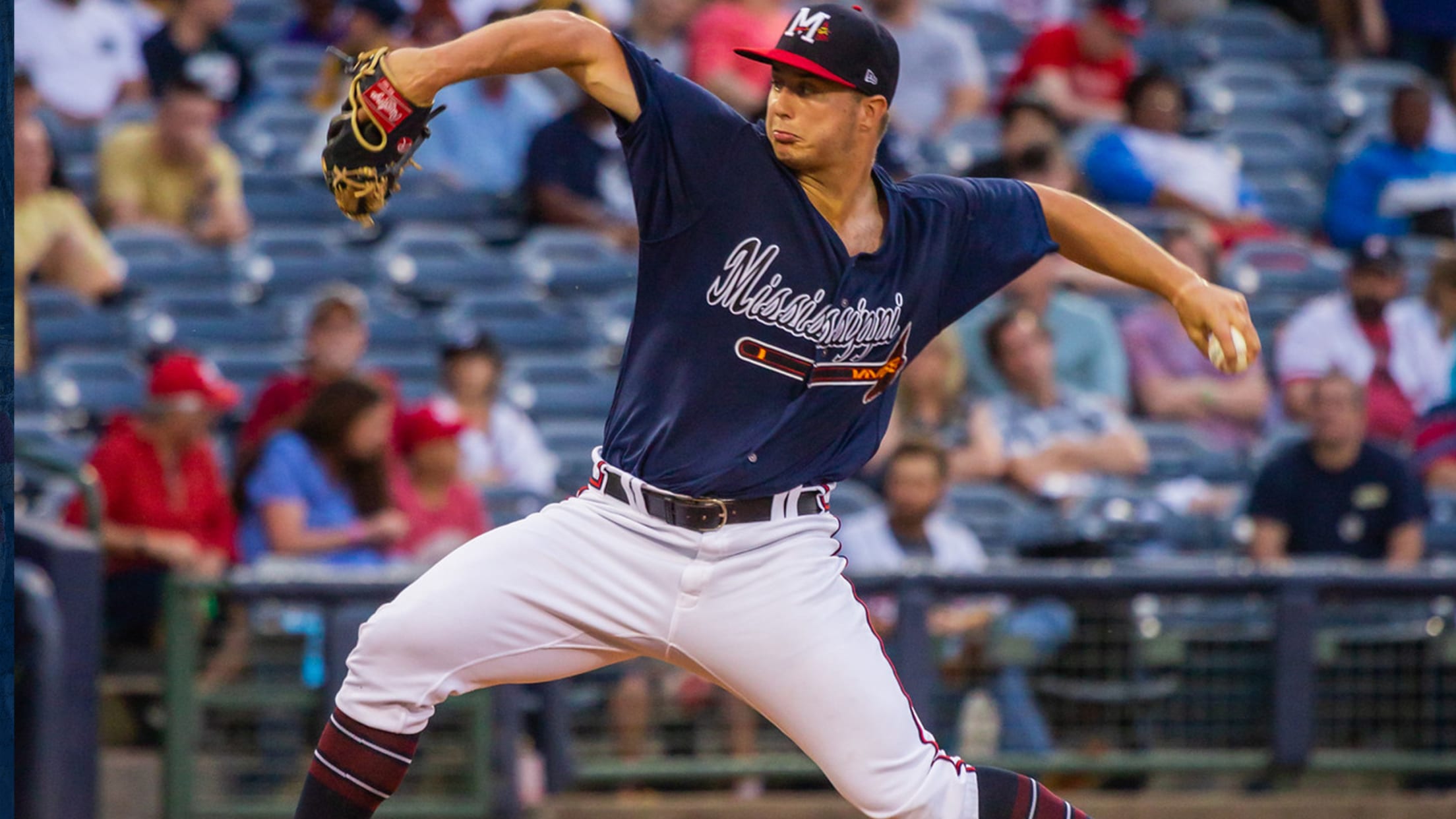 The Atlanta Braves announced their initial player pool for the shortened 2020 season on Sunday. Among the 56 players announced were 13, which spent time with the M-Braves during the 2019 campaign. Each of the top 12 prospects for the Braves is included, according to MLB Pipeline, and 15 of
The Atlanta Braves announced their initial player pool for the shortened 2020 season on Sunday. Among the 56 players announced were 13, which spent time with the M-Braves during the 2019 campaign. Each of the top 12 prospects for the Braves is included, according to MLB Pipeline, and 15 of the top 30 overall.
The Atlanta Braves announced the club's 60-man player pool for the 2020 regular season. The club included 56 players in the pool, including 17 non-roster submissions. pic.twitter.com/bcjCxlC3xN

— Atlanta Braves (@Braves) June 28, 2020
LHP Tucker Davidson - After a stellar season in 2019, Davidson built on that success by posting a 1.42 ERA over five outings in spring training. With the unusual season and expanded roster, Davidson is a prime candidate to get multiple innings in a piggyback starting role or even relief. His fastball velocity sits in the upper 90's these days.
The left-hander earned top left-handed pitcher honors in the Southern League last season, and at the time of his promotion to Gwinnett on August 5, he led all of Double-A baseball and was sixth in MiLB, among qualified pitchers, with a 2.03 ERA after 21 starts. In the Southern League, Davidson ranked 5th in strikeouts (122), 7th in opponents' batting average (.224), 7th in WHIP (1.20), and 9th in IP (110.2). Over Davidson's final four M-Braves starts (all wins), the Texan has a 1.38 ERA, allowing just four runs in 26.0 innings, 27 strikeouts, six walks.
Overall in 2019, Davidson ended the season by ranking fourth in MiLB with 2.15 ERA. Over 25 starts between Mississippi (21) and Gwinnett (4), Davidson was 8-7 with a 2.15 ERA (31 ER/129.2 IP), 134 strikeouts, 54 walks, 1.25 WHIP and .234 opponent's batting average.
RHP Ian Anderson - As a non-roster invite, the former first-rounder posted a 1.59 ERA over three appearances this spring, striking out six over 5.2 innings. Anderson was promoted to Triple-A Gwinnett on August 5. At the time of his promotion, the Rexford, NY native was tied for second in all of Minor League Baseball with 147 strikeouts over 21 starts, averaging 11.9 SO/9 IP. The third-overall overall pick in the 2016 draft led the league in strikeouts and ranked fourth with a 2.65 ERA. Over his final six starts beginning with the combined no-hitter on June 28, Anderson went 2-0 with a league-best 1.39 ERA (5 ER/32.1 IP), six walks, 48 strikeouts, .185 BAA, and 0.87 WHIP.
Overall in 2019, Anderson made 26 starts between Mississippi (21) and Gwinnett (5), going 8-7 with a 3.38 ERA (51 ER/135.2 IP), 172 strikeouts, 65 walks, 1.25 WHIP, and .210 opponent's batting average. Anderson posted an 11.4 SO/9 IP ratio. Anderson finished tied for fourth place in all MiLB with 172 strikeouts. Anderson finished third in the Southern League with 147 strikeouts on the season.
LHP Kyle Muller - The 23-year-old Muller made just one appearance in big league camp and struggled, but the big lefty has a world of potential, coming off of an injury-shortened season in 2019. Muller became the second Southern League pitcher and third in Double-A baseball to reach 100 strikeouts on July 4. Muller's season was cut short due to a calf injury, but he still ranked among the Southern League leaders in starts (T-6th, 22), complete games (2nd, 2) and strikeouts (8th, 120). Muller finished the season 7-6 with a 3.14 ERA (39 ER/111.2 IP), 120 strikeouts, 68 walks, 1.33 WHIP, and .208 opponent's batting average.
RHP Jasseel De La Cruz - The 23-year-old De La Cruz pitched across three levels of the Braves system, combining to go 7-9 with a 3.25 ERA in 25 games, including 24 starts, between Single-A Rome, High-A Florida and Double-A Mississippi. In his fourth Florida State League start, he threw the first no-hitter in FireFrogs history as he led Florida past Jupiter, 12-0, needing only 89 pitches to accomplish the feat and ultimately faced two above the minimum in the outing, issuing two walks and striking out four in his first career shutout.
De La Cruz is big a durable. This season would have been a potential breakout season for the righty.
RHP Patrick Weigel - One of the minor league feel-good stories of 2019 was seeing Weigel back on the mound and healthy. He was recalled to Atlanta three times last year, but never appeared in a game and still not made his major league debut. He made 28 total appearances between the M-Braves and Triple-A Gwinnett in his first full season since undergoing "Tommy John" surgery in June of 2017. The 25-year-old combined to go 6-2 with a 2.73 ERA in 28 games between the two
clubs, including 18 starts while striking out 71 and allowed just 50 hits. He opened the season with Mississippi, limited by a strict pitch count, and went 0-1 with a 1.72 ERA in seven starts before going to the Stripers on May 13.
RHP Huascar Ynoa - The hard-throwing right-hander appeared in three games for Atlanta in spring training and posted a 2.70 ERA with four strikeouts and four walks. Last season, he made a quick rise through the system and eventually made his major league debut and appeared in two games with Atlanta. The quick rise was due in large part to a transition to the bullpen. It would have been interesting to see how the Braves would have used him in 2020. No doubt that he has a great arm, though. The 22-year-old pitched in 26 games, including 17 starts, across three levels of the minors, appearing with High-A Florida, Mississippi and Triple-A Gwinnett going 4-8 with a 5.09 ERA striking out 110 over 97.1 innings.
LHP Philip Pfeifer - Along with Weigel, an even better feel-good story last season was Pfeifer. The Vanderbilt product could've easily quit after being demoted to High-A Florida, but he didn't. In seven games this spring, the 27-year-old posted a 1.23 ERA in 7.1 innings, finishing four of them, recording one save while striking out ten and walking just two. Pfeifer averaged 10.7 SO/9.0 IP this season between Mississippi, Florida, and Gwinnett and had 159 strikeouts in 30 games, 18 starts, and 133.1 innings. In four starts for Mississippi from August 4 to August 20. The Vanderbilt product posted a 1.17 ERA (3 ER/23.0 IP), 29 strikeouts, six walks, .195 BAA, and 0.96 WHIP in the four starts. Pfeifer logged double-digit strikeouts three times, including a career-high 17 strikeouts on July 18 at Palm Beach.
RHP Tyler Matzek - After signing a minor-league contract with the Diamondbacks in January, pitched in three games for the Double-A Jackson Generals and then signed with the Braves. Matzek appeared in just one game for the M-Braves before moving up. The 30-year-old made his MLB debut in 2015 with the Rockies and started their home opener against the Cubs. Eventually, he would make four more starts for Colorado in 2015.
C William Contreras- Notable as the younger brother of Wilson Contreras of the Cubs, William was added to the Braves' 40-man roster in November and is considered one of the top catchers in the organization. He went 1-for-4 in MLB spring training. One of seven catchers on the 56-man pool, Contreras, was a Florida State League Mid-Season All-Star in 2019, after hitting .263 with three home runs and 22 RBI in 50 games to open the season. The 22-year-old was promoted to Mississippi on June 5 and spent the remainder of the season here. Overall, Contreras caught 33% of base stealers and hit .246 over 60 games for the M-Braves, with three homers and 17 RBI.
C Jonathan Morales - In eight games this spring, Morales went 3-for-9 with an RBI. Notable for his leadership and defensive prowess, Morales undoubtedly enjoyed hitting in Triple-A vs. Double-A last season. In 46 games in Mississippi, the 25-year-old hit just .201 with no homers, but had a .289 average over 34 games with Gwinnett, netting a pair of homers.
OF Cristian Pache - One of the most exciting players on the list was Pache. In 13 spring training games, the 21-year-old gave even more hope for fans with a pair of home runs, a triple, seven RBI, three stolen bases, and .269 average. He did strike out 11 times to just one walk, though. Pache finished last season ranked among the Southern League leaders in extra-base hits (T-2nd, 47), triples (T-2nd, 8), doubles (4th, 28), OPS (6th, .814) and total bases (9th, 186). Over 130 games between Mississippi (104) and Gwinnett (26), Pache hit .277 with 36 doubles, nine triples, 12 home runs, 61 RBI, 50 runs, 43 walks, eight stolen bases, .340 OBP, .462 slugging and .802 OPS. Pache's top month was April batting .321 (27-for-84) with seven doubles, four triples, two home runs, 13 extra-base hits, 11 runs, six walks, four stolen bases, .363 OBP and .934 OPS. Pache was named a Southern League mid-season All-Star after batting .291 over the season's first half with 16 doubles, five triples, nine home runs, 36 RBI, 36 runs, 21 walks, .348 OBP and .854 OPS. Pache had five straight multi-hit games, April 27-May 2, going 10-for-19 with three doubles, a triple, three RBI, and two runs.
OF Drew Waters - The reigning Southern League MVP struggled in spring training, posting just a .167 batting average over 15 games with no extra-base hits, two RBI, and three stolen bases. The more troubling stat was 14 strikeouts to only two walks. Nonetheless, Waters is still one of the most coveted prospects in the game, and won't turn 22 until December 30.
To refresh your memory on just how good he is...Waters became the first M-Braves player to claim the MVP award and first for the franchise since Ryan Klesko and Javy Lopez won league MVP in 1991-92 for the Greenville Braves. Waters was the youngest, at 20, to win MVP since Montgomery's Delmon Young claimed the honor in 2005. Waters became just the second M-Braves player to claim the Southern League batting title, joining Ozzie Albies, who hit .321 in 2016. He became only the fourth in franchise history, joining Doc Estes (1984, .341), Napolean Calzado (2004, .359), and Albies.
In 108 M-Braves games, the 20-year-old finished the season by leading the league in batting average (.319), hits (134), doubles (35), triples (9) and extra-base hits (49). He finished among the top 10 in slugging (2nd, .481), OPS (2nd, .847), total bases (3rd, 202), runs (T-5th, 63) and OBP (8th, .366). Waters became the first player in the Southern League and Double-A baseball to the 100-hit mark on June 30 and the first player in MLB and MiLB to 120 hits on July 13 in his 89th game. The Woodstock, GA native ended the season with 134 games between Mississippi (108), and Gwinnett (26) ranked among the MiLB leaders in doubles (T-3rd, 40), hits (5th, 163), at-bats (6th, 163) and games (T-7th, 134). Overall in 2019, Waters hit .309 (163-for-527) with 40 doubles, nine triples, 56 extra-base hits, seven home runs, 52 RBI, 80 runs, 39 walks, 16 stolen bases, .360 OBP, .459 slugging and .819 OPS. He also tallied a 30-game on-base streak, 18-game hitting streak, and 44 multi-hit games. But, yes Keith Law, drop him out of your top-100 prospects.
INF Braden Shewmake - Last but not least is the 2019 first-round pick out of Texas A&M. On August 16, SShewmake was promoted to Mississippi from Low-A Rome, Atlanta's second first-round pick (21st overall). Shewmake was the first 2019 draft pick to reach Double-A for any club. In 51 games, the Texas A&M product was batting .318 with 18 doubles, two triples, three home runs, 39 RBI, 11 stolen bases, and .389 OBP over 51 games. Atlanta's first selection in 2019 was Baylor catcher Shea Langeliers at ninth overall. He is also in the player pool and was expected to see time in Pearl during the 2020 season. Shewmake hit .217 (10-for-46) with seven runs, one RBI, four walks, and two stolen bases over 14 games for the M-Braves.
The Braves are expected to hold their first workout at Truist Park on July 3. The alternate training site for the Braves is Coolray Field, home of the Gwinnett Stripers. Opening Day is scheduled for July 24.