Power smack five homers in doubleheader sweep
Martin, Sharpe, Mitchell, Watson and Lorenzo go deep in 18-run, 17-hit onslaught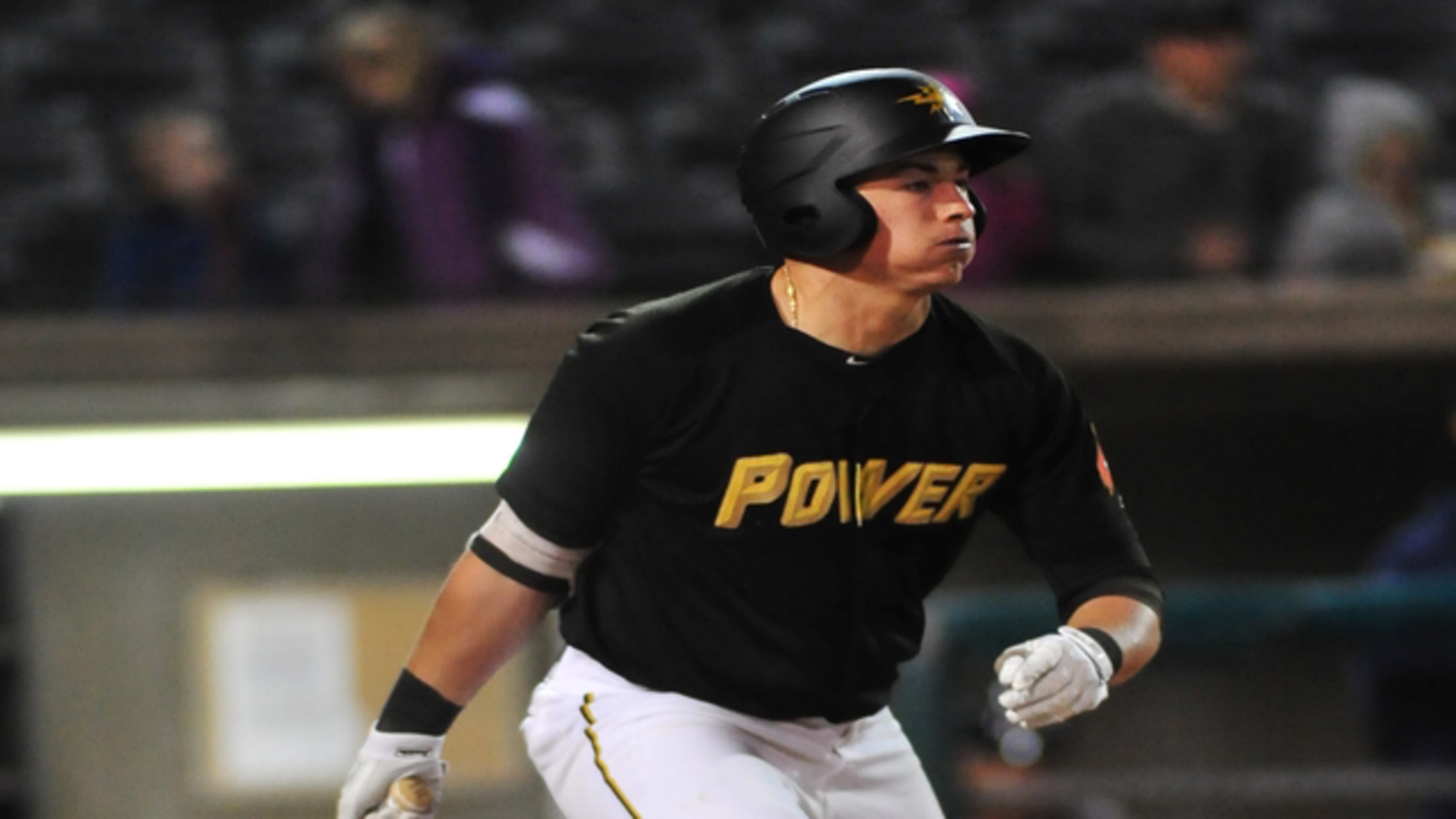 Mason Martin went 2-for-5 with a home run, a double, three RBI and a run scored in the doubleheader. (Sam Santilli)
CHARLESTON, WV (April 8, 2018) - Rafelin Lorenzo, Mason Martin, Calvin Mitchell, Chris Sharpe and Kyle Watson each hit a home run as the West Virginia Power offense combined for 18 runs and 17 hits across a Sunday afternoon doubleheader at Appalachian Power Park, taking game one by a score of 8-7 in
CHARLESTON, WV (April 8, 2018) - Rafelin Lorenzo, Mason Martin, Calvin Mitchell, Chris Sharpe and Kyle Watson each hit a home run as the West Virginia Power offense combined for 18 runs and 17 hits across a Sunday afternoon doubleheader at Appalachian Power Park, taking game one by a score of 8-7 in eight innings and game two in a 10-3 drubbing of the Greenville Drive.
Martin clocked his homer, a two-run shot, in the third inning of game one, while Sharpe stroked his roundtripper, a solo shot, in the fourth against Greenville (2-2) reliever Marcos Lantigua. Mitchell blasted a two-run titanic shot to right-center field in the sixth inning that gave the Power (2-2) a short-lived 7-5 lead, while Watson and Lorenzo hit back-to-back jacks in the third inning of game two off Drive starter Nick Duron (0-1, 18.00).
The Power combined for five home runs in two consecutive games for the first time since August 21 and 23, 2017, when Yoel Gonzalez, Victor Fernandez and Ryan Nagle left the yard at Greenville before Kevin Mahala and Henrry Rosario each went deep two days later against Charleston.
GAME 1 RECAP:
With the score tied at seven in the bottom of the eighth, Brendan Nail (0-1, 0.00) replaced Juan Florentino on the mound for the Drive. Sharpe led off the inning with a sacrifice bunt that pushed Ryan Peurifoy , who started the inning on second per the new MiLB pace of play regulations installed in 2018, to third base. Nail then walked Lolo Sanchez and Mitchell to load the bases for Deon Stafford . Stafford lofted a fly ball to deep left field on the second pitch he saw, scoring Peurifoy from third and giving West Virginia an 8-7 walkoff victory.
The Drive kicked off the scoring in the opening frame, as Kervin Suarez singled on a slow roller to short before swiping second. After Power starter Gavin Wallace retired the next two Greenville batters, Pedro Castellanos hit a grounder to Oneil Cruz that he could not field cleanly, and Suarez raced in to score to make it 1-0 Drive.
West Virginia was able to tie it at one in the bottom half of the inning on a defensive miscue as well, as the Power loaded the bases with two down and Greenville starter Hunter Haworth coughed up a wild pitch that got under the mitt of catcher Samuel Miranda, allowing Stafford to score from third.
The Power tacked on three runs in the third and fourth innings courtesy of Martin and Sharpe's dingers, but the Drive would not go down quietly.The Red Sox Low-A affiliate was able to string together a four-run, four-hit frame in the fifth off Wallace, who was stellar through his first four innings of work on the hill. Prior to Greenville's rally, the Madison, N.J., native had set down 10 of his last 11 batters, including four strikeouts.
Miranda jumpstarted the Drive's offensive surge in the fifth with a single to center, and Suarez followed that up with a full count walk. Cole Brannen poked a double to left to score Miranda, and then promptly scored himself, along with Suarez, on a smoked knock to center by C.J. Chatham to tie the game at four. Two batters later, Everlouis Lozada drove home Chatham with a single to left to give Greenville the lead.
Overall, Wallace spun five innings, allowing five runs (three earned) on six hits with four strikeouts.
West Virginia's offense was not done, however, as Peurifoy began the bottom of the sixth with a walk. After advancing to second on a wild pitch, Sanchez scored him on an RBI double to left to set the stage for Mitchell's blast.
Dylan Prohoroff (1-0, 0.00) earned the game one victory after tossing a spotless eighth frame with one strikeout.
GAME 2 RECAP:
The Power kept their offensive prowess on display in game two, as West Virginia's offense teed off on Duron for six runs on seven hits over three innings, and ultimately built an insurmountable nine-run lead at one point during the contest.
Martin continued his torrid day at the plate with an RBI in the first that scored Dylan Busby to give the Power a 1-0 edge. The 2017 GCL MVP finished the doubleheader going 2-for-5 with a home run, three RBI, a double and a run scored.
West Virginia put together a big inning in the third, scoring five runs and ultimately ending Duron's day at the conclusion of the frame. Mitchell led off the frame by lofting a triple to center and scoring quickly on a wild pitch by Duron to make it 2-0. The next batter, Busby, was issued a free pass, and, after Martin was called out on strikes, Castro cracked a single to left and brought Watson to the dish.
Watson unloaded on a 2-0 pitch to right field, breaking the game open to a 5-0 score. Not to be outdone, Lorenzo took one out to left a few pitches later, giving the Power back-to-back jacks for the first time since Adrian Valerio and Ty Moore accomplished the feat on June 22, 2017, vs. Lexington. In total, eight batters came to the plate in the inning.
Buoyed by what became a seven-run lead for West Virginia, Power starter Evan Piechota (1-0, 1.80) dazzled in his Low-A debut, twirling five innings on the hill and surrendering just one run on seven hits while striking out seven, tying his career-high. Jacob Taylor tossed the final two frames, giving up three hits and two runs while fanning a pair of Greenville batters.
Busby and Castro added RBI knocks in the fourth, while Sharpe and Castro each collected sacrifice flies in the fifth and sixth innings, respectively, to complete West Virginia's offensive attack.
The Power split their season series with the Greenville Drive following today's doubleheader sweep. The two teams will not meet again in the regular season.
West Virginia continues its seven-game homestand on Monday evening as they welcome the Lakewood BlueClaws to town for a three-game series. LHP Braeden Ogle heads to the bump for the Power, while Lakewood sends righty Connor Brogdon to the slab. First pitch is slated for 7:05 p.m., with pregame coverage beginning at 6:45 p.m. on The Jock 1300 and 1340 AM, as well as online at wvpower.com, via the TuneIn Radio App and the MiLB First Pitch App.
Monday marks the first Family Buck Night of the season, with great specials in effect, including $1.00 general admission tickets, $3.00 box seats and $1.00 popcorn, hot dogs and 12-ounce Pepsi beverages available for purchase. For tickets and more information, call the Power at 304-344-2287 or visit wvpower.com.