Power splits doubleheader behind offensive nightcap
Schlabach strikes out a career-best eight batters in 10-1 thrashing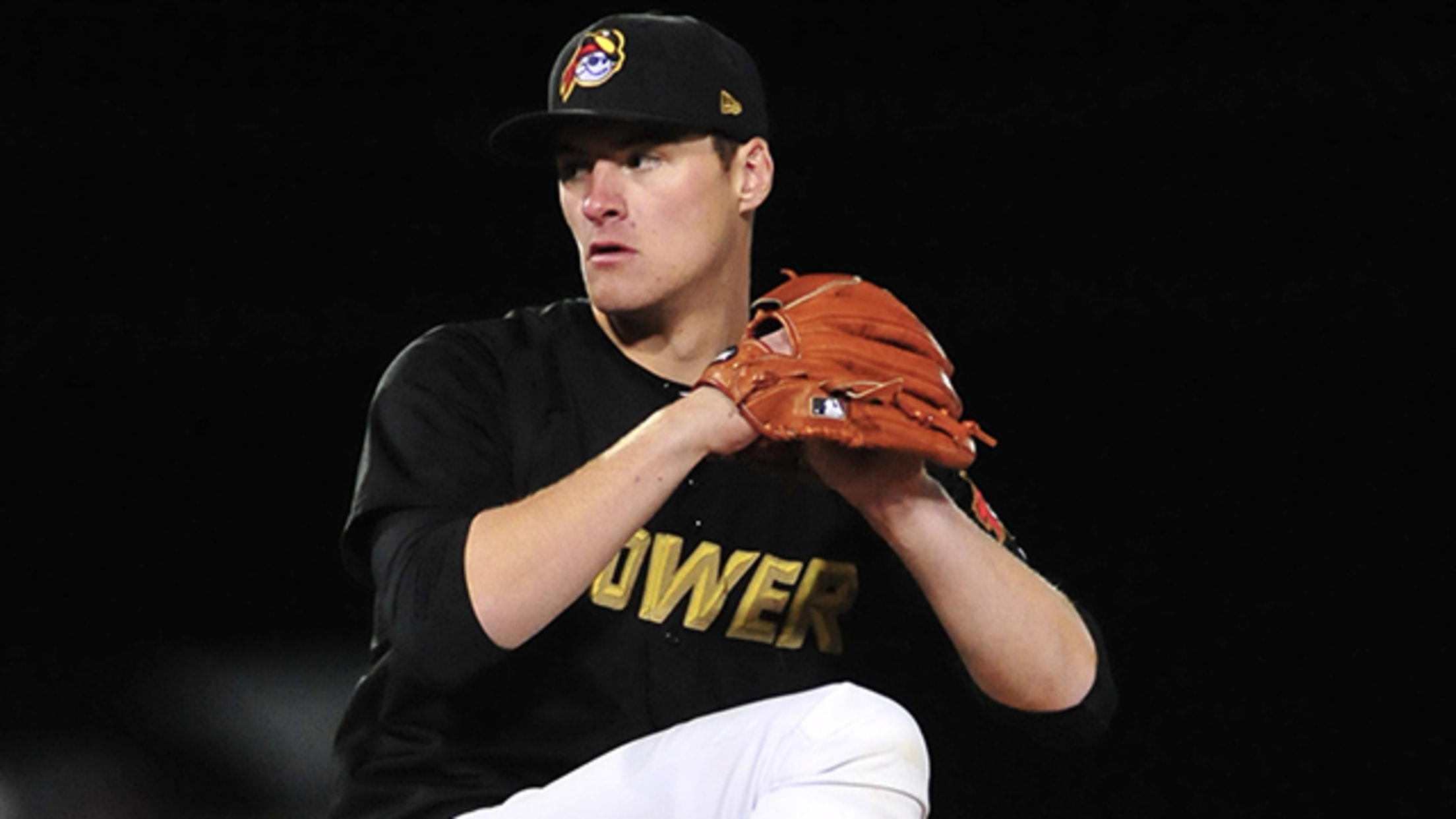 Ike Schlabach tossed five shutout frames in Tuesday's twin bill finale, allowing just four hits in his third win of the year. (Sam Santilli)
CHARLESTON, WV (June 5, 2018)- West Virginia earned a doubleheader split on Tuesday evening thanks to a 10-run, 11-hit offensive explosion in game two, along with a strong start from Ike Schlabach, as the Power took the back half of the twin bill, 10-1, against the Lexington Legends at Appalachian Power
CHARLESTON, WV (June 5, 2018)- West Virginia earned a doubleheader split on Tuesday evening thanks to a 10-run, 11-hit offensive explosion in game two, along with a strong start from Ike Schlabach, as the Power took the back half of the twin bill, 10-1, against the Lexington Legends at Appalachian Power Park.
GAME 1: LEXINGTON 7, WEST VIRGINIA 4 (F/7)
Oneil Cruz smoked his eighth home run of the season and the Power sported an early 3-0 lead through four innings, but the Legends scored seven unanswered runs in the fifth and sixth frames to steal game one of Tuesday's twin bill, 7-4, at Appalachian Power Park.
The Power (26-26) scratched the scoreboard first on Cruz's two-run shot in the third, taking a 2-0 edge. Ben Bengtson scored on Cruz's team-leading eighth long ball after singling to start the inning against Lexington (31-23) starter Carlos Hernandez (3-2).
West Virginia tacked on one more in the fourth as Mason Martin stroked a double to left that plated Deon Stafford and pushed the Power's lead to 3-0.
Lexington fought back against West Virginia starter Max Kranick (0-2), who was phenomenal through the first four innings, holding the Legends to just two hits and striking out four. In the fifth, however, Lexington was able to tie the score at three thanks to an RBI single from Ricky Aracena and a two-run homer from Travis Jones.
The Legends kept rolling in the sixth, as Seuly Matias began the frame with his league-leading 18th home run of the season to give Lexington a 4-3 lead. After Kranick allowed a single to Brewer Hicklen, walked Dennicher Carrasco and hit Marten Gasparini with a pitch to load the bases, he was relieved by Matt Seelinger, who entered with the bases loaded and nobody out.
Seelinger was unable to strand his inherited runners, surrending runs in consecutive at-bats on a fielder's choice by Cristian Perez and another single by Aracena. Perez later scored the final run of the inning on a wild pitch from Seelinger.
Holden Capps came on in the sixth and worked around a two-out triple from Lolo Sanchez, his first of the season, but could not close the door in the seventh inning. With one out in the frame, Calvin Mitchell doubled to center field. After Mitchell was erased from the basepaths on a fielder's choice, Brett Pope singled to put runners on first and second with two outs. Following a mound visit from Lexington's pitching coach, Chris Sharpe closed the deficit to three with a run-scoring single.
That was all West Virginia could muster though, as the Legends brought in their closer, Tyler Zuber, and he struck out Martin to end the game and lock down his seventh save in as many opportunities.
GAME 2: WEST VIRGINIA 10, LEXINGTON 1 (F/7)
The Power offense exploded for its biggest output in nearly a month, including two innings where the entire order came to the plate in a 10-1 victory over Lexington.
West Virginia (27-26) sent 11 men to the plate in the second inning. The frame started with a walk to Mason Martin. After that, Ben Bengtson and John Bormann each reached on errors from Lexington's second baseman, Ricky Aracena, and their shortstop, Matt Morales, respectively. Legends starter Collin Snider (3-4) then hit Ryan Peurifoy on his first pitch with the bases loaded to score Martin for the first run of the ballgame. Next, Kyle Watson roped a two-run double into the right-center field gap, and Chris Sharpe brought in Peurifoy and Watson when he blooped a ground-rule double into the grounds crew area in right field.
The damage was not done, as Oneil Cruz singled to put runners at first and third. Brett Pope then drew a one-out walk to send up Calvin Mitchell as the ninth batter in the inning. Mitchell stroked a single to left center that brought in Sharpe from third for the sixth run of the frame and ended Snider's evening after just 1.1 innings.
In the fourth, the Power sent nine batters to the plate, tacking on four more runs, this time against Lexington (31-24) reliever Robert Garcia. It all began with a lead-off single from Sharpe. Cruz then drove him in with a double before being gunned down trying to stretch it into a triple. After Pope struck out, Mitchell singled and Martin reached on error before Bengtson ripped a two-run double that scored Mitchell and Martin and extended the lead to 9-0. Bormann singled in Bengtson to cap the frame, recording his first RBI in his second tenure as a member of the West Virginia Power.
Schlabach (3-1) spun five scoreless innings for West Virginia, punching out a career-high eight batters. The lefty only allowed four hits over 82 pitches (58 for strikes) in his fifth spot start of the season.
Beau Sulser and Joel Cesar each tossed an inning out of the bullpen, with the Legends tallying their sole run in the top of the sixth off Sulser. Nick Pratto slapped a single before Brewer Hicklen doubled and Dennicher Carrasco scored Pratto with a base knock of his own.
The Power continues their series against the Legends Wednesday evening, with first pitch set for 7:05 p.m. from Appalachian Power Park. LHP Domingo Robles (3-4, 3.61 ERA) takes the hill for West Virginia, while Lexington's starter has yet to be announced. Pregame coverage begins at 6:45 p.m. on The Jock 1300 and 1340 AM, as well as online at www.wvpower.com and via the TuneIn Radio App and MiLB First Pitch App.
West Virginia's first June homestand continues with Pets in the Park Night Wednesday. Bring you dog, cat, snake, fish or any pet to Appalachian Power Park for our special night. A pet pass is $3.00 for the night, and all proceeds from the pet passes will go to animal-related charities. For tickets and more information, call the Power at 304-344-2287 or visit wvpower.com.