Prospect Q&A: Rockies catcher Romo
No. 76 overall prospect on learning about himself, pitching staffs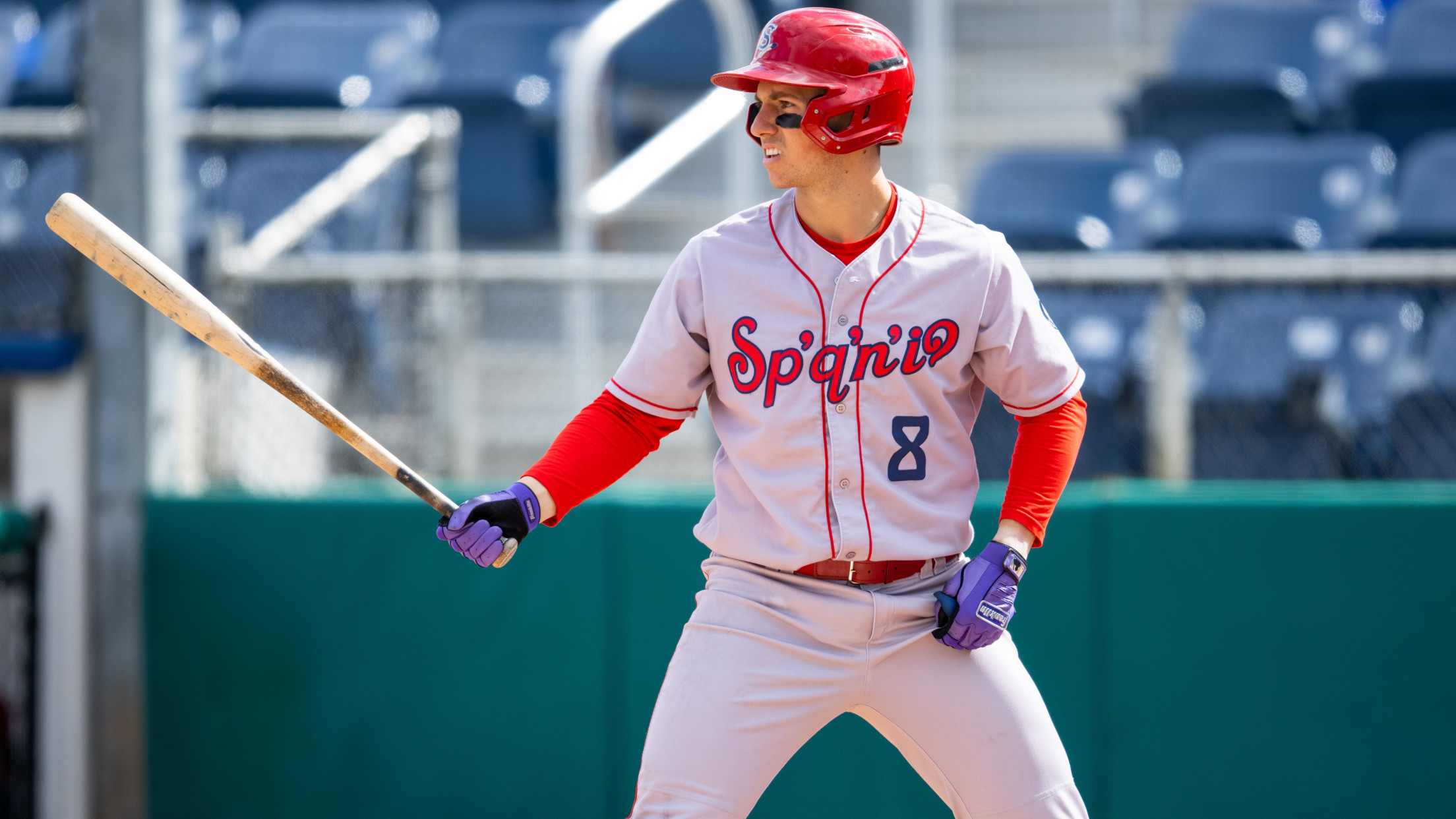 Drew Romo batted .314 with 25 extra-base hits in his first Minor League season with Low-A Fresno. (Shari Sommerfeld/MiLB.com)
In his second full season, Drew Romo is proving that his game is not one dimensional. Coming out of the Draft in 2020, the consensus opinion of Romo was that the Rockies had selected a glove-first catcher whose bat needed to catch up with his defensive talents. But Colorado's third-ranked
In his second full season, Drew Romo is proving that his game is not one dimensional.
Coming out of the Draft in 2020, the consensus opinion of Romo was that the Rockies had selected a glove-first catcher whose bat needed to catch up with his defensive talents. But Colorado's third-ranked prospect has been more than proficient at the plate in the Minors.
The 6-foot-1, 205-pound switch-hitter batted .314 with 25 extra-base hits and 47 RBIs in 78 games with Low-A Fresno last year. He's played nearly as many games already this season for High-A Spokane and has remained a steady hitter, matching last season's RBI output in 266 at-bats while batting .289/.352/.425 with five homers. He has also worn out lefties, hitting .323 from the right side.
That production hasn't come at the expense of his prowess behind the plate either, as the 20-year-old remains among the better defensive catching prospects in the Minors and a favorite for just about every pitching staff with which he's worked. In the latest Prospect Q&A, Romo talks about the steps he's taken to remain consistent at the plate and what it takes to study a pitching staff. The No. 76 overall prospect also discusses his game day routines and explains why Colin Simpson is known as 'The Oracle' around the Spokane clubhouse.
MiLB.com: How would you review the first half of your season?
Drew Romo: I feel like I've learned a lot about myself. I think the numbers have shown that I've done pretty solid, but I know that, me personally, I can do a lot better. And more importantly, I know our team can do a lot better. I think we have too much talent to be just above .500. I think everybody on the team would agree with that, too. For me personally, I've just been learning so may things about myself, like why I'm playing the game and what my goal is each and every day and what my purpose is. And for me that's my faith. The most important thing is my faith. That's what helps get me through a long, tough season. ... I kind of had a little rut a little bit into the season. Just kind of like, not really feeling like myself, not really feeling my best. And so, once I kind of figured out that I want to play for God and live through my faith, that's really helped me.
MiLB.com: When it comes to learning about yourself, what have you realized about your game?
Romo: When it comes to baseball, I think making just small, minor changes to my routine, that's part of the bigger thing. Finding out what my routine is every day. How I'm warming up. How I'm getting ready to attack the day. In the gym, what am I doing? In the cage -- my hitting routine. And then, on the field, my catching and throwing. Just finding out what routine is helping me be the best player I can be.
MiLB.com: What does that routine look like?
Romo: Every day I come to the facility, I'll roll out, I'll get the blood flowing, I'll stretch, start moving around. I'll get a little lift in -- lower body, upper body. And then I'll go in the cage. I like doing one round of tee, one round of flips and then I'll do one round of overhand toss. And then after that, I'll go on the field and do my defense, stretch, throw, sometimes catch bullpens. And then we'll go to defense and do throw-downs or plays at the plate and stuff like that. And then after practice, I get ready for the game. I'll stretch, I'll run sprints, I'll do bands for my arm care. And then for catching, A.J. Lewis, who is not with our team right now, but he's been with us for most of the season. He was one of the other catchers on the team. He helped me with my routine before the game, and we'll go through some blocks, go through some exchanges and transfers. And then I'll warm up with the pitcher, and then it's go time. Warm them up in the bullpen and go play the game.
MiLB.com: You hit the ball really well last year. What did you learn about yourself in your first season?
Romo: I think it's so mental. It's all confidence. Like, going into the Draft, there were a lot of people doubting my hitting, which was weird for me because I've always had confidence in my hitting. I've always known I can do it. So that first season, that wasn't a surprise to me. I've always known what I've been capable of. I think learning an approach has been the biggest thing for me. My hitting coaches have been really helpful with that and then just like a couple physical things, too. Small things like hitting the ball more out in front. That helps me hit the ball harder and helps me with my contact point. And then all throughout the offseason and heading into this season, I just focused on that same exact stuff and just building off it.
Spokane Rockies(NWL) Drew Romo "slam dunking" the high stri-ball. #catcherreceiving pic.twitter.com/bHZj3OKQ6r

— Jerry Weinstein (@JWonCATCHING) July 1, 2022
MiLB.com: Could you expand on what you learned about your approach a little further?
Romo: Yeah, I don't really want to give it -- I don't know what pitchers are listening to this. But, I think, like when I was in high school, I didn't really have a solid approach. I was always like a see-ball-hit-ball type of guy -- which is hard in high school because sometimes you face a guy throwing 90 [mph] with a good slider, and other times you're facing a guy throwing 78 [mph] and kind of just lobbing up pitches. So, it's hard to have a good routine and a good approach. But once you get to pro ball, most of these pitchers look pretty similar with that they have. Three-pitch guys -- fastball, breaking ball, changeup. I kind of formulated a good approach. I trust my eyes, I trust my swing -- a big thing for me is just trusting. Trust all the hard work I put in. Trust God. And then I just go out there and play.
MiLB.com: You've received a lot of praise for the way you work with pitchers. What goes into studying your own pitchers?
Romo: I always wanted to be a catcher. I've always wanted to be that leader behind the plate. That's just how it was when I was a kid and it just kind of stuck with me. And then when it comes to helping my pitchers, it's hard because you really got to be focused and engaged behind the plate. If you're worried about your at-bats, sometimes you won't be worried about the pitcher and you won't see what he's doing, so you cant help him. Or if you're worried about -- sometimes when I'm catching in the game, I'll be worried about making the pitch look like a strike or I'll be focused on blocking or I'll be focused on throwing a runner out. All those things can kind of take away from studying your pitcher. When I'm in the bullpen, I really try and focus hard on watching the pitcher and seeing how I can help him and seeing what advice and what tips I can give the pitcher on how he can get better.
MiLB.com: How did you realize this approach to your own staff would work for you?
Romo: I just learned it over the years. There will be times that I find myself catching a pitcher, and I won't be focused. I won't be present. I'll be thinking about something else. I'll be thinking about something that doesn't matter in the moment. And then I'll get done catching that pitch and I'll think to myself that I should have been more engaged and more helpful. I don't want to be a disservice to my pitcher. I want to always be helpful. A catcher is a servant. A catcher is always doing what he can for his pitcher. So, when you're not focused and you're not present, sometimes it takes away from that.
MiLB.com: You have a very interesting teammate we're all curious about, and that's the back-flipping Colin Simpson.
Romo: I got a lot of scoop on Collin, so what do you want to know?
MiLB.com: Everything.
Romo: It seems to me like when he was a kid, he did a lot of things. Like, for example, all the guys on our team, we call him 'The Oracle.' He knows everything. He knows the best way to fish. He knows how to do gymnastics. He knows how to flip. He knows the best way to hit. He knows the best way to throw. How to get the best spin. He knows every single thing about everything. So, you can never get into an argument with the guy because he knows everything. That's one of the funniest things about him. He's a man of many talents.
MiLB.com: What's something within your game that you would like to see be a point of emphasis in the second half?
Romo: There's so many things, really. A point of emphasis. I can't control the numbers, I can't control what happens on the field. But what I do want to focus on is everyday, showing up to the field and being the best player I can be. I don't want to waste any day, I don't want to have a bad, negative mentality every day. I want to be grateful. I want to come to the ballpark every day with the mindset that I'm going to dominate. I'm going to get better.