Prospect Roundup: Games of Aug. 10
Braves' Allard hits double-digits in K's; Tellez enjoys perfect day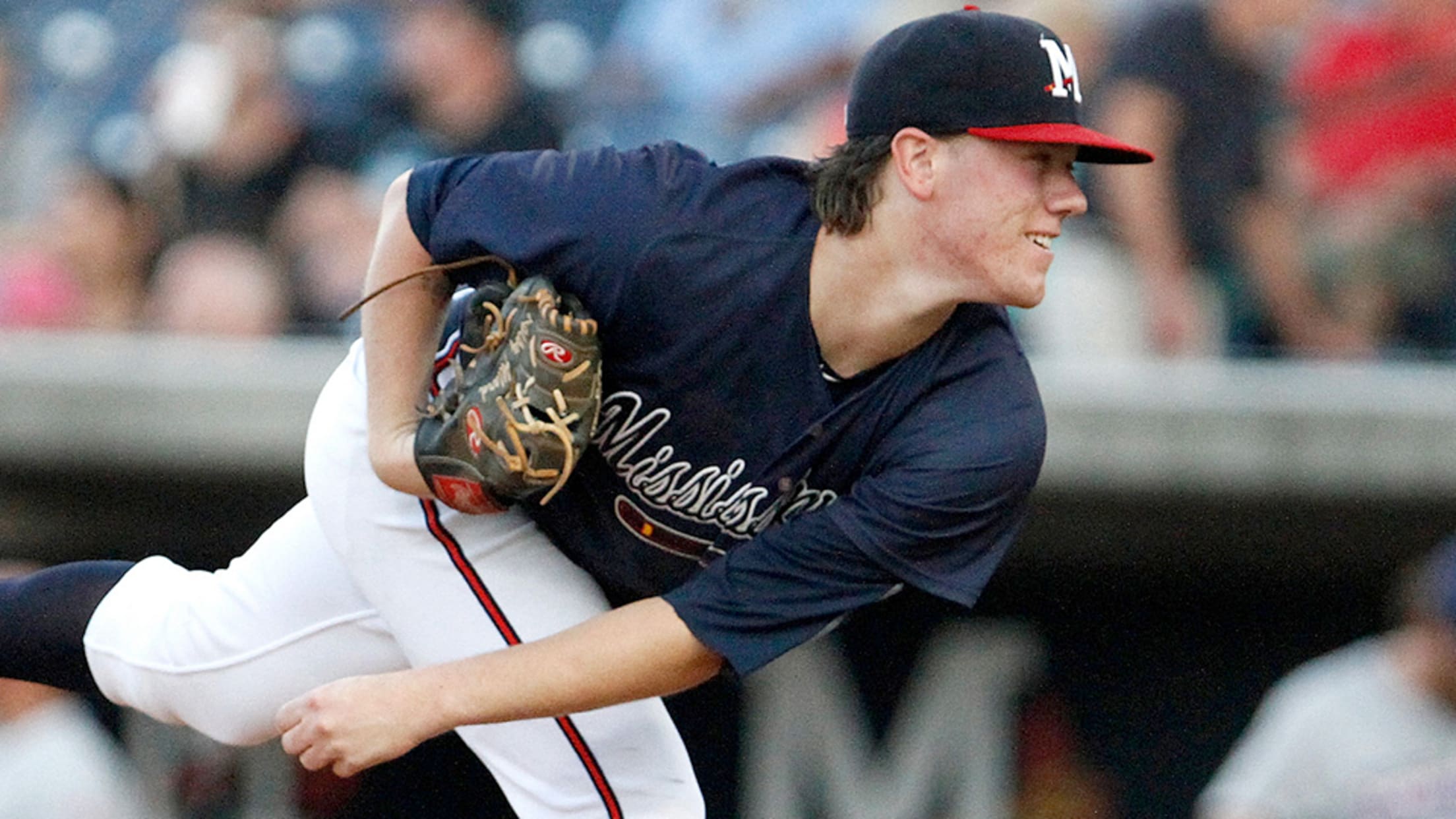 Kolby Allard has already thrown 35 2/3 more innings in the Minors this season than he did in 2016. (Ed Gardner/MiLB.com)
Blue Jays 1B Rowdy Tellez, Triple-A Buffalo: 3-for-3, 2B, 3 RBI, 2 BB -- After two dreadful months, the Blue Jays' No. 13 prospect is catching fire in August. Having reached base in all five of his plate appearances Thursday, Tellez has hits in all nine of his games this
Blue Jays 1B Rowdy Tellez, Triple-A Buffalo: 3-for-3, 2B, 3 RBI, 2 BB -- After two dreadful months, the Blue Jays' No. 13 prospect is catching fire in August. Having reached base in all five of his plate appearances Thursday, Tellez has hits in all nine of his games this month and multiple hits in five of them. He's gone 15-for-33 with three doubles, eight RBIs and four walks in those nine games. This hot run was sorely needed for the 22-year-old first baseman, who hit just .175 over 47 games in June and July and still only owns a .223/.293/.341 line over 101 games. His 73 wRC+ ranks 66th out of 68 qualified hitters in the International League. He doesn't turn 23 until next March, so he's still ahead of the age curve, making a likely repeat in 2018 not the worst thing in the world. Tellez will be eligible for the Rule 5 Draft in December, however, and a hot finish may be necessary for him to earn a 40-man roster spot with the Jays.
Yankees RHP Domingo Germán, Triple-A Scranton/Wilkes-Barre: 6 IP, 3 H, 0 R, 2 BB, 8 K, 90 pitches, 53 strikes -- German has worked his way to the No. 22 ranking in a crowded Yankees system and is one of the Scranton/Wilkes-Barre arms on call should the big club need help. Following Thursday's start, he owns a 2.89 ERA and 1.00 WHIP with 57 strikeouts and 15 walks in 53 innings with the RailRiders. He made five appearances out of the bullpen for the Yankees in June and July with mixed results (3.38 ERA, 11 strikeouts, seven walks in 10 2/3 innings) but has the stuff to work as a starter. This is the 25-year-old right-hander's first fully healthy season since undergoing Tommy John surgery in 2015, so how he'll hold up the rest of the way remains to be seen. His mid-90's fastball and impressive control will at least get him another look out of the Bronx bullpen in September.
Braves LHP Kolby Allard, Double-A Mississippi: 6 IP, 5 H, 2 R, 1 ER, 2 BB, 10 K, 93 pitches, 62 strikes -- The Braves' No. 3 prospect turns 20 on Sunday, making this his last start as a teenager. He made it a good one with his first double-digit strikeout game since May 4. It's important to remember that Allard has been playing this season as a 19-year-old in Double-A -- his 3.50 ERA, 3.73 FIP and 19.3 percent strikeout rate don't stand out on their own, but they're remarkable for a left-hander who was one of two teenagers to start the season in the Southern League. (Teammate Mike Soroka was of course the other.) He's moved up to the No. 25 overall spot in MLB.com's prospect rankings based on both how he's held up over 123 1/3 innings at Double-A and for his three above-average pitches in his fastball, curveball and changeup. Allard remains the most impressive arm in Atlanta's deep core of pitching prospects, and a potential 2018 Major League debut looks increasingly likely.
Astros OF/1B Yordan Alvarez, Class A Advanced Buies Creek: 4-for-5, 2B, 4 RBI, R, SB -- The Astros' No. 6 prospect was one of his system's most impressive hitters in the first half of the season. It looks like he's now cracked Class A Advanced as well. After hitting .234 in his first 30 games with Buies Creek, Alvarez is 11-fo-22 with a double and seven RBIs over his last five games. He now owns a .278/.344/.383 line with one homer, two triples and seven doubles in 35 contests since being promoted from Class A Quad Cities on June 23. Acquired from the Dodgers before he'd even played a single pro game, Alvarez has proven to be a plus hitter and should develop more power from his 6-foot-5 frame. Splitting time between first base and left field this season, his defensive position remains up in the air, but he's increasingly showing that his bat could play anywhere.
Indians LHP Brady Aiken, Class A Lake County: 7 IP, 1 H, 1 R, 1 ER, 4 BB, 3 K, 1 HR, 87 pitches, 48 strikes -- This was the longest outing of the No. 25 Indians prospect's career, beating out the 6 1/3 frames he threw on June 9. It may have also been the best. The only damage came from a home run by Lansing outfielder Edward Olivares in the sixth inning of Lake County's 7-1 win. The gem couldn't have come at a better time for Aiken, who had allowed 13 earned runs over five combined innings in his previous two outings. Minor issues with Aiken's start remain -- he walked more batters than he struck out -- but it was a positive development for the former No. 1 overall pick, who owns a 4.82 ERA and 1.80 WHIP with 70 strikeouts and 85 walks in 112 innings with Lake County this season. His control has been inconsistent, which will have to improve if he's to live up to his pedigree as a two-time first-round pick.
Sam Dykstra is a reporter for MiLB.com. Follow and interact with him on Twitter, @SamDykstraMiLB.