Prospect Roundup: Games of Aug. 16
Hansen climbs leaderboard with 11 K's; Littell picks up 17th win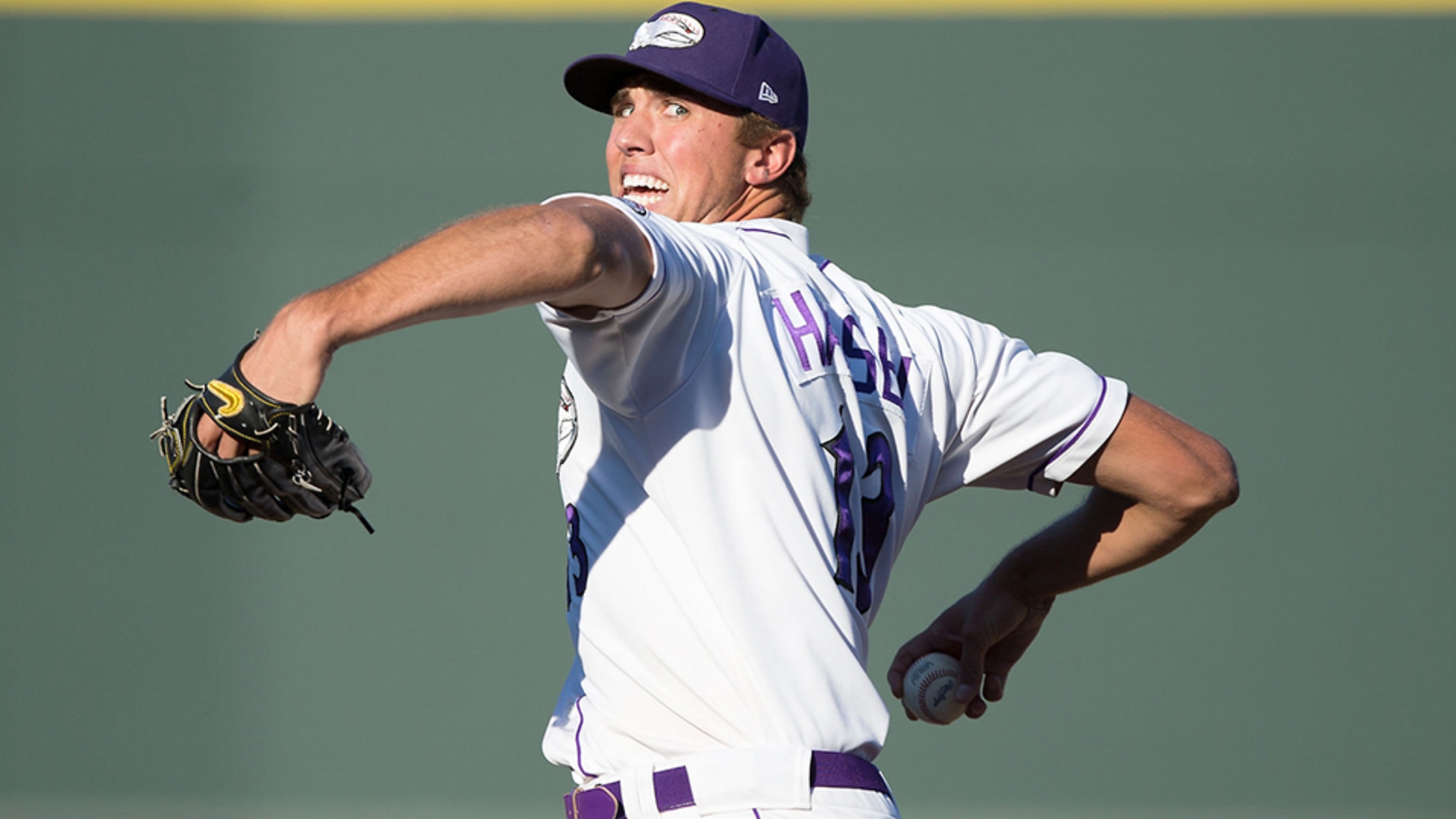 Alec Hansen has struck out 32 percent of the batters he's faced during the 2017 season. (Brian Westerholt/Four Seam Images)
White Sox RHP Lucas Giolito, Triple-A Charlotte: 6 IP, 7 H, 0 R, 1 BB, 7 K, 96 pitches, 63 strikes -- A roller-coaster season has taken a positive turn for the No. 7 White Sox prospect. Giolito did not allow an earned run for the third time in his
White Sox RHP Lucas Giolito, Triple-A Charlotte: 6 IP, 7 H, 0 R, 1 BB, 7 K, 96 pitches, 63 strikes -- A roller-coaster season has taken a positive turn for the No. 7 White Sox prospect. Giolito did not allow an earned run for the third time in his last five starts Wednesday, dropping his ERA to a season-low 4.48. Over those five starts, the 23-year-old right-hander owns a 1.71 ERA with 28 strikeouts and 11 walks over 31 2/3 innings. What's more, he walked the fewest batters in a start since July 2. MLB.com's No. 59 overall prospect has been battling mechanical changes over the past two seasons, but he's still got two plus pitches in his fastball and curve and an above-average changeup. If things are indeed clicking, he still has a chance to be a dominant starter in the Majors. The White Sox rewarded former No. 6 prospect Reynaldo López, who also came over from the Nationals for Adam Eaton last offseason, with a Major League callup last Friday after he showed improvements in Charlotte, so there's hope Giolito could receive similar treatment, even if his numbers for the season aren't the rosiest.
Rangers OF Scott Heineman, Double-A Frisco: 4-for-4, 2 2B, RBI, 3 R, BB -- After hitting .303 with 17 homers and 30 steals at Class A Advanced High Desert in 2016, the Rangers' No. 23 prospect hasn't exactly followed that up with a banner year in Double-A, especially in the second half, but he provided hope for a solid finish Wednesday. Reaching in all five of his plate appearances, Heineman set a season high for times on base in the Roughriders' 10-9 loss. The 24-year-old outfielder very much needed this type of performance after entering the contest 4-for-33 (.121) with 10 strikeouts in his previous nine games. Heineman is hitting .260/.344/.396 with eight homers and 11 steals over 99 games this season. That still results in a 109 wRC+ by Texas League standards, but after hitting .234/.328/.348 over 41 games in the second half, the 2015 11th-rounder is hoping Wednesday helps propel him toward a stronger August that will leave a better taste in his mouth entering the offseason.
Twins RHP Zack Littell, Double-A Chattanooga: 6 IP, 5 H, 1 R, 1 ER, 2 BB, 4 K, 89 pitches, 50 strikes -- There are many better ways to judge a pitcher than win-loss record, but it's tough not to take notice of the one on Littell's resume. The 21-year-old right-hander improved to 17-1 over 24 appearances with his latest gem Wednesday. The loss came April 21 for Class A Advanced Tampa in the Yankees system. No one else in the Minors has more than 14 wins. Of course, a pitcher can't pile up all those victories unless some other metrics are also impressive, and that's been the case for Littell, who is the Twins' No. 16 prospect after being acquired from New York for Jaime García. Between Class A Advanced and Double-A, Littell owns a 2.14 ERA (10th among full-season hurlers) with 127 strikeouts and only 32 walks in 139 innings. He has two above-average pitches in his fastball and curve, but it's the control that allows him to go deep enough into games to earn all those victories.
White Sox RHP Alec Hansen, Class A Advanced Winston-Salem: 7 IP, 3 H, 1 R, 1 ER, 1 BB, 11 K, 92 pitches, 63 strikes -- Any time Hansen takes the mound, the K's seem to pile up. The No. 8 White Sox prospect reached double-digit strikeouts for the third time in his last four starts and sixth time in 23 outings on the season. His 166 strikeouts in 126 innings between Class A Kannapolis and Winston-Salem trail only Triple-A Oklahoma City's Wilmer Font (168) for the Minor League lead. A second-round pick last year out of the University of Oklahoma, Hansen racks up the strikeouts thanks to a mid-to-upper-90s fastball, a plus slider and a solid curveball. The only reason he's not yet a top-100 prospect is concerns about his control, but he's made some strides there with his walk rate dropping from 9.7 percent in 2016 to 8.3 this season.
D-backs RHP Jose Almonte, Class A Advanced Visalia: 6 IP, 1 H, 0 R, 1 BB, 3 K, 1 HBP, 73 pitches, 47 strikes -- With 147 strikeouts in 126 1/3 innings, Almonte sits only seven spots below Hansen on the Minor League leaderboard, but on Wednesday, he showed he doesn't need punchouts to be effective. Acquired from the Red Sox last season for reliever Brad Ziegler, the 21-year-old right-hander's first season in the D-backs system has been productive, despite the fact that he's been in the California League for its duration. He leads the Class A Advanced circuit with a 26.4 percent strikeout rate and sits fourth with a 3.63 ERA over 24 starts. Arizona's No. 26 prospect struggled earlier in the season with his control but has also calmed that down, as he showed Wednesday with just one free pass. He could climb higher in the ranks this offseason, especially if his velocity spike continues the deeper he works into August and September.
Sam Dykstra is a reporter for MiLB.com. Follow and interact with him on Twitter, @SamDykstraMiLB.