Prospect Roundup: Games of April 16
Dodgers' Bellinger, Astros' Tucker stay hot with homers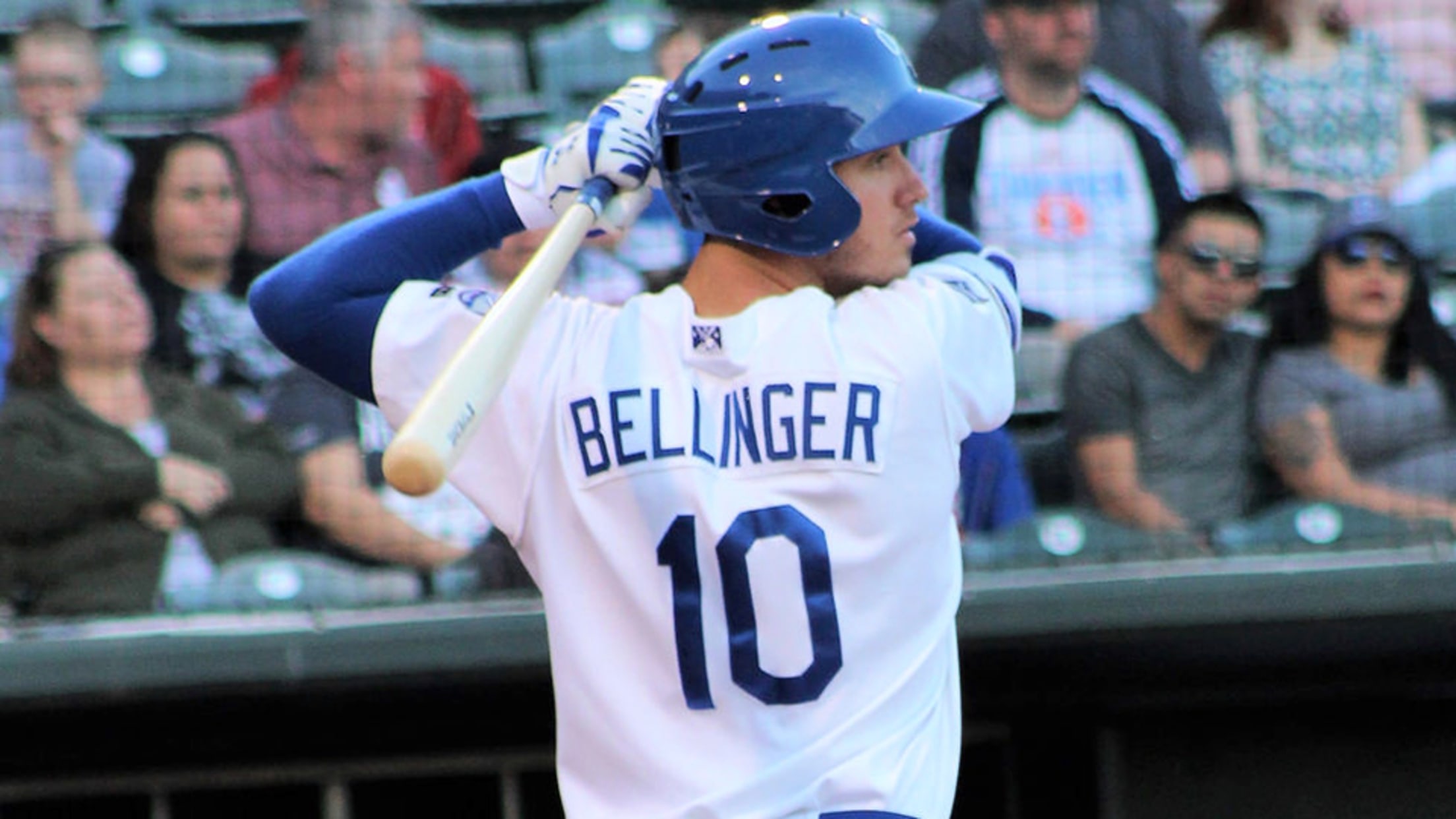 Cody Bellinger's three home runs in 10 games are tied for fourth in the Pacific Coast League. (Walter Barnard/MiLB.com)
Dodgers 1B Cody Bellinger, Triple-A Oklahoma City: 2-for-3, HR, 2 RBI, 2 R, BB, K -- With Corey Seager and Julio Urías graduating last season, all eyes have turned to Bellinger as the next big Dodgers youngster to climb to the Majors, and MLB.com's No. 10 overall prospect hasn't disappointed. Following Sunday's
Dodgers 1B Cody Bellinger, Triple-A Oklahoma City: 2-for-3, HR, 2 RBI, 2 R, BB, K -- With Corey Seager and Julio Urías graduating last season, all eyes have turned to Bellinger as the next big Dodgers youngster to climb to the Majors, and MLB.com's No. 10 overall prospect hasn't disappointed. Following Sunday's showing, the 21-year-old, left-handed slugger has a .395/.465/.737 line with three homers, four doubles, 11 RBIs and four steals in 10 games for Oklahoma City. It will be interesting to watch Bellinger's defensive positioning over the coming weeks. (He's made all but one start at first base with the other coming in center field on Saturday.) Should he get more time in the outfield, the calls for him to join Los Angeles -- which is down two outfielders in the injured Andre Ethier and Franklin Gutierrez -- will only get louder. Until then, he's stuck behind Adrián González and might have to carry his hot streak for a few months before breaking down the door to the Majors.
Mariners RHP Chase De Jong, Triple-A Tacoma: 5 IP, 5 H, 1 R, 1 ER, 2 BB, 6 K, 1 HR, 94 pitches, 64 strikes -- Moving from a current Dodgers prospect to a former one. De Jong, acquired by the Mariners in March, didn't have a memorable start to the season when he allowed a three-run homer to George Springer as an MLB reliever on April 5 while replacing Dillon Overton who was on paternity leave, but has done much better since returning to a starting role in the Pacific Coast League. Seattle's No. 14 prospect has allowed only two earned runs -- both on solo homers -- while striking out 10 in 10 1/3 innings over his first two starts with Tacoma. He's had issues with control and command at times and needed 94 pitches to get through five innings Sunday. De Jong hasn't had major issues with that in the past, however, so expect him to iron those out as he continues to gain experience at Triple-A. He remains a depth option for Seattle right now and should get a chance to bring down that 40.50 big league ERA in time.
D-backs LHP Alex Young, Double-A Jackson: 5 IP, 3 H, 0 R, 3 BB, 2 K, 1 HBP, 76 pitches, 41 strikes -- The D-backs' No. 11 prospect was efficient, relying on contact to get through his first scoreless outing of 2017. That's been the case before. Young averaged only 7.1 K/9 over 118 2/3 innings last season at Class A Advanced Visalia and Class A Kane County, making it unlikely he'd rack up strikeouts after the jump to Double-A. But as good as he's been in allowing just one earned run over his first 10 innings for Jackson, Young has exhibited the classic signs of a pitcher who could be in for a wakeup call. His 5.06 FIP through two starts is likely to catch up to him, especially as the .241 BABIP normalizes. If the 23-year-old left-hander is going to find consistent success against Double-A hitters, he'll have to miss more bats or, at the very least, improve his 5/5 K/BB ratio.
Astros OF Kyle Tucker, Class A Advanced Buies Creek: 1-for-4, HR, 2 RBI, R, 3 K -- The Astros' No. 2 prospect followed up his seven-RBI performance Saturday by going deep again Sunday. His nine extra-base hits (three homers, one triple, five doubles) over his first 10 games with Buies Creek lead Class A Advanced hitters and is tied for third among all Minor Leaguers. That power jump has also brought more K's with Tucker's strikeout rate jumping from 16.3 percent over a full season in 2016 to 26.2 in the first week-plus of this season. That could be just small-sample noise, but it could also speak to a more aggressive approach as MLB.com's No. 32 overall prospect tries to tap into his above-average power a bit more.
Tigers RHP Beau Burrows, Class A Advanced Lakeland: 5 IP, 4 H, 0 R, 1 BB, 4 K, 83 pitches, 56 strikes -- The Tigers' No. 3 prospect has had little issue adjusting to Class A Advanced. Through three starts with Lakeland, Burrows has allowed only two earned runs on 13 hits and four walks while striking out 13 in 15 1/3 innings. Detroit will take the punchouts after the 20-year-old right-hander averaged only 6.2 K/9 in 97 innings for Class A West Michigan during his first full season in 2016. The real test might deeper into the season when the 20-year-old approaches triple-digit innings for the first time, but all involved should be encouraged by the early returns.
Sam Dykstra is a reporter for MiLB.com. Follow and interact with him on Twitter, @SamDykstraMiLB.