Prospect Roundup: Games of April 24
Duplantier extends streak without earned run to 20 1/3 frames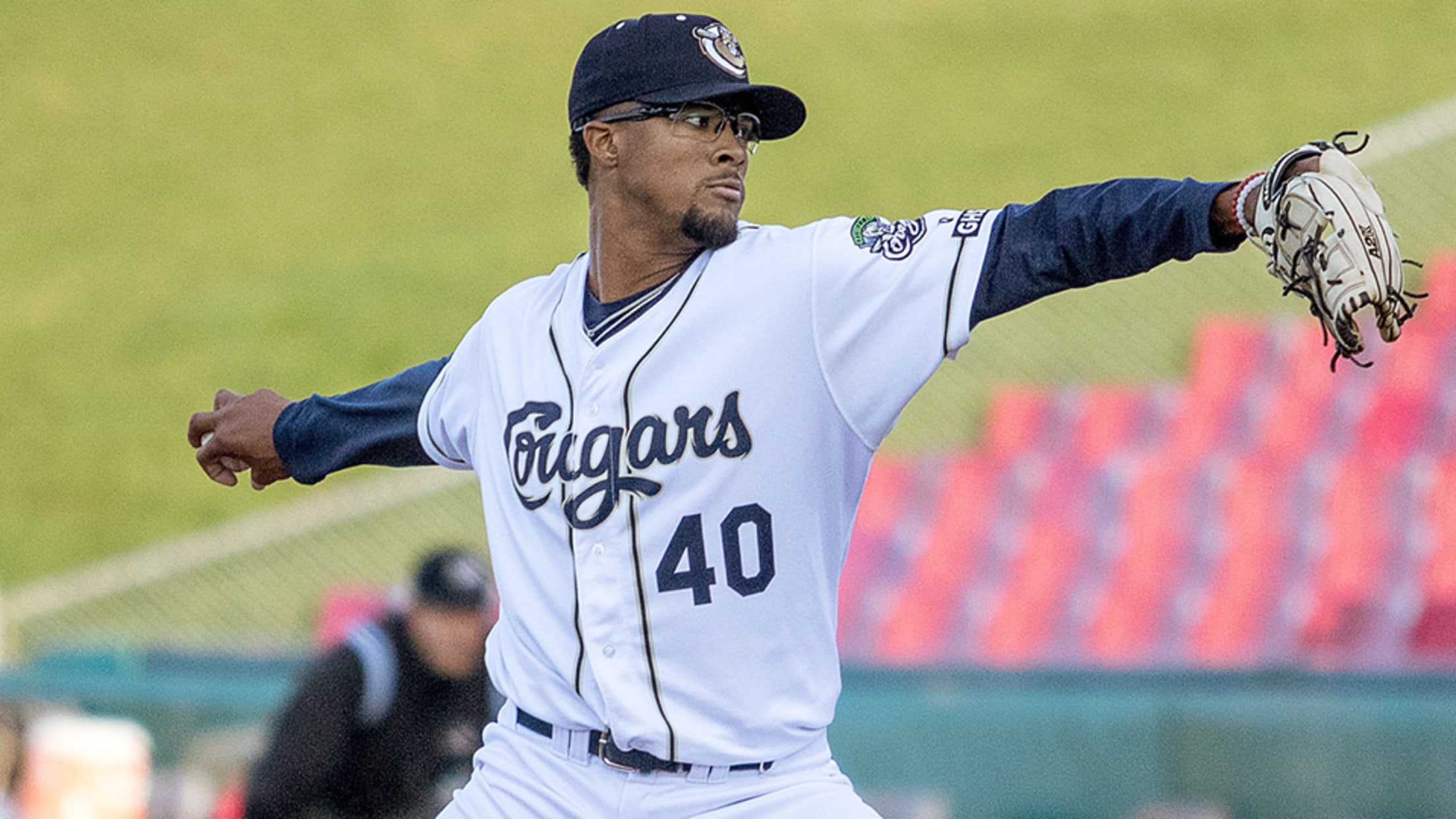 D-backs No. 8 prospect Jon Duplantier ranks second in the Midwest League with 28 strikeouts in 20 1/3 innings. (Kane County Cougars)
Athletics SS Franklin Barreto, Triple-A Nashville: 3-for-5, RBI -- The A's top prospect notched his fourth game with three hits or more and bumped his batting average to .352 through 18 contests. Despite entering the season as the second-youngest player in the PCL, the 21-year-old infielder leads all Nashville hitters with
Athletics SS Franklin Barreto, Triple-A Nashville: 3-for-5, RBI -- The A's top prospect notched his fourth game with three hits or more and bumped his batting average to .352 through 18 contests. Despite entering the season as the second-youngest player in the PCL, the 21-year-old infielder leads all Nashville hitters with a .949 OPS, but there are signs that his hot start is not sustainable. Barreto's .478 BABIP can't be kept up long term -- even for a player who regularly produces BABIP's north of .300 -- and his 24 strikeouts in 71 plate appearances (33.8 percent K rate) are notable after he fanned in only 17.9 percent of his plate appearances last season between Nashville and Double-A Midland. At his age, some struggles were bound to come at Triple-A, and how he responds to the coming normalization of his numbers will speak volumes about his Major League readiness.
Yankees RHP Chance Adams, Double-A Trenton: 5 2/3 IP, 3 H, 0 R, 3 BB, 4 K, 95 pitches, 53 strikes -- The Yankees' No. 7 prospect is looking like a pitcher who won't be long for the Eastern League. Adams has opened the season with a 0.82 ERA, 1.05 WHIP, .165 average-against and 22 strikeouts in 22 innings, following Monday's gem at New Hampshire. Dating back to last season, he is 11-1 with a 1.77 ERA, 0.89 WHIP and 93 strikeouts in 91 2/3 Double-A innings. The only thing holding him back might be control issues -- he's walked 10 batters in 22 frames this season and hasn't yet reached the sixth inning, despite throwing at least 94 pitches in his last three starts. That hasn't typically been a problem as Adams has averaged 2.8 BB/9 during his Minor League career, so it's a good bet that he can iron those out. With the way he's missed bats early on, thanks to an above-average fastball, slider and changeup mix, the 22-year-old right-hander should be challenged before long with a move to Triple-A.
Tigers RHP Myles Jaye, Double-A Erie: 6 IP, 4 H, 0 R, 1 BB, 7 K, 89 pitches, 51 strikes -- Jaye has made at least one Double-A start in each of the last five seasons, and like Adams, he's pitching like a guy who's ready to see Triple-A. With Monday's outing, he dropped his ERA to 1.93 with 14 strikeouts and only two walks in 14 innings. The Tigers' No. 16 prospect actually finished 2016 with Triple-A Toledo and didn't fare poorly with a 3.69 ERA, 1.08 WHIP and 31 strikeouts in 39 innings, making his season-opening assignment back to the Eastern League somewhat of a head-scratcher. As good as his numbers have been, though, the 25-year-old right-hander pitched past the fifth inning for the first time in 2017 on Monday. A few more deeper starts like that, and he should be back with the Mud Hens in the first half of the season.
Rockies RHP Peter Lambert, Class A Advanced Lancaster: 6 IP, 4 H, 2 R, 2 ER, 0 BB, 10 K, 93 pitches, 64 strikes -- These 10 K's for the Rockies' No. 10 prospect represented a career high, trumping the nine he collected his first start of this season on April 8. The 20-year-old right-hander hasn't had too many issues transitioning to the California League with a 2.45 ERA, 1.00 WHIP, 25 strikeouts and five walks in 25 innings. Lambert's fastball, curve, changeup and control received 55 grades from MLB.com on the 20-80 scale this offseason, and that's come across with the JetHawks.
D-backs RHP Jon Duplantier, Class A Kane County: 5 IP, 3 H, 0 R, 0 BB, 8 K -- The D-backs' No. 8 prospect extended his season-opening streak without an earned run allowed to 20 1/3 innings with the Cougars. Of the nine qualified Minor Leaguers still sporting a 0.00 ERA, Duplantier is only one of two to have made as many as four appearances this season. (Las Vegas' Tyler Pill is the other.) His eight strikeouts Monday matched his career best, and the outing represented the first time he hasn't issued a free pass in five career appearances. The 2016 third-rounder has fanned 28 batters this year while walking only four and holding opposing hitters to a .121 average. As a college pitcher who averaged 12.0 K/9 during his junior year at Rice, Duplantier is still getting acclimated to full-season ball, but he's showing a new challenge shouldn't be far away.
Sam Dykstra is a reporter for MiLB.com. Follow and interact with him on Twitter, @SamDykstraMiLB.