Prospect Roundup: Games of April 9
Tapia, Rutherford amass doubles; Beede enjoys Triple-A debut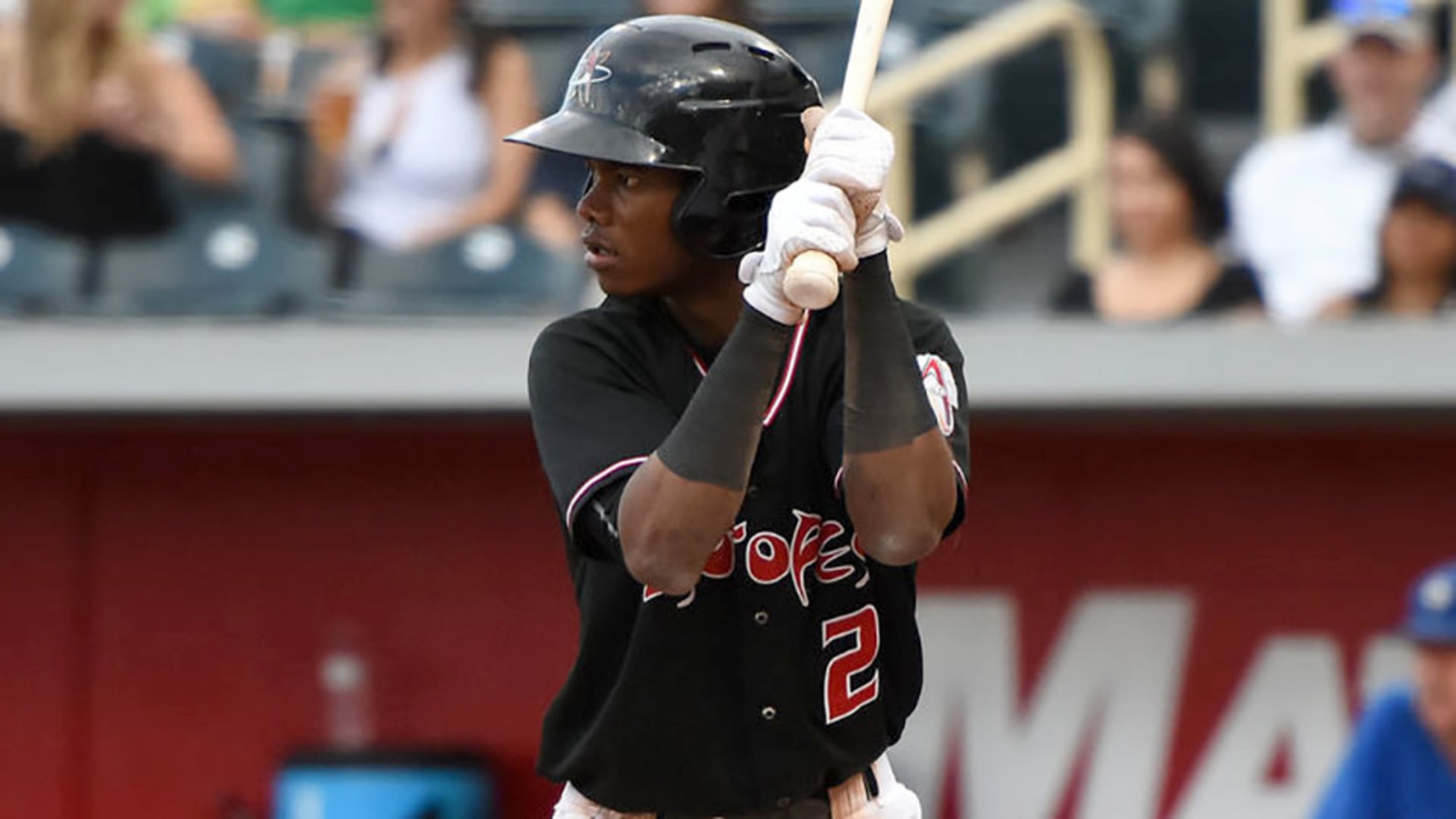 Raimel Tapia is back with Triple-A Albuquerque, where he hit .346 with an .845 OPS in 24 games last season. (Albuquerque Isotopes)
Rockies OF Raimel Tapia, Triple-A Albuquerque: 3-for-4, 3 2B, RBI, 2 R, BB, K -- Make that three multi-hit performances in four games for MLB.com's No. 87 overall prospect, who is 8-for-17 (.471) with four doubles, three RBIs and six runs scored over that span. Impressive as that is, it's not
Rockies OF Raimel Tapia, Triple-A Albuquerque: 3-for-4, 3 2B, RBI, 2 R, BB, K -- Make that three multi-hit performances in four games for MLB.com's No. 87 overall prospect, who is 8-for-17 (.471) with four doubles, three RBIs and six runs scored over that span. Impressive as that is, it's not unexpected for a career .318 hitter in the Minors. What's perhaps more stunning is that Tapia has walked more times (three) through 20 plate appearances than he did in his first trip with Albuquerque last season, when he walked twice in 110 plate appearances. An improved approach to go with his plus-hit tool would go a long way toward getting Tapia back into what's already a crowded Colorado outfield.
Giants RHP Tyler Beede, Triple-A Sacramento: 6 IP, 5 H, 1 R, 1 ER, 0 BB, 3 K, 80 pitches, 51 strikes -- It was an encouraging Triple-A debut for the Giants' top prospect. He was especially good in the control department and could've lasted longer than six frames had it not been his first start of the season. Though he's gotten steadily better with control as a pro, Beede's Sunday performance marked just the third time in 53 career starts that he did not allow a free pass in an outing lasting six frames or more. He'll continue to be tested in the offensive-friendly Pacific Coast League in the months to come, but the 23-year-old is off to a strong start in his bid to join the Giants at some point this summer.
Twins SS Nick Gordon, Double-A Chattanooga: 3-for-4, HR, 2 RBI, 2 R, BB, K -- Two days after delivering a walk-off single, the Twins' top prospect clubbed his first Double-A homer early in Chattanooga's 5-4, 10-inning win over Mobile. The long ball was Gordon's sixth of his career as he enters his fourth pro season and his first extra-base hit of 2017. Power may never be part of the 21-year-old's game, but it could grow as he matures.
D-backs 3B/SS Dawel Lugo, Double-A Jackson: 4-for-6, 2 HR, 4 RBI, 3 R -- The wind was blowing out to left field at 15 mph on Sunday at The Ballpark at Jackson, and the home team took advantage with six homers in a 20-5 win over Birmingham. Lugo recorded his second career multi-homer game, the other coming May 26, 2016, with Class A Advanced Visalia. The D-backs' No. 4 prospect had a breakout 2016 with a .311/.339/.492 line and 17 homers in 127 games with Visalia and Double-A Mobile, then an Arizona affiliate. Lugo has built on that with three multi-hit games in his first four contests this season and is 9-for-20 (.450) over that span. He's played three games at third base and one at shortstop, so it'll be interesting to see how Arizona handles his defensive assignments as the year rolls on.
Yankees SS Jorge Mateo, Class A Advanced Tampa: 4-for-5, RBI, 2 R, K, 2 SB -- The Yankees' No. 5 prospect snapped a season-opening 1-for-12 skid in a 9-2 win at Lakeland. All four hits were singles, including his first of the afternoon when he tried to stretch a soft liner into a double but was thrown out by left fielder Ross Kivett. The Yankees don't need the 21-year-old to hit for power; they just need him to get to first to allow his 80-grade speed to grab the extra bases. Unsurprisingly, Mateo has taken the early lead in the Florida State League with four stolen bases.
Astros RHP Franklin Perez, Class A Advanced Buies Creek: 5 1/3 IP, 1 H, 0 R, 3 BB, 5 K -- It's impressive enough that Perez is one of three 19-year-olds to pitch in the Carolina League this season. The fact that he dominated in an abbreviated Class A Advanced debut with 50 strikes among 78 pitches only highlights why he's talented enough to take on the assignment so young. The Astros' No. 6 prospect has two plus pitches in his fastball and curve, and his changeup and control also earned above-average 55 grades from MLB.com this offseason. That's a good starter kit for success at any level, but how he holds up after pitching only 116 2/3 innings over his first two pro seasons will be key.
Brewers RHP Cody Ponce, Class A Advanced Carolina: 7 IP, 4 H, 0 R, 0 BB, 5 K, 72 pitches, 59 strikes -- The Brewers' No. 15 prospect was incredibly effective at finding the zone Sunday with only 13 of his 72 pitches called balls. Good control has been part of his repertoire in the pros, and that was even true last year when he posted a 5.25 ERA but walked only 17 over 72 innings at Class A Advanced Brevard County. He was limited by a right forearm strain during that campaign, but his 3.21 FIP was a sign he's likely much better than his ERA would indicate. Continued early success would likely mean a jump to Double-A Biloxi in the season's first half, assuming Ponce stays healthy.
Yankees OF Blake Rutherford, Class A Charleston: 3-for-5, 3 2B, 2 RBI, R, K -- The Yankees' 2016 first-rounder picked up his first full-season extra-base hit Sunday with a double in the third inning and then notched two more in a 12-4 win over Lexington. The 19-year-old has hit safely in each of his first four South Atlantic League games and is 8-for-16 (.500) with five RBIs, four runs and a stolen base. Rutherford has played all three outfield spots as the Yankees try to find a defensive spot that best suits him.
Sam Dykstra is a reporter for MiLB.com. Follow and interact with him on Twitter, @SamDykstraMiLB.