Prospect Roundup: Games of Aug. 17
Yarbrough shines for Bulls; Tucker homers again for Hooks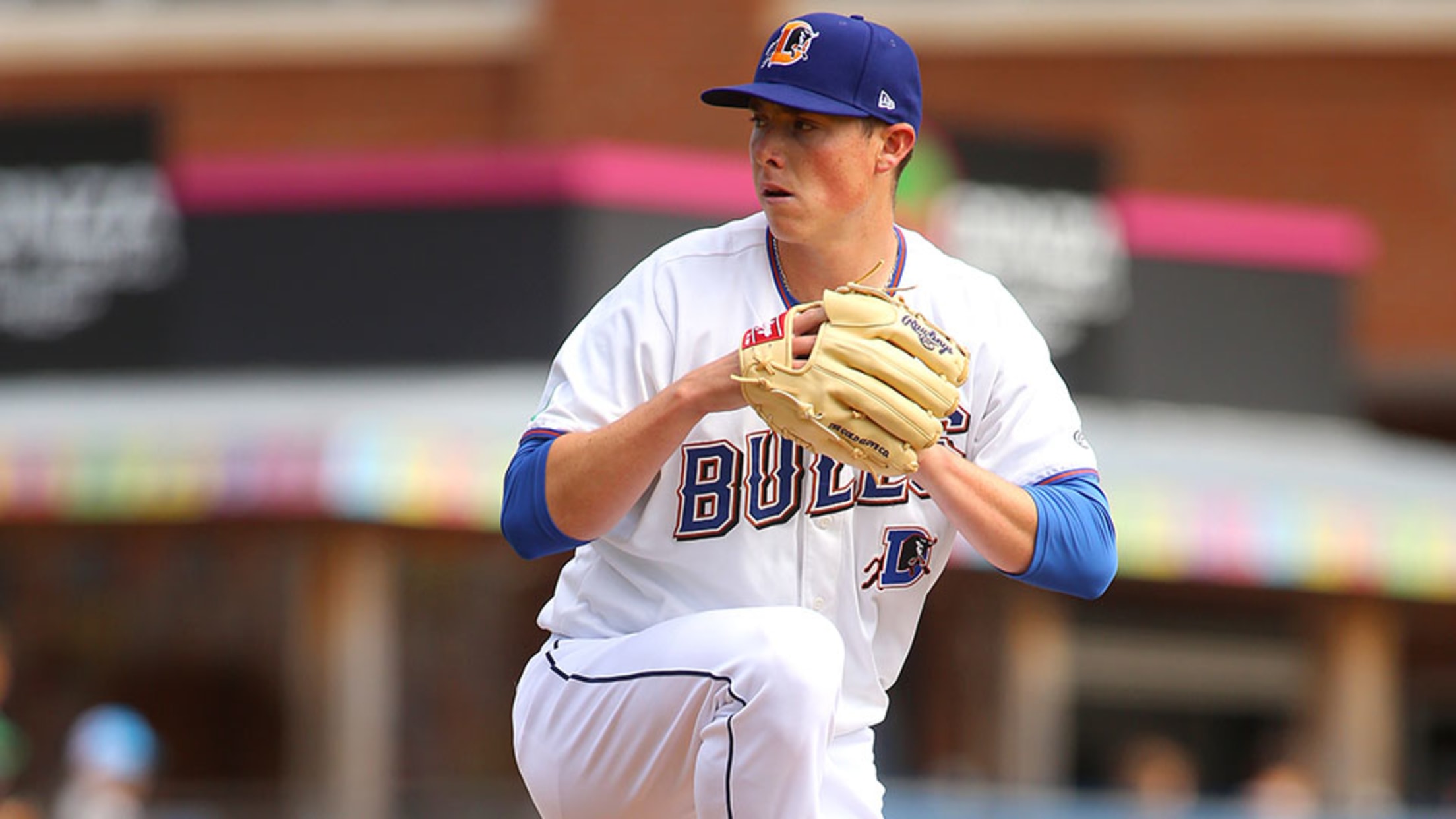 Ryan Yarbrough has 16 strikeouts and one walk in his last 11 1/3 innings spanning two starts. (Durham Bulls)
Rays LHP Ryan Yarbrough, Triple-A Durham: 6 1/3 IP, 6 H, 0 R, 8 K, 0 BB, 100 pitches, 71 strikes -- Yarbrough earned his 13th win with eight strikeouts Thursday, bouncing back from a loss on Aug. 11 that was his shortest outing in more than a month. The
Rays LHP Ryan Yarbrough, Triple-A Durham: 6 1/3 IP, 6 H, 0 R, 8 K, 0 BB, 100 pitches, 71 strikes -- Yarbrough earned his 13th win with eight strikeouts Thursday, bouncing back from a loss on Aug. 11 that was his shortest outing in more than a month. The 25-year-old lefty was sharp at Syracuse, though, turning in his fourth straight outing with two or fewer walks. The Rays' No. 23 prospect, Yarbrough was handed a four-run lead in the first inning and never looked back -- he erased a single that inning with a double play, worked a 1-2-3 second, struck out two in the third and survived a pair of singles in the fourth before the Bulls tacked on two more insurance runs. Yarbrough is now 13-6 with a 3.26 ERA and 147 strikeouts in 146 1/3 innings.
Astros OF Kyle Tucker, Double-A Corpus Christi: 2-for-4, HR, 2B, RBI -- Tucker, the Astros' top prospect, went deep for the second straight day, blasting his 20th of the season for Corpus Christi. His previous career high was nine, set last year at Class A Quad Cities and Class A Advanced Lancaster. Unfortunately for the Hooks, Tucker's homer was a solo shot in a 2-1 loss that saw Corpus Christi, losers of six straight, swept in Tulsa.
Mets LHP Jose Carlos Medina, Class A Columbia: 6 IP, 0 R, 3 H, 4 BB, 5 K, 83 pitches, 49 strikes -- The Mets signed Medina out of Mexico in 2013, and he's starting to show some of his potential, dazzling in his Fireflies debut Thursday. The 23-year-old lefty allowed three hits over six scoreless innings at Augusta, striking five in a no-decision. He's used to the lack of run support, though -- in 10 outings at Class A Short Season Brooklyn, Medina went 1-5 with a 3.53 ERA. He spent last summer with Rookie-level Kingsport, going 3-2 with a 3.86 ERA in 15 relief outings.
Orioles RHP Michael Baumann, Class A Short Season Aberdeen: 5 IP, 0 R, 2 H, BB, 7 K, 82 pitches, 59 strikes -- The Orioles' third-round pick in June turned in his third straight scoreless start for the IronBirds, striking out a career-best seven for his second win. The 21-year-old lowered his ERA to 0.98 in his seventh game for Aberdeen and now has 25 strikeouts in 27 2/3 innings. Baumann's one walk was also a positive sign -- he's issued a dozen this season, although only two in his last two starts combined. The Jacksonville product also enjoyed scoreless starts Aug. 8 against Mahoning Valley (four innings) and Aug. 2 at Staten Island (five innings). He hasn't allowed an earned run since July 27.
Royals 3B Julio Gonzalez, Rookie-level Idaho Falls: 4-for-5, 2B, 3B, 6 RBIs -- The 22-year-old Gonzalez, drafted in the 17th round this summer out of Florida Gulf Coast, enjoyed the biggest game of his career with four hits and six RBIs, falling a home run shy of hitting for the cycle. The third baseman singled twice in the third inning as the Chukars batted around and scored six runs. He added a two-run double in the sixth and a two-run triple in the eighth. Left fielder Logan Gray also had a big day, going 3-for-5 with three RBIs. Designated hiter Darrell Miller, the son of a former Major League catcher, chipped in four hits and three RBIs as Idaho Falls pumped out 22 hits.