Prospect Roundup: Games of June 26
Royals' Vallot walks and homers twice; Yanks' Acevedo fans nine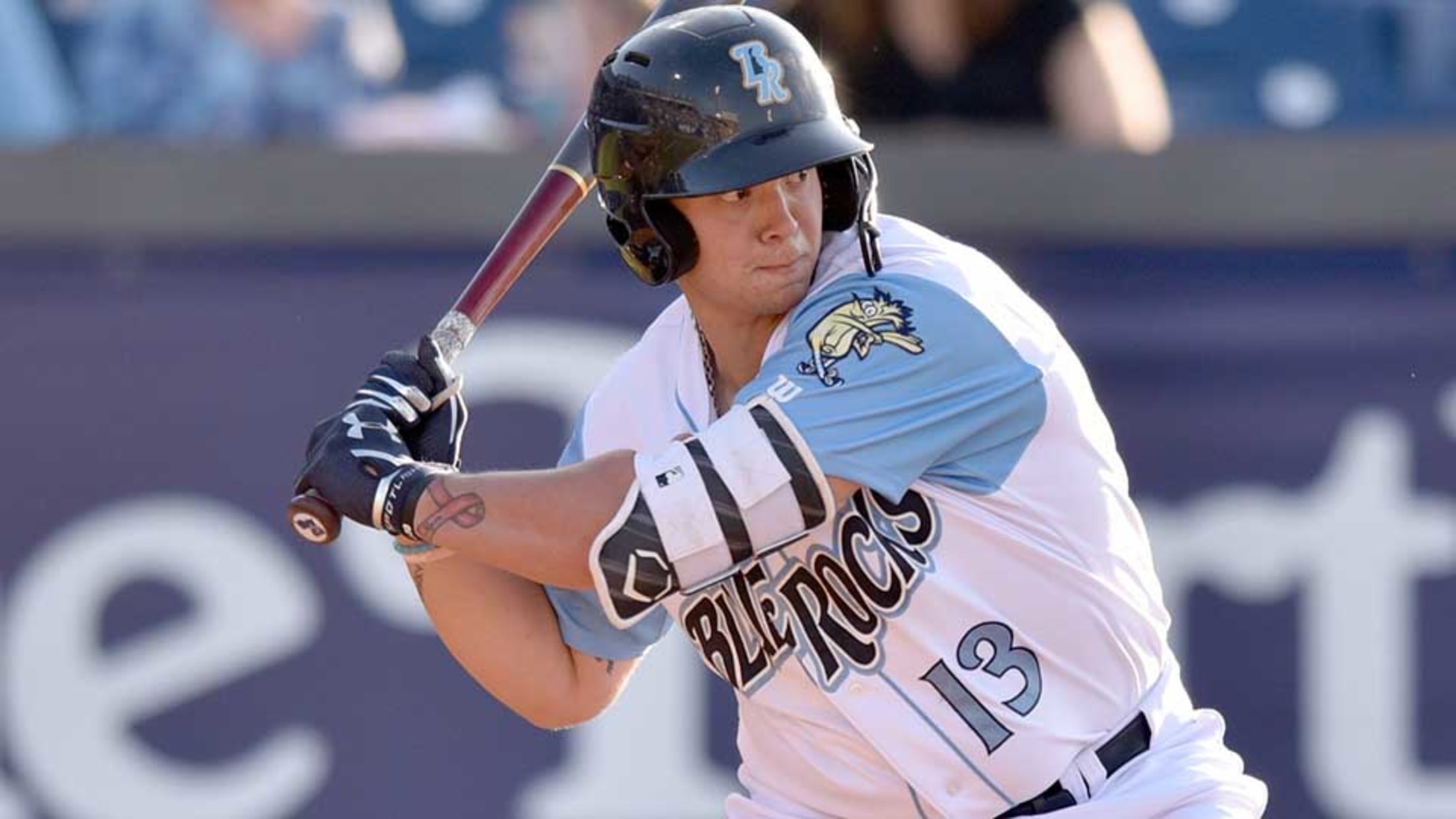 Chase Vallot ranks 10th in the Carolina League with a .225 isolated slugging percentage. (Ken Inness/MiLB.com)
Rangers 1B Ronald Guzmán, Triple-A Round Rock: 2-for-4, HR, 2B, 2 RBI, R -- The Rangers' No. 4 prospect homered and had two hits for the third straight game Monday night. This recent power uptick is notable because Guzman isn't your typical slugging first baseman. His hit tool has always been
Rangers 1B Ronald Guzmán, Triple-A Round Rock: 2-for-4, HR, 2B, 2 RBI, R -- The Rangers' No. 4 prospect homered and had two hits for the third straight game Monday night. This recent power uptick is notable because Guzman isn't your typical slugging first baseman. His hit tool has always been his superior offensive weapon, and that's especially been the case this season with Round Rock, where he's batting .320 and ranks sixth in the Pacific Coast League with 87 hits. However, he entered this stretch with only six long balls through 68 games -- a lack of power that has him behind more stereotypical sluggers Mike Napoli and Joey Gallo on the Rangers' first-base depth chart -- but he's building a case to get a big-league look after being added to the 40-man roster in November. One hurdle may have been cleared when utilityman Ryan Rua, who made 16 starts at first base, was optioned on July 16.
Yankees RHP Domingo Acevedo, Double-A Trenton: 7 IP, 4 H, 1 R, 0 ER, 1 BB, 9 K , 87 pitches, 65 strikes -- An interesting season for the Yankees' No. 12 prospect got even more intriguing Monday. Note Acevedo's efficiency, needing only 87 pitches to get through seven innings, and this was the fourth time in 15 starts this year that he's struck out at least nine. But perhaps the most notable aspect of Monday's gem was that it pushed his innings total to 94, a career high that eclipsed the 93 he had last season. The 23-year-old's stuff is undeniable with a fastball that can hit triple digits, and his control (5.5 percent walk rate) is surprisingly good for a hard thrower with a 6-foot-7 frame. Worries about his durability have kept him from being mentioned on the same level as James Kaprielian and Justus Sheffield, and hamstring and shoulder injuries kept him from cracking triple-digit innings in 2016. He's yet to make an appearance on the disabled list this year, however, and has pitched at three different levels with two cameo starts at Triple-A Scranton/Wilkes-Barre. He's been particularly effective in the Eastern League, where he has a 1.34 ERA with 40 strikeouts and four walks in 40 1/3 innings. There's still a second half to go, but Acevedo's ability to stick as a starter is trending in the right direction.
Royals C Chase Vallot, Class A Advanced Wilmington: 2-for-3, 2 HR, 3 RBI, 3 R, 2 BB, K -- This was a three-true-outcome performance from a three-true-outcome player. The Royals' No. 6 prospect picked up his ninth and 10th long balls of the season Monday in his first career multi-homer game. The two-walk night has been much more common; in fact, he took two free passes just the game before. Vallot's power is above-average, especially as a catcher, and his 16.8 percent walk rate ranks third in the Carolina League this season. Unfortunately, his 35.6 percent strikeout rate is the highest in the Class A Advanced circuit, and that keeps him at a low .225 average. The power and the walks salvage the offensive profile, but the strikeout totals may only get worse higher up the chain. Give Vallot credit, though. Monday's performance was about as good as it can get given his current tool set.
Reds RHP Tony Santillan, Class A Dayton: 6 IP, 2 H, 0 R, 3 BB, 5 K, 91 pitches, 57 strikes -- The Reds' No. 14 prospect continued his solid run through his first trip to Class A ball with his first scoreless outing in a month. Rebounding from a five-run outing over 4 2/3 innings on June 15, he lowered his ERA to 2.85 and his WHIP to 1.14. The Reds have taken it slow with the 2015 second-rounder -- who owns two plus pitches in his fastball and slider -- mostly to help him with his control. There have been positive developments in that department with his walk rate dropping from 13.2 percent at Rookie-level Billings and Daytona in 2016 to 9.8 percent during this run in the Midwest League. There are still some bumps -- he's walked 11 over his last four starts (22 innings) -- but the developmental track is there, and the Reds should be pleased with Santillan's trajectory.
Cardinals RHP Johan Oviedo, Rookie-level Johnson City: 6 IP, 3 H, 0 R, 3 BB, 7 K, 87 pitches, 51 strikes -- The Cardinals signed Oviedo out of Cuba for $1.9 million last July and saw him dominate the Dominican Summer League with a 1.66 ERA and 29 strikeouts in 21 2/3 innings. On Monday, they saw more of the same in his stateside debut. The 19-year-old right-hander is bringing a plus fastball, solid curve and good size at 6-foot-6, 210 pounds to the Appalachian League. He'll have his hiccups with control, as he did Monday with three free passes, but the foundation he's establishing is impressive.
Sam Dykstra is a reporter for MiLB.com. Follow and interact with him on Twitter, @SamDykstraMiLB.